Mamma Andersson / Andreas Eriksson, Stephen Friedman Gallery
Mamma Andersson / Andreas Eriksson, Stephen Friedman Gallery
Beguiling, mysterious and very Nordic: two Swedish painters in two knock-out solo shows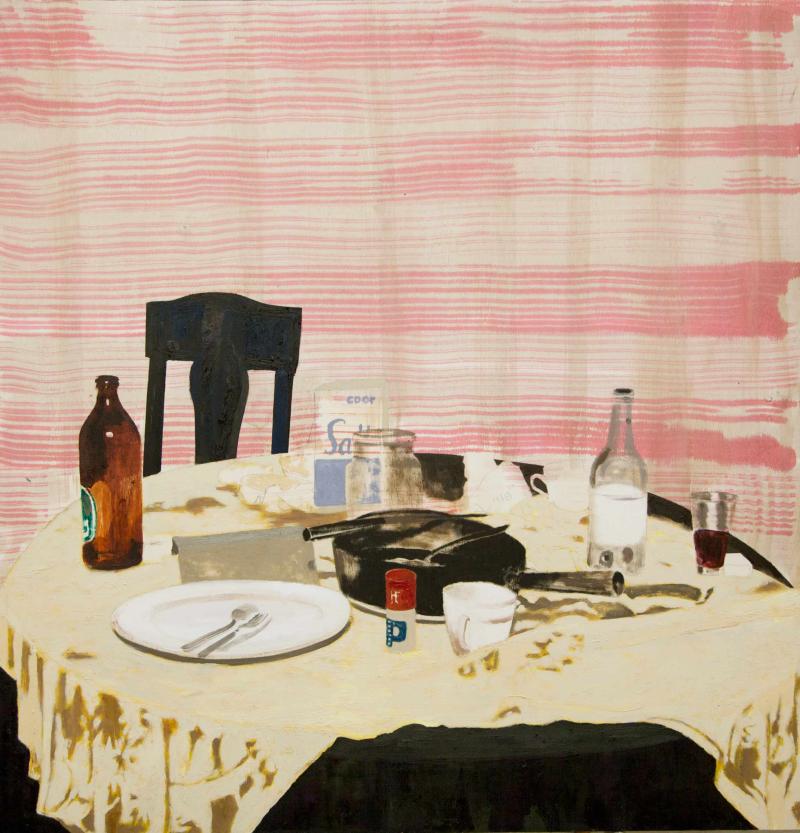 Mamma Andersson, Humdrum Day, 2013
With their curious juxtapositions and scrambling of pictorial space a dream-like atmosphere is conjured in Mamma Andersson's paintings. Her scenes are often confined to the domestic or everyday realm, but, even when peopled, suggest something closer to still life than real life. Or perhaps stilled-life. The Swedish painter (Mamma is a nickname), now in her 50s, received welcome exposure in the UK with her Camden Arts Centre retrospective in 2007.
This latest exhibition is, I believe, amongst her strongest work yet.
The elements of the picture fit together like a collage in which space is decidedly ambiguous
In Humdrum Day (main picture) the mood is far from humdrum. The remains of a rudimentary meal, apparently for one, are scattered across a table draped in a pretty tablecloth. The colours are absurdly seductive: the creamy palette of the tablecloth has blurry smears of autumnal green that form a leaf pattern, and there's a white and pink-striped wall that might be a Swedish rug with some of its weaving unpicked. The velvety black of the table echoes the chair that looks like a cut-out silhouette against the candy-floss coloured wall. These areas of black appear to denote not just absences but voids – cosmic black holes through which you might enter another pictorial reality.
The elements of the picture fit together like a collage in which space is decidedly ambiguous. In two complementary paintings Hello and Goodbye, we have a two scenes which almost mirror each other. They depict, from a found photograph of a crime scene, the interior of a burgled clock shop. The images have two notable differences: the colour scheme (one is pinkish in hue, the other a pale sallow-green) and the two figures that appear on the top corner of each painting, one a young woman with her back to us, oulined by a fine Fifties silhouette, the other an older man who faces us, though his face, too, is obscured in a grey blur.
The figures have personal significance for the artist, since they are Andersson's grandfather and mother, though that matters less than the mood of disquiet, and the fact that the figures appear not to occupy the same space as the rest of the scene but as if on a separate canvas depicting exterior vistas. Such pictorial devices are common, yet Andersson is such a skilled and subtle painter that here the effect is still genuinely disorienting.
Other paintings include a mysterious circle of figures lit against a tar-black ground (pictured right: Family Ties, 2013). The painting suggests either a photographic negative or else an apocalyptic eclipse. Though the dancing circle naturally suggests some ancient, pagan ritual, the youthful figures are dressed in Sixties clothes. And rather than appearing to be directly engaged with art history, as she might be here (Poussin, Matisse), Andersson's engagement appears to be far more to do with images and their proliferation generally and the ambivalence with which ordinary images, particularly photographs, are received when context and history are lost.
Andersson has a colour sensibility reminiscent of Degas's, a muted tonal scheme in which flashes of intense colour occasionally blaze up. But Andersson is also a very Nordic painter, and her cool Northern colours create atmospheres shot through with a definite psychic chill, not dissimilar to a younger Swedish painter who beautifully complements this exhibition in Stephen Friedman's second gallery nearby.
Andreas Eriksson monumental paintings hark back to the Sublime in Northern European painting. Focusing on the landscape that surrounds his studio in the Swedish countryside, Eriksson, whose first UK solo exhibition this is, depicts this craggy, mountainous region in granite colours and autumnal hues, and in patchwork layers that suggest typographical painting as well as notions of the Romantic Sublime. (Pictured left: Coincidental Mapping, 2013.)
Indeed, the title of his exhibition, Coincidental Mapping, underlines this use of landscape painting as document. But, like Andersson, Eriksson also pushes toward abstraction with his overriding concern for pictorial surface. Less dazzling are his smaller canvases and tapestries, since what's so magnificent about the two huge paintings on display here are their intricate, layered, and richly textured and varied surfaces coupled, of course, with their heroic scale. These are two incredibly thrilling shows. Try not to miss them.
The Mamma Andersson exhibition has been extended. Ends 30 May
These areas of black appear to denote not just absences but voids – cosmic black holes through which you might enter another pictorial reality
Explore topics
Share this article