CD: Savages - Silence Yourself |

reviews, news & interviews
CD: Savages - Silence Yourself
CD: Savages - Silence Yourself
They have the presence and the manifestos - but do they have the songs?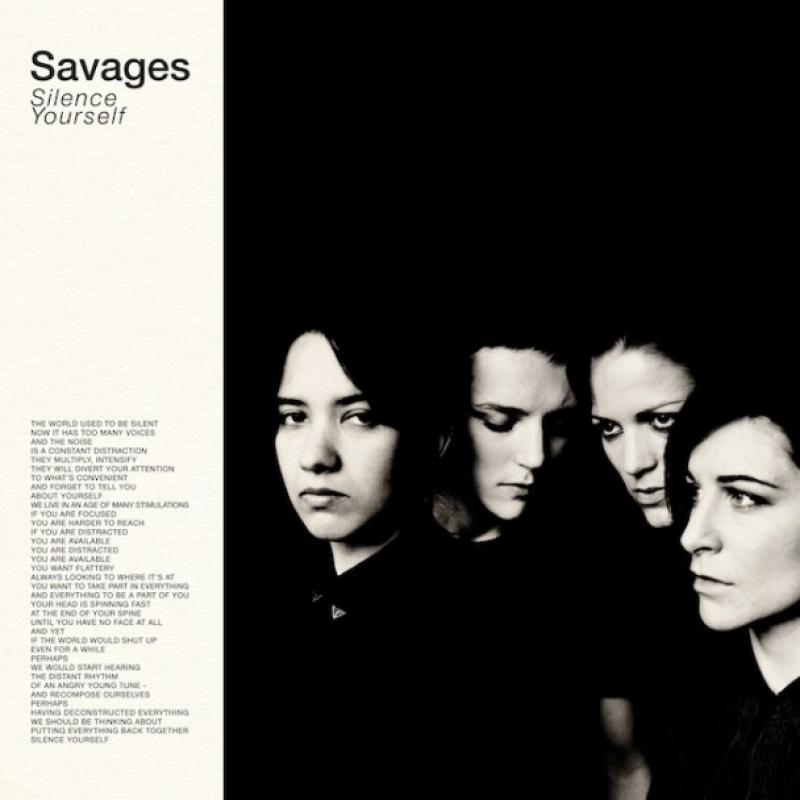 The full package: 'Silence Yourself' by Savages
There's a slight unease I feel about Savages which only grows with every listen to the band's heavily-hyped debut album. Perhaps I'm too old to experience my music as just one facet of a conceptual art project, where it comes as part of a package that's as much provocative manifestos about the emptiness of modern living and interviews packed with loaded statements about sex and violence.
Yet these things demand to be examined by the fact of their very existence, because everything else about Silence Yourself seems to be carefully constructed. That in itself is unsettling, as the sonic dissonance guitarist Gemma Thompson seems to revel in and the drawl/howl of Jehnny Beth's vocals seem like a perfect combination for creating something truly unhinged. That tension, when they do not, is something I suspect would be impossible to recreate in the live setting: there, external factors cannot help but wreak havoc on whatever magic it is that stops "She Will" and, yes, even the frantic "Husbands" from properly bursting at the seams. Perhaps that dichotomy too is meant to be art.
It's certainly not poetry: Beth's lyrics, when decipherable, sound like a continuation of their manifestos: overly-serious slogans about "speaking words to the blind" and "getting hooked on loving hard" which are, ultimately, meaningless. It's the way that she says it rather than what she's saying that makes these songs work: hammer blows delivered with a hint of icy Frenchness, as thuddingly rhythmic as Fay Milton's drumming and yet dispassionate, removed; even when she's aping PJ Harvey on "City's Full" or howling at the end of "I Am Here".
The juddering "Shut Up", with its fragmented Cassavetes-sampling intro, is magnificent, while "No Face" and "Hit Me" taunt the listener with their urgency and rage. The strongest tracks, however, are the album's closers: the alienated, claustrophobic single "Husbands", and "Marshal Dear", where Beth channels Edith Piaf over restrained piano and late-night saxophone. It sounds so incongruous, as though Savages are hinting towards a completely different second chapter
Listen to "Shut Up" by Savages

Everything else about Silence Yourself seems to be carefully constructed
rating
Share this article