DVD: Phantom Lady |

reviews, news & interviews
DVD: Phantom Lady
DVD: Phantom Lady
Robert Siodmak's brooding film noir shockingly subverted gender stereotypes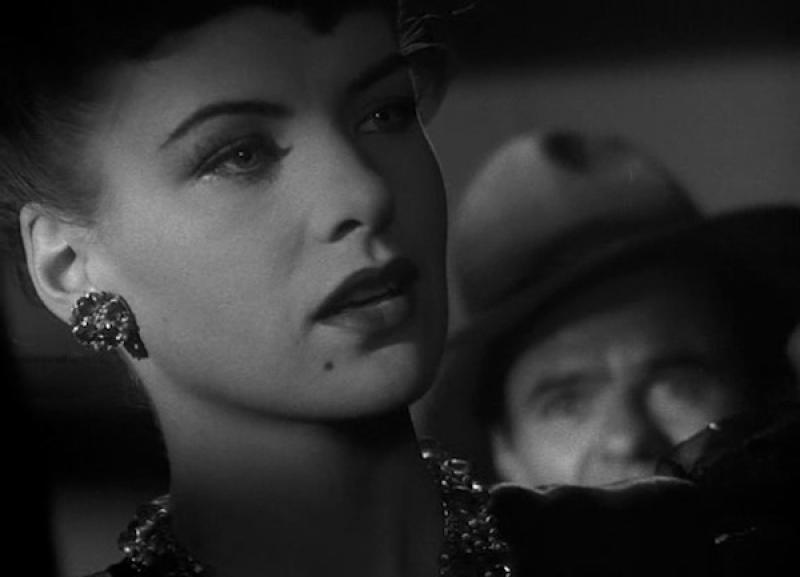 Faux femme fatale: Kansas (Ella Raines) entrances the drummer (Elisha Cook, Jr) in the jazz dive
The first of the Dresden-born Robert Siodmak's eight film noirs, Phantom Lady (1944) was adapted from a Cornell Woolrich novel that typically endows its heroine with traditional masculine energy and guile while rendering its hero impotent and passive.
Her dynamic investigator-avenger is eventually compromised by her becoming prey to the killer who framed the man she loves. However, Siodmak's focus on her drive and her brief donning of a femme fatale guise during the second act powerfully reflects the male anxieties about women's perceived threat to the patriarchal order during the war years.
In a seedy New York bar, engineer Scott Henderson (Alan Curtis), stood up by his cheating wife, offers to take to a musical revue a depressed woman (Fay Helm) wearing a fancy hat. She accompanies him on the condition they don't exchange names. When he returns home, detectives confront him with his wife's corpse. She has been strangled with one of his neckties. Unable to produce his theatre date as an alibi, Henderson is sentenced to die in the electric chair 18 days hence.
Elisha Cook, Jr drums himself into a near-orgasm as she feigns desire for him
Determined to clear him, his adoring secretary Carol "Kansas" Richman (vibrantly played by Ella Raines) burrows into the city's nocturnal life to find those who can lead her to the phantom lady and her talismanic hat. Commandeering the male gaze, she unnerves the bartender with her stare, but her stalking him ends catastrophically.
Next she acts the part of a prostitute – in full spider-woman regalia – to seduce information from the musical's trap drummer (Elisha Cook, Jr). In one of noir's most frenzied sequences, he drums himself into a near-orgasm as she feigns desire for him in a jazz dive. Siodmak's claustrophobic mise-en-scène here synthesises expressionism and the pulp aesthetic into a nightmarish vision of social instability.
Kansas is relieved when Scott's best friend (Franchot Tone), a sculptor with migraines and delusions of grandeur, and a fatherly cop (Thomas Gomez), representing the patriarchy, weigh in to help her. She weakens as the film moves toward its low-key climax, replete with deus ex machina, but there's no gainsaying the shot of her head thrown back in mock ecstasy in the club, or the triumphant smile she gives as a dictaphone needle sticks on the male words, "Every night…every night…". No wonder the GIs overseas were worried.
Below: playing jazz, somewhere in the New York night
There's no gainsaying the shot of Ella Raines's head thrown back in mock ecstasy
rating
Share this article