Mariele Neudecker, Regency Town House, Brighton |

reviews, news & interviews
Mariele Neudecker, Regency Town House, Brighton
Mariele Neudecker, Regency Town House, Brighton
The German artist plays with notions of the Romantic sublime
Mariele Neudecker: 'There is Always Something More Important', 2013
Mariele Neudecker is the lead artist of this year's HOUSE, a festival for the visual arts which is now in its sixth year and which runs parallel with the Brighton Festival. She's a fitting choice: an immersive exhibition in a beautiful wreck of a Regency house by the sea complements her long-held fascination with the watery sublime.
The Düsseldorf-born artist, who now lives in Bristol, became known over a decade ago for her miniature three-dimensional representations of rugged and magnificent land and seascapes. These perfectly realised models suggested paintings by Friedrich, with echoes of Böcklin and Hodler. They were amalgams, or fragments, rather than direct transcriptions of works by these artists – gloriously magical realms featuring boulders and mountains or dense forests of conifers shrouded in mist. Situated in glass tanks and submerged in a viscous clear liquid, these Romantic realms were presented as if in their own living ecosystems.
Neudecker says she decided to make her model using only the most photogenic bits of the ice cap
The title of this exhibition, Heterotopias and Other Domestic Landscapes, is a reference to Foucault. Foucault's concept of heterotopia, put broadly and very simply, denotes real places which operate within bigger, more powerful systems. Foucault used the example of a boat, a real space that's fixed to no other place as it traverses the open sea.
The art space might be another perfect example of a heterotopic space. Neudecker has played with this concept in a layered way, creating an installation of an imagined ecosystem made up of an amalgam of real, far-flung and remote locations, and situated it in a makeshift art gallery space cum real house. Beginning with Greenland's stratosphere on the top floor – a series of photographic diptychs on which vapour trails have been hand-painted, suggesting the impossibility of untouched nature – we descend to the basement and the depths of the Indian Ocean with film footage of the stark ocean bed. (The basement can only be reached by an entrance in the neighbouring house – it's a rather disorientating layout).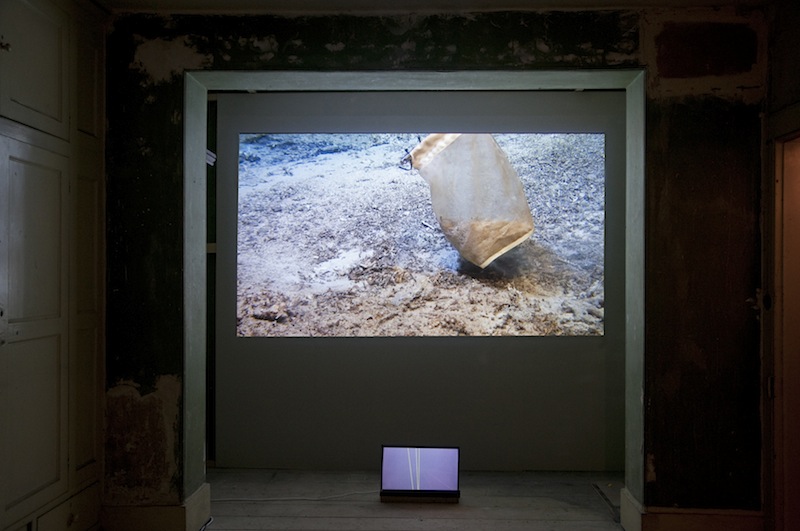 The ground floor, meanwhile, contains a model of a polar ice cap (main picture), which fills most of one room. While taking photographs of a real ice cap in Greenland, specifically for this work, Neudecker says she decided to make her model using only the most photogenic bits of the ice cap. It's an idealised version of what she encountered, yet everything about this installation has an oddly documentary feel, even a starkly scientific one.
Neudecker's films are produced in collaboration with marine biologist Professor Alex Rogers, and they explore the world's most isolated marine environments. In fact, there are few signs of life. (Pictured above right: The Great Day of His Wrath, 2013.) The films are silent apart from an overlaid soundtrack of a distant helicopter (intrusive, like a buzzing bee, and menacing), or, for one film, a Beethoven sonata. But despite the one concession to a haunting Romantic soundtrack, clearly the suggestion here is that our contemporary notion of the sublime is less Caspar David Friedrich than...well, not quite cuddly David Attenborough. It's a shift from the spiritual, essentially Christian view of German Romanticism toward one which existentially confronts a starker world in its elemental silence. It is also one that is, of course, heavily and deceptively mediated.
Neudecker's work has lost many of its easier charms – no longer the beauty of a dense fairy tale forest perfectly realised in a tank. It's harder to appreciate the ambition of this piece, so coolly, conceptually restrained, so slippery.
She has created an imagined ecosystem made up of an amalgam of real, far-flung and remote locations
Explore topics
Share this article