A Midsummer Night's Dream, Shakespeare's Globe |

reviews, news & interviews
A Midsummer Night's Dream, Shakespeare's Globe
A Midsummer Night's Dream, Shakespeare's Globe
The Globe serves up another summer fantasy of a comedy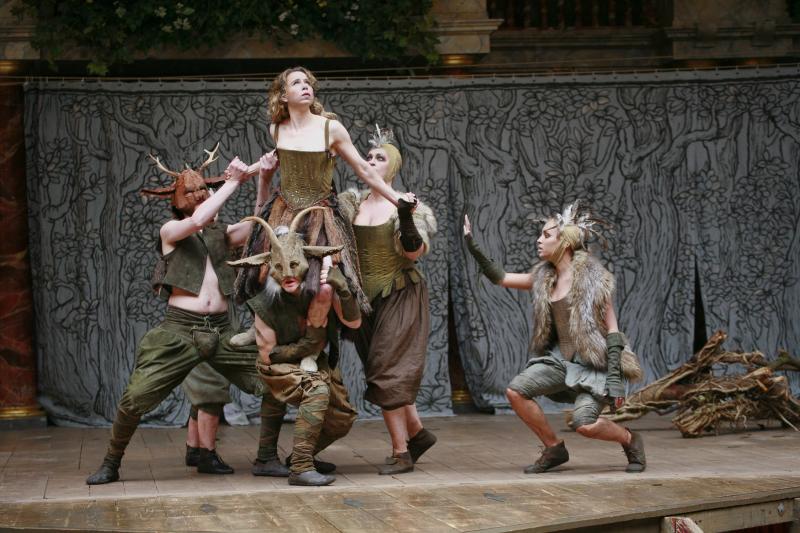 Come not near our fairy queen: Titania (Michelle Terry) frolics with her band of spirits
Midsummer's Eve may still be a month away and the evenings more bracing than balmy, but despite a serious chill still in the air the Globe Theatre yesterday proved yet again that it exists in its own microclimate. It's a theatre and a company made for comedy. Such is the laughter, the sense of occasion, the energy of the crowd, that you find yourself swept up in the joy of it all – enjoying a summer holiday, if only for the evening.
Dominic Dromgoole's new A Midsummer Night's Dream offers no interruption to the Globe's sequence of hit comedies. Who couldn't love a production that comes with its own Tudor health-and-safety sight-gag, a dead dog (trust me) and a clog-dancing troupe of Mechanicals? It's a show whose momentum builds however, growing from a rather uncertain first act into a gloriously chaotic romp of in-jokes and physical clowning.
This is a true ensemble comedy, and predictably it's the Mechanicals who steal the show
The big draws here is Michelle Terry's Titania/Hippolyta. In Dromgoole's reading we are reminded that this is more than a passive royal consort, that Hippolyta is in fact Queen of the Amazons. We open then in full physical combat, pitting the wiry Hippolyta (an unwilling bride, it seems) and her acolytes against John Light's Theseus/Oberon in a dance-battle of unusual ferocity, even for the Globe. It's an encounter that sets the tone for an evening dominated by movement.
Terry makes for an imperious, haughty queen, but is rather more appealing as the girlish-wild Titania, scrapping and flirting with her Oberon. Light by contrast feels more at home as the rigid Theseus, never quite releasing into the savage hedonism of a fairy king who clasps Puck in a lingering embrace and howls animal-like in his rage.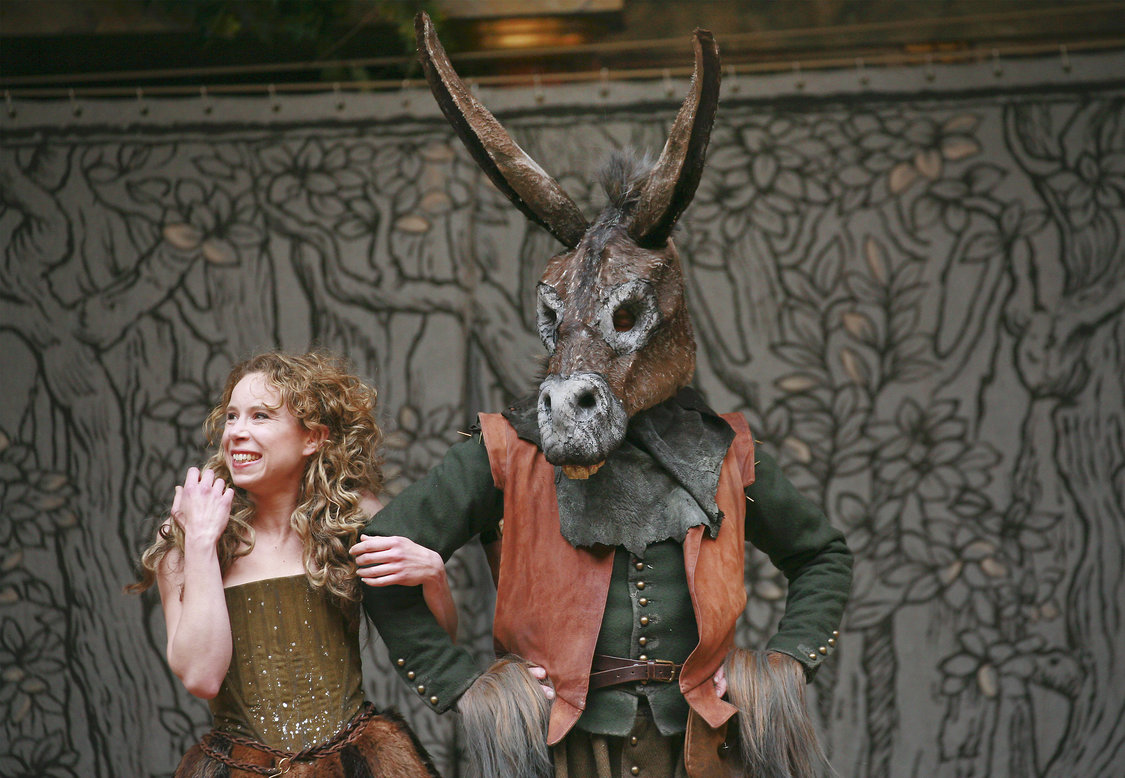 While anchored by these two, this is a true ensemble comedy, and predictably it's the Mechanicals who steal the show. Christopher Logan's Flute, fluttering casually around a pillar on the too-small, makeshift stage as Thisbe, manages to be bring both poignancy and complete hilarity to his brief episodes, while Fergal McElherron is all deranged extremes as Quince. But all are mere foils to the obliterating comedy of Pearce Quigley's Bottom (pictured below with Terry). Limp and camp where we might expect him to be blustering and macho, he limp-wrists his way through battles with Quince (taking the text more a basis for free improv than as Gospel), triumphing with studied nonchalance.
There's a quiet insistence on anarchy through the production, and while Bottom's comedic dangers are harmless enough Dromgoole's fairy world is altogether more ferocious. Undercurrents of (homo)sexual desire flood into the foreground, while the spirits themselves become a hooting, shrieking pack of unearthly hooligans. Only Matthew Tennyson's Puck stands apart. Few play teenage boys as well as Tennyson (as he proved so thoroughly in the Donmar's Making Noise Quietly), and here he brings all the sulky, gangling awkwardness of a 14-year-old Etonian to the fairy – more affectedly brattish, perhaps, than is necessary, but ultimately rather the more human for it.
Among the young lovers it is Olivia's Ross's impetuous Hermia who stands out, relishing her passionate encounters as Sarah MacRae's Helena never quite does her comedic ones. The laughs throughout the lovers' scenes fall in unusual places, eschewing the usual landing places in favour of more unusual clowning and a rather larger dose of sincerity. Luke Thompson's Lysander brings in more than his share however, playing up to this hapless hooray with careful invention.
After so quirky a Tempest to open the season it's a nice change of pace to see a classic Midsummer Night's Dream. Dromgoole balances his unusual elements with plenty of universal belly-laughs and by-play, and the result is that Globe-patented blend of intelligence and rampant fun. Claire van Kampen's score strikes a rare discordant note, insisting on a darker reading than Dromgoole seems to consider (and demanding far too much of her singers), but it's the only cloud in an otherwise sunny summer sky.
There's a quiet insistence on anarchy through the production; Dromgoole's fairy world is ferocious
rating
Explore topics
Share this article