Man of Steel |

reviews, news & interviews
Man of Steel
Man of Steel
Henry Cavill looks the part, but is Superman 2013 just too Super?
Rebooted and suited: Superman (Henry Cavill) makes the world safe for product placement
The story goes that Ben Affleck was in the running to direct the latest Superman "reboot", but decided against. "A lesson I've learned is not to look at movies based on budget," he said. "Story is what's important."
And so it came to pass that Man of Steel was directed by Zack Snyder (who made Watchmen and 300, among others), cost £145m and clocks in at a sprawling 143 minutes. It's already recouped £110m through product placements, so somebody in the back end has their head screwed on, but nonetheless it's living proof of Affleck's Law. The flick is technologically dazzling and Henry Cavill is (I'm told) the hunkiest Superman yet, but they could have made a much better movie by sawing off 45 minutes and half the budget.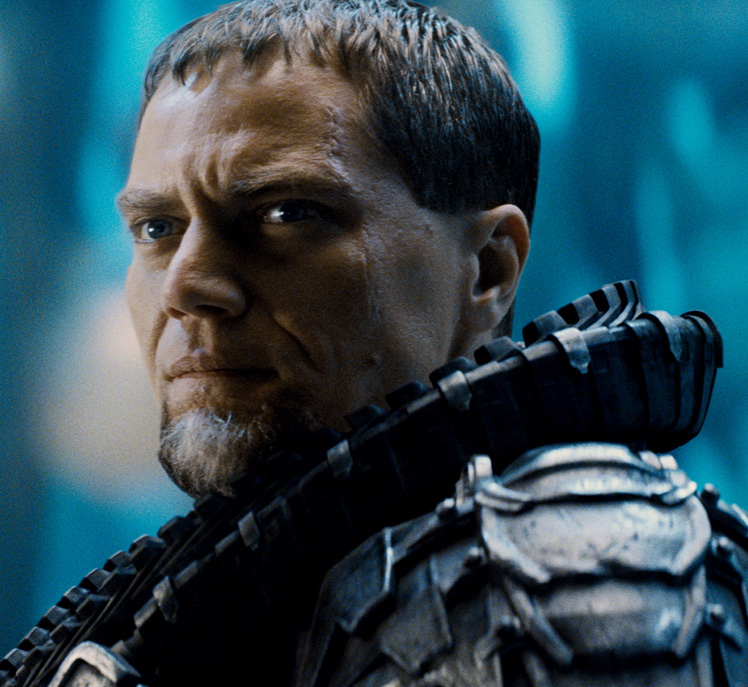 The best stuff comes in the first half, before Superman outs himself as being super. The opening is the familiar - to anybody who's already seen or read anything about Superman - story of how the infant Soops, christened Kal-El, was fired into space from his imploding home planet, Krypton, by his wise and adoring parents, Jor-El and Lara. Complicating the mix, in this version, is an attempted military coup by the evil General Zod - an irredeemably repulsive Michael Shannon (pictured above right) - though he and his fellow-conspirators are rounded up and fired into cryogenic limbo shortly before Krytpon explodes.
There's some impressive tech and design stuff in the creation of Krypton, which resembles an almost Soviet-style regimented society in which children are collectively battery-farmed in plantations of underwater pods, a little bit Matrix-like. One of the things that makes Kal-El special is that he's the product of natural childbirth. Not only that, but the far-seeing Jor-El, played with persuasive gravitas by Russell Crowe (pictured below), has genetically imprinted the baby with the entire Krypton race, with a view to restarting it in more accommodating climes.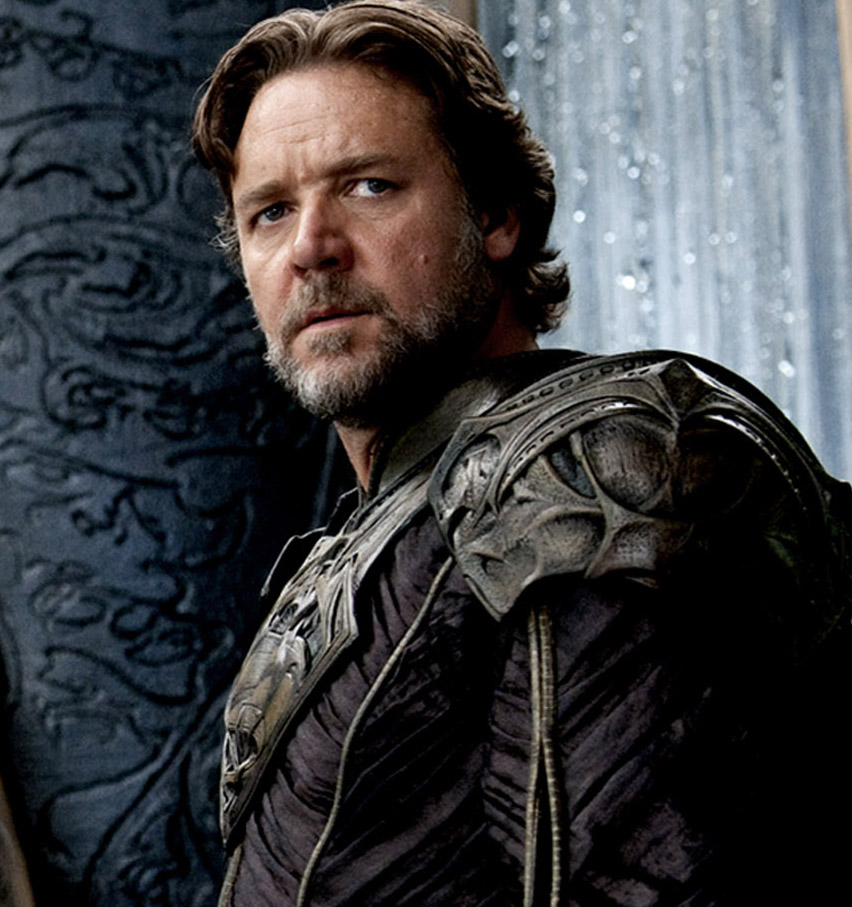 In contrast to these conceptual flights, the depiction of the young Super-chap's early years on earth are pleasingly earthy and human-scaled. There's a striking sequence where he rescues a school bus full of kids from drowning, and an even better one where he's working on a fishing trawler and helps to rescue stricken workers from a blazing oil rig. Scenes of his Edward Hopper-ish childhood on a farm under idyllic Kansas skies are lent some emotional colour by Kevin Costner and Diane Lane as his adoptive parents, Jonathan and Martha Kent.
What undoes the piece in its latter stages is a wearying glut of Superness. Given the ever-advancing state of the CGI art, it has become unthinkable to expect movie-makers armed with zeppelin-fuls of dollars to dial down the special effects, and the film becomes merely exhausting as epic set-piece follows catastrophic disaster on top of interminable super-battles between Superman and Zod's bunch (they've tracked down Kal-El and have flown to earth in hideous spacecraft that resemble huge dung-beetles). It surely didn't take a genius to notice that all the human - and supra-human - interest was being swept away in the clever but soulless cascade of digital effects.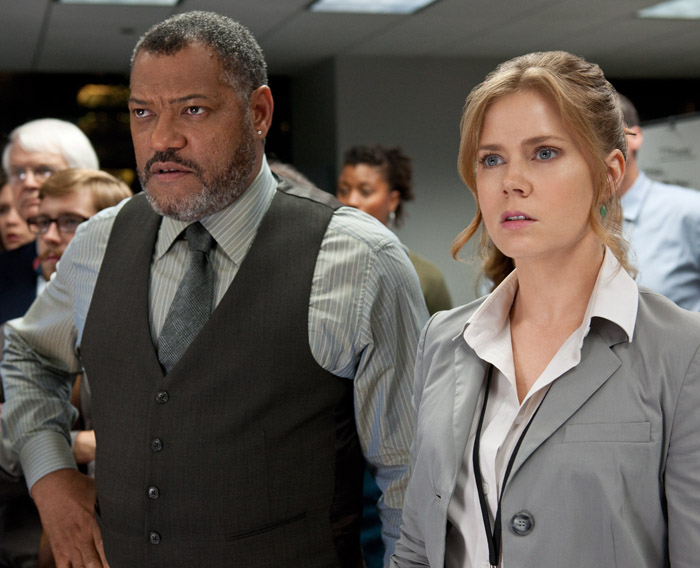 Nonetheless, there is a bit of space for Laurence Fishburne to register his gruff, authoritative presence as Daily Planet editor Perry White, though Amy Adams isn't quite hard-nosed enough as award-winning newshound Lois Lane (Fishburne and Adams pictured right). Snyder and co haven't cracked the conundrum of how to update the ancient world of newsprint into which Superman was born 75 years ago into the post-internet era (though there's a half-hearted introduction of a dweebish blogger), and having Clark Kent start a new career as a pavement-pounding newspaper reporter feels more like genuine science fiction than anything else in the flick. As for Cavill's more-than-slight resemblance to England cricket captain Alastair Cook, perhaps it's a good omen in this Ashes summer.
Watch the trailer for Man of Steel