The White Queen, BBC One/Agatha Christie's Marple: Caribbean Mystery, ITV |

reviews, news & interviews
The White Queen, BBC One/Agatha Christie's Marple: Caribbean Mystery, ITV
The White Queen, BBC One/Agatha Christie's Marple: Caribbean Mystery, ITV
Philippa Gregory gives you medievals. Agatha Christie gives you wood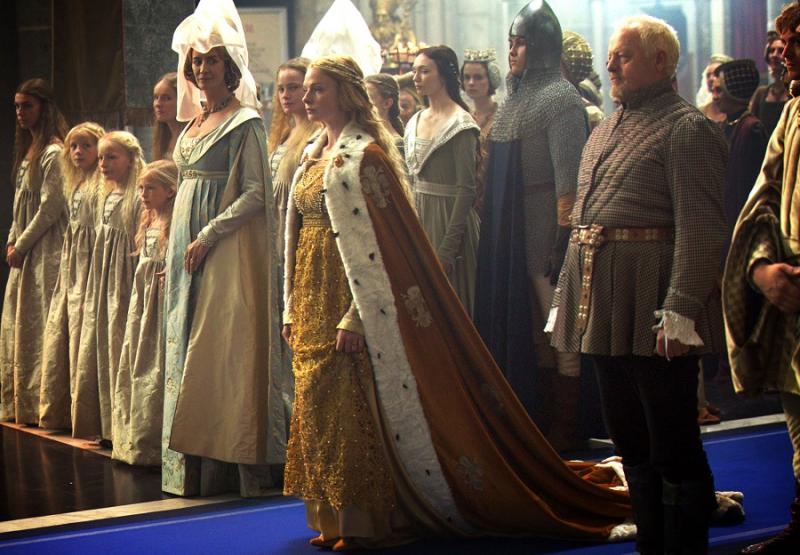 Spoiler alert: next week this happens
In recent times, the Middle Ages have been ghettoised on those channels you watch in pubs. Game of Thrones, and anything by Regius Professor of bunkum Ken Follett, are history laid on for people who don't give a toss about history. You know, the snorey stuff about canon law and tithe barns. For those who prefer their medieval high jinks only semi-faked, The White Queen prances into one's purview on a white liveried steed.
Its aim is to show a clean pair of hooves to all that oikish pillaging and plotting which have lately steamed up the nation's undergarments.
Philippa Gregory's trilogy about the marriage that united the houses of York and Lancaster has been tranched into 10 hours of Sunday night infotainment. One must say it's all jolly timely what with a former commoner about to give birth to the third in line to the throne. The untitled Elizabeth Woodville - in case you haven't read your history books or other source material - is widowed after her husband was dispatched in the Wars of the Roses. On behalf of her disenfranchised young sons (matching ultramarine doublets courtesy of Gap), she must appeal to buff king Edward IV (Max Irons, a shoo-in for Best Achievement in Pectoral Design at this year's Phwoar Awards). He just happens to be cantering past at the head of a horde of mounted catalogue models (pictured below). Her Rapunzelesque hair, aquarium eyes and high-definiton freckles give him an instant boner and they are soon trysting in an English forest, which has been carefully denuded of 4x4s and oligarchs' Keep Out signs.
But our clambersome heroine is after a bigger prize than a right royal roll in the undergrowth, and by clamping her legs shut has soon persuaded the king that he should put a ring on it. Trouble is the Earl of Warwick, who as played by James Frain comes encased in his own ironic quotation marks, has other matrimonial plans for his Majesty: "We've got a peace treaty to conclude with France!" he yells at the very top of his voice, a bit like Hitler totally losing it in a Downfall mashup.
But sod France, this is primetime escapism in which kings may marry for lust, so the new queen is in due course presented at court where she is made aware that there are plenty of scowling ladies waiting to turn the nuptial sheets into a bed of roasting coals. Chief among them is her new mother-in-law (Caroline Goodall), whose haughtiness is quietly semaphored by her zeppelin hairdo. Happily the queen's own scheming mum, rejoicing in the name of Lady Jacquetta (Janet McTeer), is soon bitchslapping her into place.
In short, if The White Queen must be followed for another nine hours, then it'll be for the high-vis miaowing. Rebecca Ferguson in the title role may yet prove capable of hacking lumps out of her sistas as cattily as any of them. The men, meanwhile, are all wilted lampposts with RSC vowels. This may explain why all battles are currently taking place off screen. Indeed most of the budget seems to have been blown on the titular queen's laundry needs. Those floor-length gowns don't stay white on their own, not when dragged through all that period shit.
The acting profession must give thanks every year for the jobs laid on by the Stakhanovite productivity of Agatha Christie. Not for much else though. Julia McKenzie was at it again in Agatha Christie's Marple: Caribbean Mystery, deftly sorting wood from trees. At a tropical seaside hotel the suspects consisted of the usual array of timber. Was it the oak in the panelled bathroom, the willow on the decking or the spruce in the bushes? Actually you knew whodunnit from the start: the one actor who didn't seem to believe a single word their character said. One nice touch: a cameo from a local author called Ian Fleming. He was after a name for his next character when up stepped a drippy vicar to lecture the group on birdlife. Introduced himself as Bond - James Bond.
The men are all wilted lampposts with RSC vowels. This must explain why battles are currently taking place off screen
rating
Explore topics
Share this article