James Gandolfini 1961-2013 |

reviews, news & interviews
James Gandolfini 1961-2013
James Gandolfini 1961-2013
New Jersey-born actor renowned for portrayal of Mafia boss Tony Soprano
James Gandolfini as Tony Soprano - violent, thuggish and confused
Mobster roles have helped define many of America's greatest screen actors, from James Cagney to Marlon Brando, Robert De Niro and Al Pacino. Thanks to his portrayal of Tony Soprano in HBO's TV masterpiece The Sopranos, James Gandolfini has made an unforgettable addition to their ranks.
Though he has died, apparently of a heart attack, at the shockingly early age of 51, Gandolfini's performance across the six seasons of The Sopranos felt more like a piece of American folklore than a mere acting performance. Violent and thuggish yet also confused and conflicted, Tony Soprano was the all-powerful patriarch on the outside, but racked with doubt and existential crisis within. His bouts with psychiatrist Dr Jennifer Melfi (Lorraine Bracco) were like exploded diagrams of Tony's inner turbulence.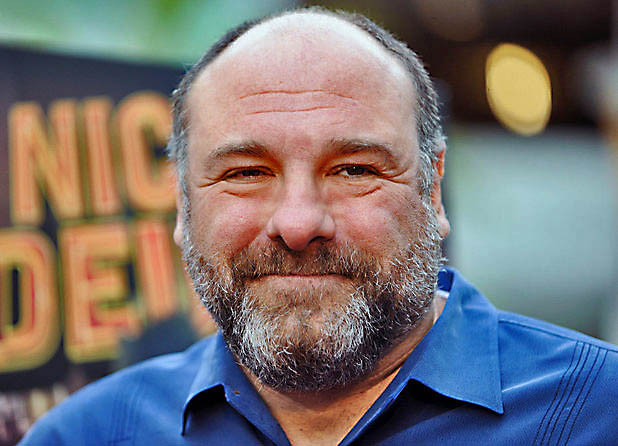 Gandolfini wasn't keen on waxing analytical about his work, but he gave some revealing insights about the character on James Lipton's Inside the Actors Studio programme.
"It's a man in struggle. He doesn't have a religion, he doesn't believe in the government, he doesn't believe in anything except his code of honour, and his code of honour's all going to shit. So he's got nothing left and he's looking around, and it was that searching that I think a lot of America does half the time... He had no centre left and I really identified with that. Then you got to be funny on top of it."
Much credit for The Sopranos is due to its creator, David Chase, but it was surely Gandolfini's genius to find so much potential in the writing and to take the character to places Chase himself had no idea he could go. Gandolfini never imagined he'd get the part - "I thought they'd pick a suave, good-looking mafioso guy. Somebody a little more leading-man type, basically."
After hearing of Gandolfini's death, Chase said: "He is one of the greatest actors of this or any time. A great deal of that genius resided in those sad eyes. I remember telling him many times: 'You don't get it. You're like Mozart.' There would be silence at the other end of the phone."
Gandolfini always felt most comfortable playing blue-collar characters, which stemmed from his Italian working class upbringing in Park Ridge, New Jersey. His father, James Sr., was a bricklayer from Borgotaro in Italy, and his mother Santa (born in the USA but raised in Naples) was a high school lunch-lady. James Jr. acquired a BA degree in communication studies from Rutgers University, then worked as a bouncer, truck driver and nightclub manager before deciding to try for an acting career.
An early acting landmark was his six-week run in a Broadway production of On the Waterfront in 1992. He recalled that he got the part because he was dating a neighbour in his apartment block, and she happened to know the casting director. He picked up a steady succession of movie roles through the Nineties, in a diverse range of films from Terminal Velocity and Crimson Tide to Get Shorty (one of several performances opposite John Travolta) and The Juror. Though he played a sensitive, non-violent character in A Civil Action, it was his role as the mob enforcer Virgil in True Romance (1993) that became the best-remembered of his early appearances, thanks to a savage fight between himself and Patricia Arquette's character. Gandolfini said he picked up some tips about how to play the character from a real-life hitman he'd known ("he's a murderous lunatic, I guess.")
The great Sopranos adventure began in 1999 and lasted until 2007, during which time Gandolfini won the Emmy for Outstanding Lead Actor in a Drama Series three times, and the Screen Actors Guild equivalent also three times. He was able to sustain regular film appearances, for instance appearing with Frances McDormand in the Coen Brothers' The Man Who Wasn't There, playing opposite Robert Redford in the military drama The Last Castle and displaying comedic flair in Romance and Cigarettes. Post-Sopranos, he played the Mayor of New York in The Taking of Pelham 123, a drunk, broken-down hitman in Killing Them Softly, and the gruff CIA director in Zero Dark Thirty (pictured above). Last year he appeared in David Chase's first feature film, Not Fade Away.
A dedicated supporter of US forces, Gandolfini made two military-themed documentaries for HBO. Alive Day: Home from Iraq (2007) was about injured Iraq war veterans returning home, while Wartorn: 1861-2010 traced the history of post-traumatic stress. At the time of his death, Gandolfini was set to star in a new HBO series, Criminal Justice.
James Joseph Gandolfini, Jr, 18 September 1961-19 June 2013