The Fine Art of Shooting Conductors |

reviews, news & interviews
The Fine Art of Shooting Conductors
The Fine Art of Shooting Conductors
Chris Christodoulou celebrates his 33rd year at the Proms with a sumptuous gallery of favourite portraits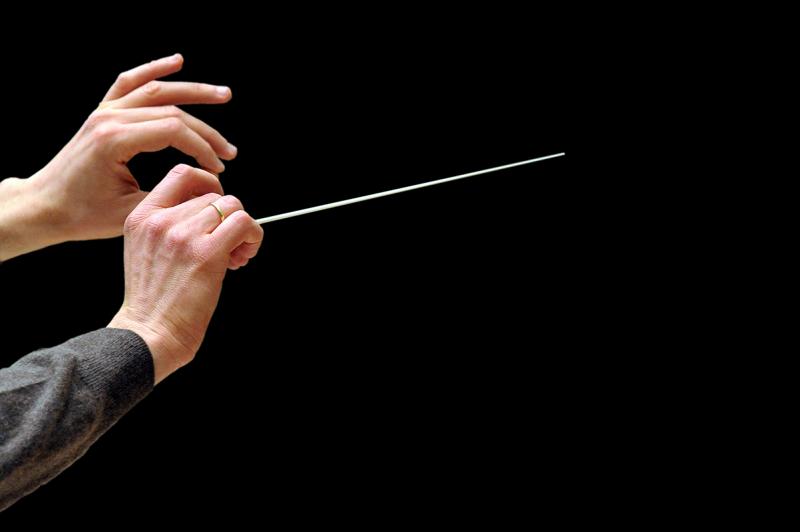 'The baton creates a shape in the picture'
Chris Christodoulou has been photographing conductors at the BBC Proms since 1981. Many attending the Proms at the Royal Albert Hall may well have attempted to spot him. They can give up on that game herewith. As he explains to theartsdesk, the venue with its many curtains and nooks allows him to work discreetly. (If you want to know what he looks like, see below right.) We have been featuring Chris's pictures in an annual gallery since 2010.
This year we have asked him what makes a good picture of a conductor, and how he goes about securing it. He explains, and has supplied us with a splendid array of some of his great photographs down the years.
1 FIND A GOOD POSITION
I have one rule and that is if you're not seen you're not heard. I'm always behind a curtain. Nobody sees me. The camera is in a padded bag which muffles the sound. The Albert Hall is a nice place to work. You have very good visibility of the conductor with the front desks if you want them. If they put the rostrum further back then you may get a view of the audience. Unlike places like Festival Hall where you're very vulnerable and it's extremely difficult to get a good picture of a conductor there without upsetting people. The head-on shot either from the organ or left or right of the choir is a nice shot of the conductor provided he's conducting towards you.
2 KNOW YOUR CONDUCTORS
If it's a Dudamel you need to allow more room around the frame because he tends to move his arms more in an expressionistic way. If it's a more conservative conductor like Barenboim or Petrenko then you can go much tighter and not lose the picture. Some of them - and I don't know whether it's because they were in the woodwind or string section in previous lives - tend to concentrate on those areas and you know they're not going to turn towards you. They just seem to work the back of the orchestra. The moment you change your position they turn to the strings and you've missed your picture. Noseda is very easy to photograph - I capture the perspiration flying everywhere, very passionate. You can almost see Sir John Eliot Gardiner's eyes focus in on the choir or the first violins. I love the tails John Wilson wears. Sir Simon Rattle is very easy to photograph: he covers the entire orchestra so wherever you're going to be you get a good picture. But sadly with his lighter-coloured hair and the lighting coming from above you've got to be careful not overexpose his hair.
3 ALLOW FOR THE BATON
Quite a few conduct now without a baton. I prefer the baton, I really do. There's something to it. It creates a shape in the picture. It's a point that takes your eye. You can almost anticipate their pattern of conducting and how they move, how they work. With Haitink he's got that wandering baton in the right hand, the left hand is open; he almost brings the orchestra towards him rather than conducting at them. Petrenko tends to do a lot of pointing so you know you have to photograph him in a landscape way as you want to get the baton in.
4 CAPTURE THE ESSENCE
It's very very important that you know the programme. Especially if there's a choral work you know the conductor is going to look up, and that's a great picture, but only if you're in the right place. You can't photographically express the Verdi Requiem so what I'm looking for in a conductor is that fraction of a second that at least I could remember the concert by. It might have been a left glance to a soprano.
5 HUNT THE TOOTHPICK
I have tried for years to find out how Gergiev produces a toothpick. I've even had a sneaky look on his music stand. Suddenly it appears, I don't know where from. For one bar he hasn't got it, the next bar there is it. He must be member of the magic circle. It's quite extraordinary.
Overleaf: click for a gallery of Chris Christodoulou's conductors in action
Click on the images below to enlarge
Explore topics
Share this article