The Strange Undoing of Prudencia Hart, Royal Court Theatre Local |

reviews, news & interviews
The Strange Undoing of Prudencia Hart, Royal Court Theatre Local
The Strange Undoing of Prudencia Hart, Royal Court Theatre Local
The National Theatre of Scotland bring their musical romance to London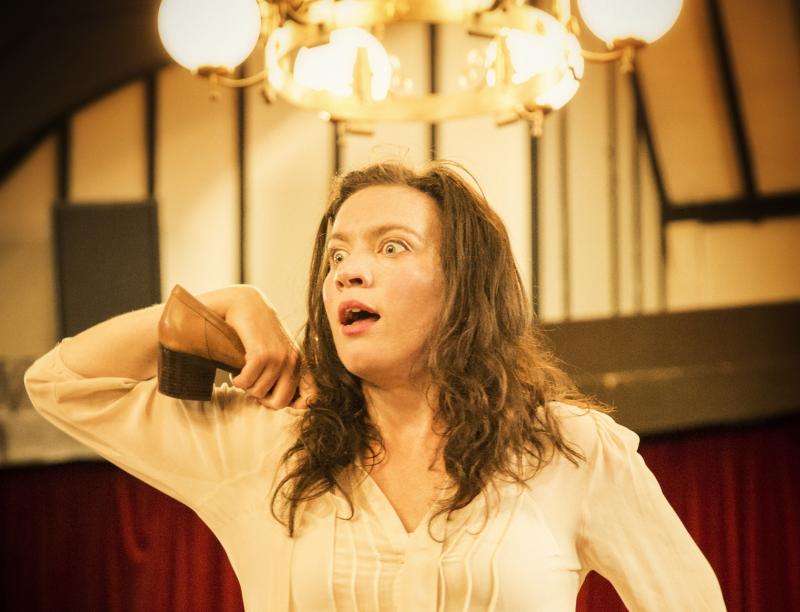 Shoe thing: Melody Grove in 'The Strange Undoing of Prudencia Hart'
There's a united nations of Great Britain feel about this site-specific Royal Court show: it is a National Theatre of Scotland piece played at the London Welsh Centre as a co-production with the top English new writing company. It's an entertaining treat — a riotous romp of rhyming couplets, devilish encounters and wild karaoke — curated by Vicky Featherstone, formerly head of the NTS, which premiered the show in Glasgow in 2011, and now supremo of the Royal Court.
Devised by playwright David Greig and director Wils Wilson, The Strange Undoing of Prudencia Hart takes place in the London Welsh Centre's bar, which is crucial to the play's story. Once upon a winter's day, Prudencia, a folklore academic, travels to a conference on border ballads in the border town of Kelso. After a spirited and agreeably wicked satire on the poverty of academic life, the scene shifts to a local pub, where a karaoke bacchanalia is soon under way.
The evening makes some insistent demands on its audience
Prudencia, who hails from straight-laced Edinburgh, finds it hard to unbutton and join in the drunken revels, but soon the story — which is written in a verse form that pays its own tribute to the border ballads of yore — whisks her into a surreal world, positively hellish, and Pru finds herself in one of those traditional folk tales, peopled by mysterious strangers and requiring journeys through the underworld.
Partly a humorous satire, partly an evocation of the Highland ceilidh (where audience members take turns to perform a song, recite a poem or tell a story), and partly a story of self-discovery, The Strange Undoing of Prudencia Hart is fun, fantastical and occasionally furious. What immediately strikes you is the intelligence and verve of Greig's marvellous writing. It is allusive, humorously and delightfully rhyming, and the music of the songs is infectious.
That said, the evening does make some insistent demands on its audience. For a start, it is set in a snow-shrouded midwinter — which is a hard ask in the middle of a long-awaited summer heatwave in an airless venue. A lot of disbelief needs some strenuous suspending. Similarly, the foot-stamping music does have a very old-fashioned feel, and I was reminded of the late John McGrath and his 7:84 theatre company which toured ceilidh locations in the Scottish Highlands. But that was back in the 1970s — do we really want to revive that?
And while the first part of the evening throbs with the Scottish tradition of exuberant theatricality, there are some boring passages at the start of the second half. But then, the show does end on a wonderfully warm note of romance, with love emerging as a form of demonic possession. Leading the audience participation is a crack cast — Annie Grace, Melody Grove, Alastair Macrae, Paul McCloe and David McKay (pictured above) — with Grove exceptionally appealing in the title role. She makes the journey from prim repression to a more life-embracing attitude with wit and humour. And her version of Kylie's "I Can't Get You Out of My Head" suddenly tugged at my heart. Great stuff.
The first part of the evening throbs with the Scottish tradition of exuberant theatricality
rating
Explore topics
Share this article