About Time
About Time
Typical feelgood fare from Richard Curtis
Wednesday, 04 September 2013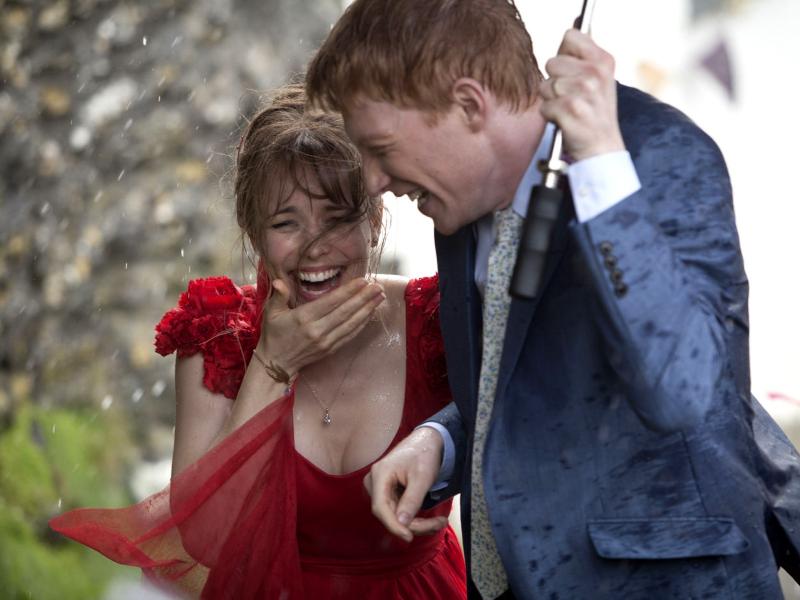 Rachel McAdams and Domhnall Gleeson are the perfect couple in Richard Curtis's time-travelling movie
The news that Richard Curtis will not direct any more films after About Time (which he also wrote) was met with sadness in some quarters and undisguised glee in others. Curtis co-wrote Blackadder, Not the Nine O'Clock News and Mr Bean, created Comic Relief and is an all-round good egg, but none the less stirs up real venom in those who find his other creation, the modern British romcom, sickeningly sweet.
Me, not so much, but then again I'm partial to a bit of schmaltz and any kind of four-wheel event on film – christening, wedding or funeral – will have me in tears before you can say overactive lacrimal glands. About Time, however, stretches even my tolerance because he maxes out on the Curtis tropes in a comically (not necessarily in a good way) predictable story.
His character doesn't learn anything, other than the fact that Mary's bra clasp is at the front
In the first frame, we are in glorious Cornish countryside, where the Lake family live in a rambling clifftop mansion filled to the brim with books and with its own private stretch of beach. Mum (Lindsay Duncan) and former university lecturer Dad (Bill Nighy, pictured below) are loving, if a bit distant and eccentric; Tim, the son, is awkward with women, his sister, Kit Kat (Lydia Wilson), is kooky and always chooses blokes who mistreat her. Throw in a dimwitted relative (Uncle Desmond, nicely played by Richard Cordery) and a cynical friend (Harry, a cynical, tortured playwright played with relish by Tom Hollander) and you have almost the complete Curtis set – but don't worry, the beautiful American that Tim must fall in love with is soon in the picture.
When he is 21, Tim (Domhnall Gleeson) is told by his dad that the men in his family can all travel back in time and erase events in order to relive them and improve them next time round. Aha! you may be thinking – that's Groundhog Day and The Butterfly Effect just for starters, not to mention Back to the Future. But there's no technical wizardry here – Tim just has to go into a small, dark space, think about the moment he wants to go back to, clench his fists and he's there.
What follows are some amusing vignettes as Tim uses his power to find the girl of his dreams. He duly meets Mary (Rachel McAdams, who now has quite a CV in this genre, having appeared in Midnight in Paris and The Time-Traveller's Wife), but when he starts using his power to interfere in others' lives, complications arise. Now living in London in Harry's spare room and pursuing a law career, he travels back to engineer a happy ending on a career-defining night for Harry, which means Tim also erases the moment he meets Mary. He has to start again wooing a woman he knows a lot about but who doesn't recognise him and thinks he's a little weird.
As in Groundhog Day, Tim reprises the situation several times to make the first meeting perfect, but unlike that movie, his character doesn't learn anything, other than the fact that Mary's bra clasp is at the front. This section of the film is its funniest, though, as we see the couple have sex for the first time, which of course gets better each time he, er, clenches his fists.
About Time is not just a romance, but is also about the (mostly unspoken) love between Tim and Dad - and there are some sweet moments as we realise what Dad has used his time-travelling power for. But it gets a little cloying as the film's message – about being in the moment and living life to the full - is rammed home through voiceovers "about what Dad taught me".
The message has some appeal until you realise Curtis wants to have his cake and eat it. The Lakes are a smugly contented family with no visible means of support who live in a grand style, yet he gives Dad the line: "I've never bumped into a genuinely happy rich person." Oh, please: only a person never troubled by poverty could say that with a straight face. About Time, then, has another Curtis trope as we struggle to suspend our disbelief - not at the fantastical time travel but at a setting unrecognisable outside a small, high-achieving London media world, or perhaps even it.
That said, Gleeson and McAdams are pleasing leads, Nighy is, as ever, good value and the rest of the cast, while being underused or their stories underdeveloped in a rather crowded movie, are always watchable.
About Time is on UK release from 4 September
Overleaf: Watch the trailer for About Time
The message has some appeal until you realise Curtis wants to have his cake and eat it
rating
Explore topics
Share this article