Prom 73: Imogen Cooper, Paul Lewis |

reviews, news & interviews
Prom 73: Imogen Cooper, Paul Lewis
Prom 73: Imogen Cooper, Paul Lewis
A Schubert masterpiece duly plumbed precedes a dainty, long and slightly disappointing duo
Friday, 06 September 2013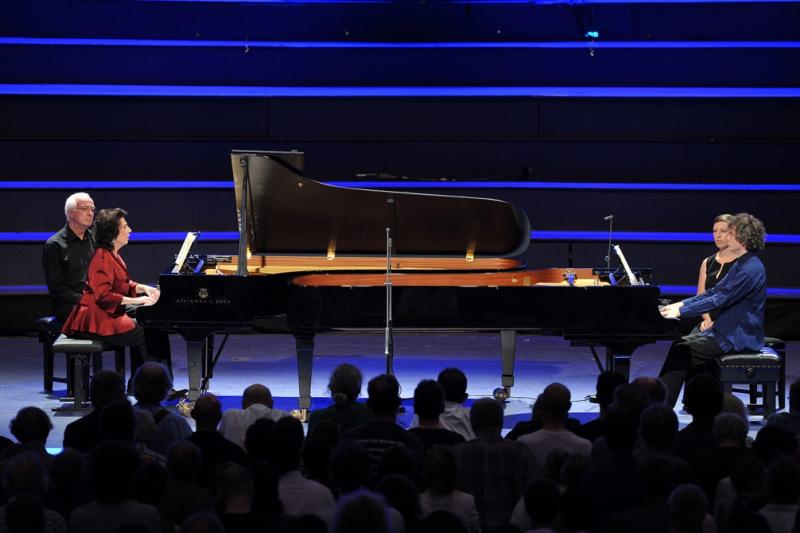 Cooper and Lewis - preferring two pianos to four hands on one for Schubert
It's not because I lament the annual end of a love-hate relationship with the Albert Hall that the last few days of Proms feel rather melancholy. A bittersweetness lies rather in the drawing-in of evenings, however hot it is, so late night Schubert for one and then two pianos seemed like an appropriately introspective way of saying farewell this year.
Imogen Cooper – why on earth she's not a dame is a big mystery, though perhaps not if you look at the honours set-up – can always be relied upon to draw you in to the light-fading of late Schubert. Sure enough, after the startling summons of the C minor sonata D958, she was achieving all her usual subtle, inscaped wonders in the second subject, shifting colour with the composer's miraculous enharmonic key changes.
The second movement predictably struck the greatest depths and elicited the most tears, more withdrawn chords and fleeting shifts to the minor suggesting that the composer has already half crossed over to the other side. Cooper (pictured left) joined it to a purgatorial scherzo, and thence straight to the exhausting tarantella of the finale. It can sound more like a dance of death, and there are pianists who are more fearless in scaling the Alpine heights, like Elisabeth Leonskaja. Cooper, though, proves there are almost as many human insights to be gained in the rolling upper Austrian hills.
Would that were true of the "Grand Duo" D812. Cooper and her regular Schubert partner Paul Lewis, electing to play the four-hander on two pianos in still perfect accord, clearly believe in it and the programming was clever to shift from C minor to C major. But after one of the greatest masterpieces, its predominant serenity can seem placid and overstretched. And it's not simply the fact that this is an earlier work; there are specimens among sonatas written earlier still, as Leonskaja proved in her Verbier Schubert odyssey, which reveal just as much idiosyncrasy, if not quite as much depth, as the C minor Sonata.
Insights do arrive, especially in the rather bizarrely extended codas of the outer movements (the Andante, modelled on its counterpart in Beethoven's Second Symphony as Stephen Johnson's friendly programme note pointed out, simply goes on with not very inspired material). Cooper and Lewis (pictured right) had fun, starting with another strong lyric theme, playing soprano and tenor, violin and cello; and there were two delicious fleeting moments of cat and mouse in the finale.
Yet from quite far back in the hall, wonderful for the many pianissimos, it all felt a little dainty; I longed for a bit more communicative energy around the 11.15pm mark. Not for nothing are Cooper and Lewis both former pupils of the (to me) sometimes glacial Alfred Brendel. Never mind; for those who never saw Britten and Richter together, it's good to have ticked this relative rarity off the live listening list, and next time Cooper plays the C minor Sonata, at the Wigmore Hall on 19 October, she'll be following it with two equal giants, its companion sonatas of Schubert's last year.
Cooper was soon achieving all her usual subtle, inscaped wonders, shifting colour with Schubert's miraculous enharmonic key changes
rating
Share this article