Assassin's Creed IV: Black Flag |

reviews, news & interviews
Assassin's Creed IV: Black Flag
Assassin's Creed IV: Black Flag
The time-travelling stealth-action-adventure series goes to the Carribean
Thursday, 31 October 2013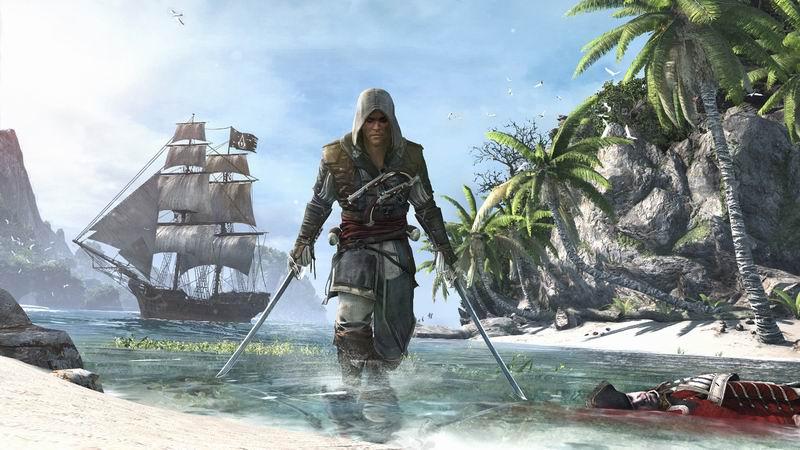 'Assassin's Creed IV: Black Flag': Rum, the lash, but not much sodomy
It's the disease most feared among all mainstream videogame franchises – featuritis. That is, the endless quest for some new marketing tick box addition dreamed up to ensure the fans keep coming back. That, sadly, appears to be the rapidly looming fate of the Assassin's Creed series.
The bonkers premise behind the series – as best as I can understand it – is that rival secret organisations the Assassin's Brotherhood and the Knights Templar have been waging a clandestine war across history, involving the use of ancient, possibly alien technology. The spine of the series is that both sides have lately been using the technology to delve into the DNA-encoded memories of the "past lives" of people's ancestors and possibly altering history by getting modern day office drones to relive and alter their ancestral pasts. I might be wrong on several elements there, but frankly, given how confusing, portentuous and utterly stupid the backstory is, it's a wonder I haven't blocked the lot from my brain.
All of this guff is, of course, just an utterly rubbish way to plonk you somewhere in history and then get you to sneak around killing people – which is the fun bit. Past episodes have taken in the Crusades, Renaissance Italy and the American frontier. Now it's tropical waters in the early 1700s – in other words, this is Pirates of the Carribean goes videogame, with lots of stealth and climbing.
Where Black Flag succeeds is, in fact, its piratical elements. Its makers are to be congratulated for grafting the DNA of the Assassin's Creed series – sneaking around castles, climbing up walls, then leaping into combat to stab someone in the back before legging it – straight into a swashbuckling, freeroaming pirate game.
On top of sneaking into British barracks to stab naval officers in the back and loot their gold, the game delivers a far more open map than ever before, navigated by your trusty ship, The Jackdaw.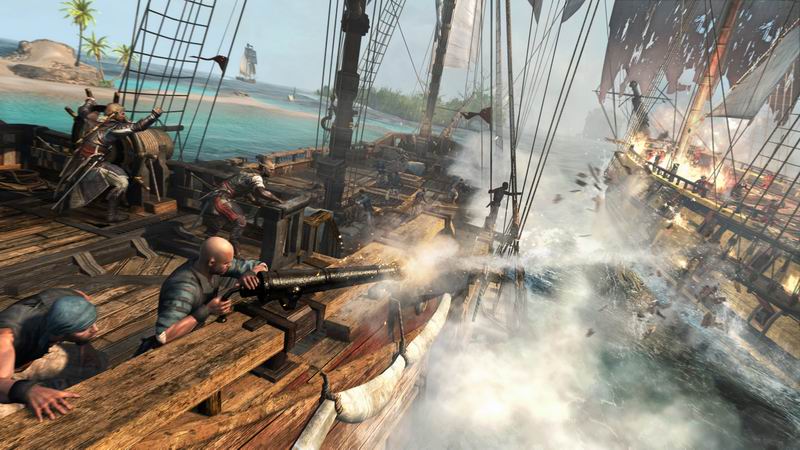 Black Flag lets you hop from island to island, dodging armed frigates and taking on merchant schooners for booty, with great fun cannons-and-boarding parties, sea-battle action sequences. And while on land, there's loads more roaming through the natural landscape to do, encouraged by each new location coming ready-stuffed with treasure maps, skeletons clutching booty, and animals to hunt down for pelts.
Interest is also maintained with an upgradeable ship as well as personal armoury. But once you've plundered your way across the map, you'll notice there's something missing.
In the rush to add new elements – sea battles, upgradeable ship, more shops, an upgradeable home base, more outdoors area exploration, a plethora of repeated piratical mission types (such as plantation warehouse raids), and better integrated multiplayer etc. etc. – someone forgot to add any depth to the main character or interesting plotting. There's little to keep you pushing forward in terms of juicy revelations. And unlike Grand Theft Auto V, there's also little incentive to keep exploring after a few hours – once you've sunk a few frigates, and sung a few shanties, this pirate life starts to wear.