Volcano Choir, O2 Academy Bristol |

reviews, news & interviews
Volcano Choir, O2 Academy Bristol
Volcano Choir, O2 Academy Bristol
Wisconsin band featuring Justin Vernon of Bon Iver on first European tour
Volcano Choir: mysterious and celebratory
It's surprising how a singer with as little obvious presence or charisma as Justin Vernon can carry a live show, but he does. The power is in the otherworldly voice, and haunting songs with mysterious lyrics, carried on a wall of sound in the tradition of those "little symphonies for the kids" that Phil Spector pioneered half a century ago.
When he stopped being Bon Iver, the soft-voiced falsetto vocalist launched into a collaboration with a bunch of like-minded Wisconsin experimental folkies: Volcano Choir's first album Unmap, as its allusive title suggested, explored new and exciting territory. There were traces of Bon Iver's characteristic spacey romanticism, but the trademark voice was laden with eerie drones and minimalist loops. Repave, which followed four years later, signalled a retreat into less surprising territory, something closer to the rock mainstream.
Fresh from Volcano Choir's first European gig ever in Dublin, Vernon and the band hit Bristol last night (pictured below right), the first of only two British gigs – to promote first, and foremost, their latest album. Although the band is clearly a collective, Vernon is the main focus of attention. Volcano Choir has always felt like a follow-up to the two Bon Iver albums. The musician who broke through with For Emma, Forever Ago, the album that was produced in the aftermath of heartbreak and in a remote forest cabin, can't escape the aura of vulnerability that has always been reflected in his trademark falsetto. But the cohort of rock musicians around him, with no less than three guitars, provide him with a different context, as if he now might own the world, rather than retire from it.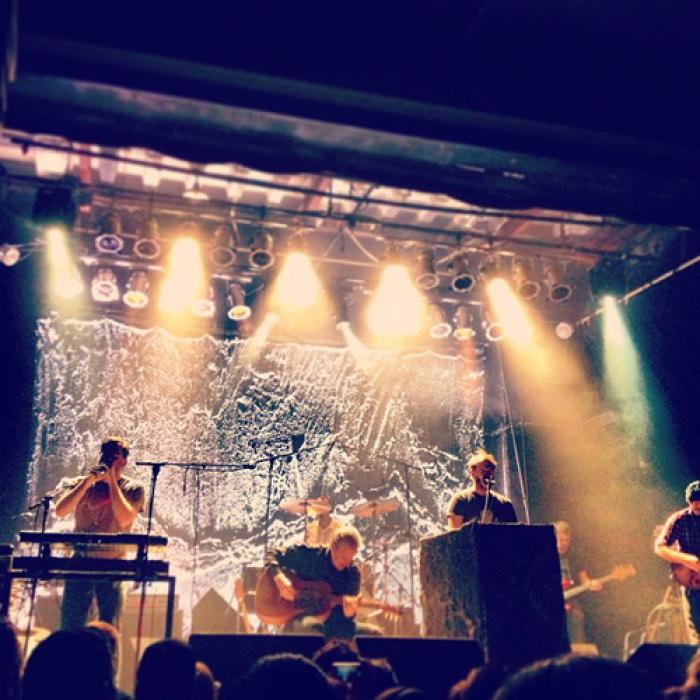 There were moments of raunchy confidence that gave way with dramatic suddenness to high-voiced lament, a touching expression of emotional insecurity, often double-tracked or electronically treated through a Vocorder. The evening hit its stride when the band launched into "Alaskans", with its poetic references to adventurous journeys, which was followed by another track off the new album, "Acetate". At this point the Volcano Choir lived up to its name, as four vocalists, including Vernon, sang in punchy unison. The softness of his troubled male hysteria was left behind as if the pain of heartbreak - the source of so much of the music that made him famous - had been exorcised and replaced with something closer to the pile-driving heart of rock'n'roll.
The dramatic song "Byegone", which builds incredible tension through the alternation of different clusters of riffs, is shot-full of references to the power of mind-altering substances. This is a song about "opening doors", and as he lead into the next song "Still", Vernon promised a long one that would "fuck with our minds". Building very slowly like the best love-making, the song is a hymn to deceleration, a turning inwards towards maximum feeling, here and now. As the song reached its climax, the sounds of guitars, keyboards, looped vocals and drums exploded, in a psychedelic peal of sounds: the music was as good as it gets.
Volcano Choir's music is both mysterious and celebratory, rooted in poetry and introversion as well as being exuberant and immediate. The secret of Justin Vernon's appeal and originality has something to do with these apparent contradictions: his own lack of obvious star quality and almost shambolic boy-next-door ordinariness, rather than undermine his performance, give it an emotional quality and power that are quite unique
Volcano Choir are at the Barbican Centre tonight
There were moments of raunchy confidence that gave way with dramatic suddenness to high-voiced lament
rating
Explore topics
Share this article