Schools' Prom, Royal Albert Hall |

reviews, news & interviews
Schools' Prom, Royal Albert Hall
Schools' Prom, Royal Albert Hall
Hundreds of young musicians come together to make a musical miracle
Thursday, 14 November 2013
The "Massed Ensemble" brings together over 600 performers, while the whole Schools' Prom features over 3,000
This year I've sat through Carrie Cracknell's Wozzeck dry-eyed, seen a handful of Mimis take their last consumptive breath without so much as a tremor, even heard Shostakovich's shattering Symphony No. 13 without obvious emotional distress. I was beginning to think I was getting irretrievably jaded, hardened; then a bunch of Welsh kids with ukuleles and a folk trio from the Highlands came along and everything changed.
Music education in the UK has never been more embattled, more fragile. The music centres across the country that gave my generation that first addictive taste of ensemble music-making no matter how rural their communities, the curriculum that ensured that my parents' generation grew up with music in schools as a matter of course – both are part of a nostalgic past that no longer exists. And yet teachers persist, working ever harder and more creatively to fill the gaps. People can't afford to heat their homes, can't reliably feed their families; why should we fund music education? I can't think of a better answer to that than the annual Schools' Prom.
With tight riffs, characterful playing and radiating joy they completely stole my heart
Split across three nights each year at the Royal Albert Hall, the event is just the culmination of ongoing work by national charity Music For Youth, who have reached an astonishing 2.5 million people over the years. Workshops, mentoring, group projects and regional performances all lead back to this flagship event that showcases just some of the students involved and their extraordinary talents.
It's a real mix of ensembles (with a different line-up for each of the three nights) ranging from youth orchestras to rappers, classical repertoire to contemporary pop – whatever gets the performers excited. And what's most striking once you get over the sheer joy, the overflowing energy of the whole experience, is just how comfortable and confident these young people seem in the cavernous Royal Albert Hall, a venue that has swallowed up many a professional ensemble.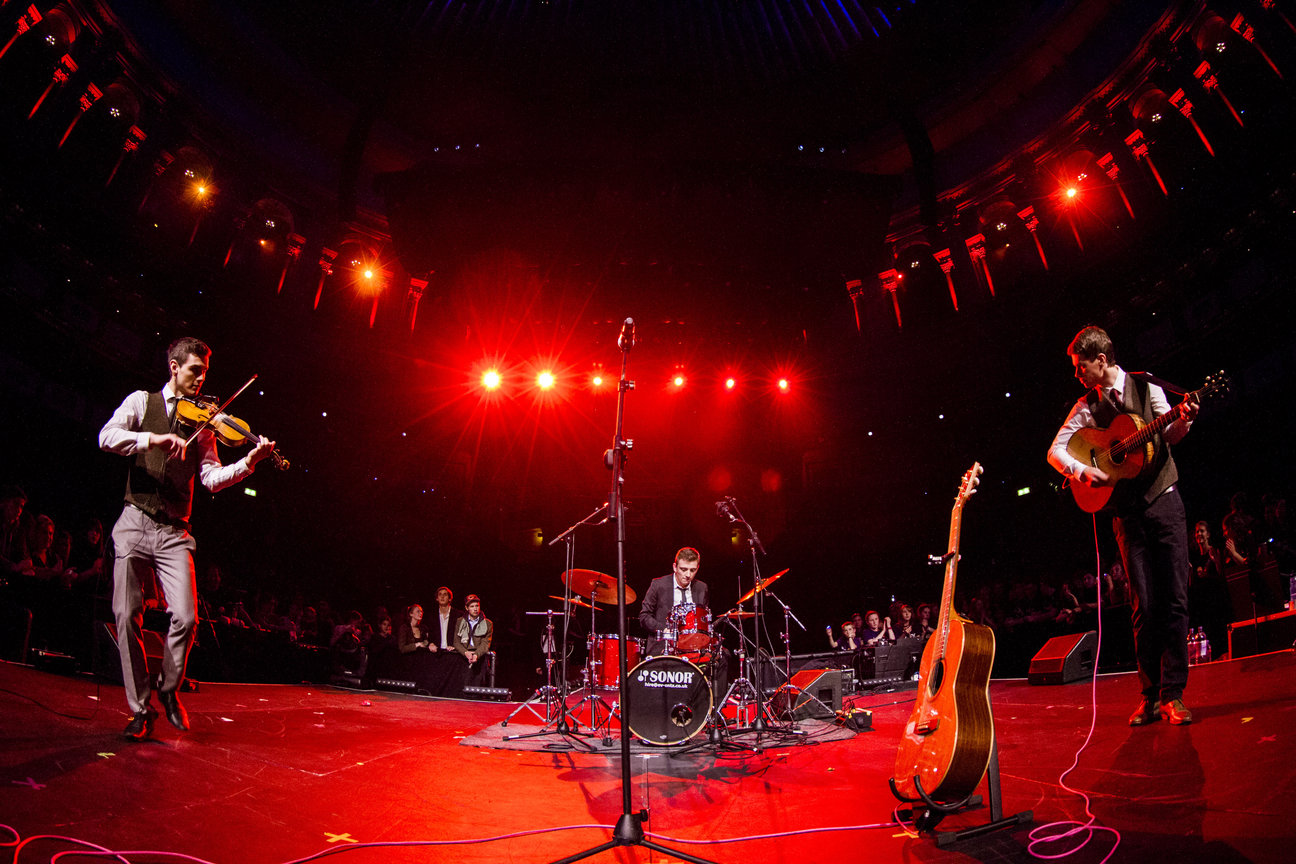 Strumming, bowing (in the case of Hosta, pictured right) and blowing with the same insouciance they'd bring to a school assembly or a local gig, these performers are having an absolute ball doing what they do. Spotlights travel and strobe, colours blur and blend, but your eyes (and ears) are still drawn to the figures at the centre – amplified perhaps by the effects, but in an X-Factor world so undeniably, so authentically the real thing.
It takes a lot to get up and perform at the Royal Albert Hall, even with a nicely printed score and a full geography of the work in front of you. What an achievement then for teacher Lauren Brant to lead the pupils of the Dulwich Hamlet Junior School Fusion Ensemble (aged 10-11) in the score-less, semi-improvised Scandinavian Sounds, bringing together tuned percussion and conventional instruments for a Peer Gynt-inspired sonic tapestry with only her cues to guide them. The result was a genuinely unexpected atmospheric delight, dominated by some extraordinary young brass players.
Older brass performers were also the stars of the City of Hull Youth Jazz Orchestra (13-19), featuring an extraordinary solo trombonist and a collective trombone passage of absurd rhythmic complexity. With their tight riffs, characterful playing and radiating joy they completely stole my heart – that is, until folk-trio Hosta from the Highlands (18-20) came along. Combining folk fiddling, guitar and moody vocals, the group are as assured as they are original. I don't know where in Scotland they got their stage presence, but the Highlands really can't hope to keep these musicians to themselves for much longer – what electric energy, what clever fusion of style. And then there were The Debuts from Swindon – another trio, this time in a deliciously retro guitar-pop vein – who knew more than any 16-year-olds have any right to about working a crowd.
The biggest surprise of the evening though was Caerphilly's Lewis & The Ukes (13-18, pictured left). "Ukelele orchestra" has always sounded more like a threat than a description to me, but reworked as a neat little band with a trio of fabulous singers and a rapper barely bigger than his microphone and you something at once quaintly old-fashioned and absolutely fresh.
Each night's performance features a "Massed Ensemble" – a regional group bringing together some 600 performers from different ensembles into a single musical experience. Hailing from Cornwall, last night's army had everything to play for in Joe Broughton's One and All. Somehow accommodating a recorder consort, endless string players, a youth choir and enough brass to fill the UK's entire quota of military bands in his writing, he managed to produce a work of huge appeal and directness.
I may need the rest of the year to recover emotionally, but I'll be first in line for the 2014 Schools' Prom. There's something in the combination of youth, hope, ambition and joy that no professional performance I've witnessed recently has come close to touching. It makes me proud, but it also makes me very scared for the future. Will we still find such diversity of performers, such drive in a decades time when music is long since dead in schools? We can only hope, and support charities like Music For Youth and the extraordinary teachers on show last night, who are doing their damnedest to make sure that we do.
What's most striking once you get over the overflowing energy of the whole experience, is how comfortable and confident these young people seem
rating
Explore topics
Share this article