Stott, Orchestra of Opera North, Farnes, Leeds Town Hall |

reviews, news & interviews
Stott, Orchestra of Opera North, Farnes, Leeds Town Hall
Stott, Orchestra of Opera North, Farnes, Leeds Town Hall
Dazzling early Britten paired with incandescent, urgent Elgar
Kathryn Stott
When you're young, you think that liking Elgar is a habit you'll grow into later in life, like buying a set of golf clubs or following The Archers in detail. As I shuffle into middle age, I find that I'm beginning to love this music more and more. I've given up making excuses to younger, hipper friends.
Richard Farnes' intense account of Elgar's disconcerting Second Symphony was a great performance, one in which intense dynamism served to accentuate the score's lingering,
fin de siècle
nostalgia.
Elgar's own recordings are strikingly fast; Farnes (pictured below by Clive Barda) was a pretty good match. Cloying sentiment was stripped away, and Elgar's penchant for sequential noodling never threatened to unbalance the symphony's carefully-wrought structure. Highlights were many – the first movement's shadowy nocturne suggesting the headiness of Schoenberg's Verklärte Nacht as well as 1940s film noir, the Orchestra of Opera North's augmented string section producing ravishing, diaphonous sonorities. Swift tempi show how close Elgar was to Strauss, and the movement's brassier climaxes erupted here with bold swagger.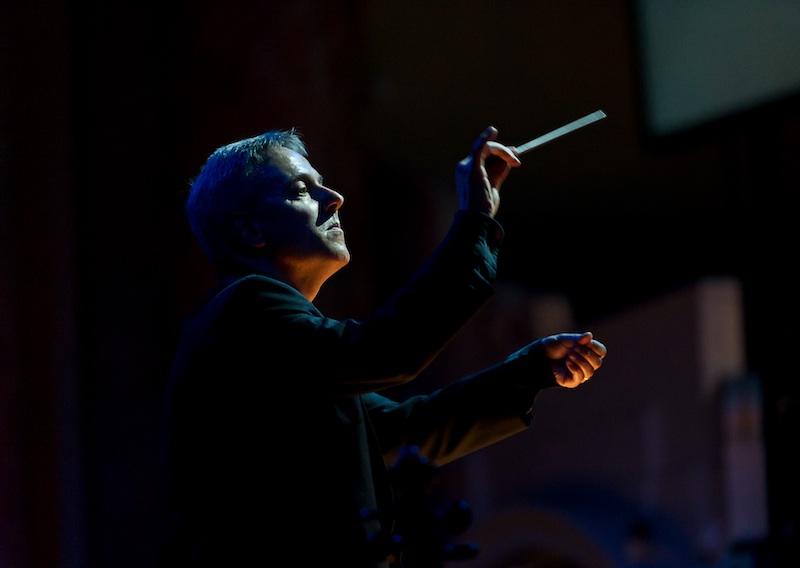 Keeping a tight rein on the Larghetto made the funeral processional sound uncomfortably Mahlerian, far closer to the European mainstream than a humdrum pomp and circumstance tribute to a dead king. The Rondo's violent heart packed an immense punch, but the biggest revelations were to be heard in Elgar's peculiar final Moderato e maestoso. This often feels like an enormous let down after what's preceded it, a meandering, emotionally ambivalent triple time plod.
Miraculously, it worked here – rhythmically tight, always moving forward. Which meant that the resigned, autumnal coda was unusually affecting, Farnes allowing us to hear just how sophisticated an orchestrator Elgar was. Good too to be reminded of how unsettling the symphony's closing cadence is, before the slow fade into silence. Possibly the best live Elgar performance I've heard, making the sight of rows of empty seats even more infuriating. Presumably everyone else was out quaffing glühwein at the German Christmas Market a few hundred yards up the road.

Earlier, Kathryn Stott played Britten's flamboyant early Piano Concerto. Farnes has a knack for choosing the right tempi, and his weighty, trenchant approach payed huge dividends here. Recent CDs by Steven Osborne and Howard Shelley have stressed the concerto's mercurial flashiness; Farnes' opening speed was closer to that chosen by Britten in his recording with the great Sviatoslav Richter. It's a marvellous work, one in which Britten cheekily parades his influences and gives us a taste of what was to emerge in his mature works of the 1940s. Stott's first movement cadenza dazzled – her rapid glissandi immaculate, leading to a mesmeric few minutes of rapt, radiant stasis before the noisy finish. A deliciously louche viola solo began the Waltz, and the gamelan-like overlapping brass near the close of the Impromptu roared. Stott never underplayed the sardonic wit, and the final March bristled with gallows humour, a feast of snarling muted brass and pin-sharp percussion. She had sufficient energy left to give us an encore: a limpid, graceful Chopin Nocturne.
Cloying sentiment was stripped away
rating
Explore topics
Share this article