Listed: The Many Faces of Nelson Mandela |

reviews, news & interviews
Listed: The Many Faces of Nelson Mandela
Listed: The Many Faces of Nelson Mandela
Idris Elba in The Long Walk to Freedom is only the latest in a long list of actor-impersonators
Saturday, 14 December 2013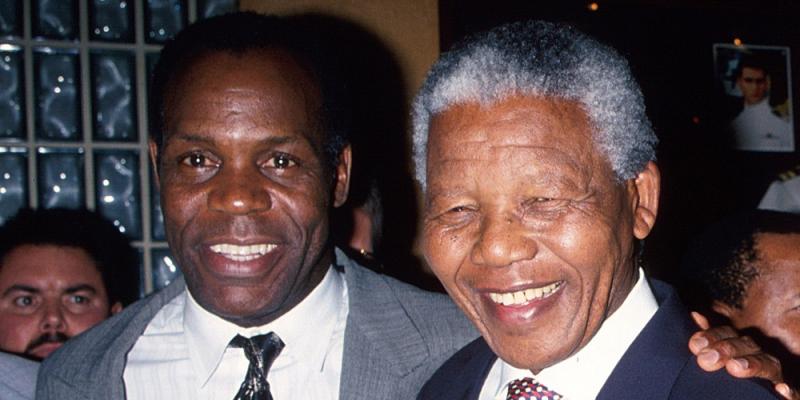 Nelson Mandela with the Hollywood impersonator he called 'Danny boy'
Nelson Mandela had a nose for the dramatic gesture. The evidence is there in his speech at the Rivonia Trial in 1964, in his symbolic walk to freedom as he emerged on foot from captivity in 1990, his astute performance at the Rugby World Cup in 1995 and then finally in death, announced just as an epic new film of his life was being premiered in London, the seat of the old colonial power.
Mandela: Long Walk to Freedom, which opens in early January, is by no means the first film to feature Mandela. Hollywood has co-opted him, as has television in South Africa, Britain, America and, first of all, West Germany. Back home he has also been a character in verbatim theatre while Cape Town Opera turned his life into a trilogy featuring three different Mandelas. The hunger to tell his remarkable story has made Mandela into an employment opportunity for actors including several eminent American stars and two stars of The Wire. This week, to mark both Mandela's passing and the coming of his latest (and last?) screen incarnation, Listed lists his impersonators.
Simon Sabela, The Rivonia Trial (1966)
German TV docu-drama about the trail and imprisonment of called Der Rivonia-Prozeß about the 1963-4 trial of the ANC leadership in the Palace of Justice in Pretoria. Born in Durban, Sabela's previous role was as a dance leader in Zulu. Mandela's four-hour speech at the trial was presumably truncated.
Danny Glover, Mandela (1987)
The only American actor to portray Mandela before his release from prison. The script for the HBO TV movie was by South Africa-born Ronald Harwood and filmed in Zimbabwe. Of necessity not conclusive, it begins in 1948 and ends with Mandela still on Robben Island. Glover got to knows his subject in later years who referred to him as "Danny boy". (Pictured, Glover with Alfre Woodard as Winnie Mandela)
Sidney Poitier, Mandela and de Klerk (1997)
Or how the Nobel Prize for Peace was jointly won. There were Emmy nominations for both Poitier and Michael Caine as FW de Klerk, the South African president who announced the unbanning of the ANC and the release of Mandela. The behind-the-scene drama of how the deal was done was shot in South Africa and deployed documentary footage. Necessarily ironed out the complex corrugations of the negotiated deal.
Willie Jonah, Jeffrey Archer: The Truth (2002)
Guy Jenkin's one-gag drama starring Damian Lewis as the schlock-peddling felon which makes fun of Archer's self-mythologising pathology. Mandela is one of the star names who crop up in Archer's story. Jonah, one of the first black actors to appear regularly on British television, also played Zambian first's president Kenneth Kaunda in The Iron Lady.
Lindani Nkosi, Drum (2004)
Another cameo for Mandela (Lindani Nkosi pictured left) in the story of young investigative journalist Henry Nxumalo who in the 1950s turned the eponymous magazine Drum into a beacon of protest against apartheid. Directed by Zola Moseka and starring Taye Diggs. In Mrs Mandela (see below) Nkosi would later play ANC activist Cyril Ramaphosa, the one-time Secretary Gneeral of the ANC who hosted the Mandela Memorial in Soweto.
Dennis Haysbert, Goodbye Bafana (2007)
Based on the book by Mandela's Xhosa-speaking censor James Gregory (played by Joseph Fiennes) in Robben Island and Pollsmoor. Directed and co-written by Bille August (Pelle the Conqueror), released on DVD in the US as The Color of Freedom. Haysbert's previous presidential experience was as POTUS David Palmer in 24. Mandela's biographer Anthony Sampson took a dim view of Gregory's memoir but Mandela is kinder to him in A Long Walk to Freedom.


Clarke Peters, Endgame (2009)
A forensic account of the secret negotiations in an English country house hotel which preceded the freeing of Nelson Mandela, directed by Pete Travis and written by Paula Milne. Peters as Mandela (pictured right) is seen mainly in the company of the regime's head of intelligence Dr Niel Barnard (Mark Strong). The real stars were William Hurt as apartheid intellectual figleaf Professor Willie Esterhuyse, Chiwetel Ejiofor as Thabo Mbeki and Jonny Lee Miller as a visionary British business representative who initiated the talks.
Morgan Freeman, Invictus (2010)
The actor who is always first on the list to play God was always going to give his Mandela one day. Clint Eastwood's film sprinkles Hollywood fairydust over a story that doesn't need it – Mandela's shrewd plan to support the great symbol of Afrikaanerdom, the Springboks, as South Africa hosts the rugby World Cup. The stronger subplot involves his black bodyguards learning to work with their white former oppressors. The rugby, in which Matt Damon plays skipper François Pienaar, sucks. Freeman strikes a melancholy note as a man loved by a nation but unloved in his own home.
Sello Maake Ka-Ncube, The Rivonia Trial (2010)
Verbatim stage drama about the treason trial pieces together the narrative via the testimony of witnesses, defence lawyers and arrested activists. Ka-Ncube (pictured left), best known in South Africa as chief villain in the soap Generations, won a gong at South Africa's leading theatre awards for his portrayal of Mandela. The production was revived in 2011 and excerpts were performed this week in Pretoria at a stage celebration of Mandela's life.
David Harewood, Mrs Mandela (2010)
Noble turn from Harewood in a gruelling BBC drama about the fate of the woman married to the struggle. As written and directed by Michael Samuel, it has Harewood's Mandela looking directly into the eyes of Sophie Okonedo's Winnie as he announces at the Rivonia Trial that he is prepared to die. In this telling it wasn't his sacrifice alone. As with many actors, he found the accent a challenge
Terrence Howard, Winnie (2011)
Mrs Mandela gets the US TV treatment as Jennifer Hudson, graduate of American Idol and Oscar-winner in Dreamgirls, is romanced by the star of Hustle & Flow (who, unlike many screen Mandelas, at least looks a bit like him). Although directed by a South African, Darrell Roodt, some South African actors weren't happy at the casting of American stars, and the subject herself wasn't happy with any of it. "I was not consulted," snarled Winnie Madikizela-Mandela. She could be content at least that few saw the gloopy result and even fewer liked it.
Aubrey Poo, Aubrey Lodewyk and Thato Machonga, The Mandela Trilogy (2010)
Cape Town Opera's Mandela Trilogy portrays three periods of Mandela's life, using a different singer to portray Mandela in each act. Aubrey Lodewyk plays the mature Mandela and brings a statesman-like authority to the role: "I never try to imitate him or his voice on stage, but I try and inhabit the character and portray his emotions". Thato Machonga plays the teenage Mandela in the Transkei, singing in Xhosa: "In opera you're often singing in a language you don't understand – like Italian - but singing in Xhosa makes it very immediate". The freedom fighter of the 1950s is played by Aubrey Poo: "I'm portraying the middle Mandela at the height of his career as a lawyer, as an activist and as a womaniser. It's a fallible version of Mandela which is dynamic and colourful." Simon Broughton
This officially sanctioned adaptation of Nelson Mandela's bestselling autobiography has a mammoth task in making sense of a long life. Its gestation - the final script is by William (Gladiator) Nicholson - has been almost as long as its subject's time in prison. Idris Elba was surprised to get the nod but what he lacks in facial looks he makes up for in height and bulk. The make-up department perform the usual heroics as Mandela ages 40 years before our eyes.