Classical CDs Weekly: Tchaikovsky, Harry Christophers, 4 Girls 4 Harps |

reviews, news & interviews
Classical CDs Weekly: Tchaikovsky, Harry Christophers, 4 Girls 4 Harps
Classical CDs Weekly: Tchaikovsky, Harry Christophers, 4 Girls 4 Harps
A thrilling uncut ballet score and two entertaining Christmas discs
Saturday, 21 December 2013
Neeme Järvi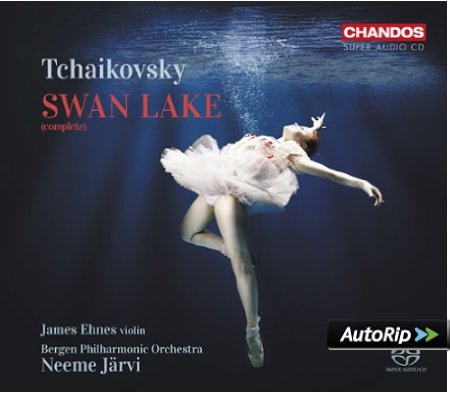 Tchaikovsky: Swan Lake (complete ballet) Bergen Philharmonic Orchestra/Neeme Järvi, with James Ehnes (violin) (Chandos)
This team's Swan Lake is every bit as revelatory as last year's complete Sleeping Beauty. As you'd expect, four acts, uncut, are comfortably squeezed onto a pair of CDs. Some conductors slow down with age. Neeme Järvi demonstrates again that he's speeding up, though you suspect that the extra zip in this performance also stems from not having to accommodate the demands of exhausted dancers. Swan Lake is still regularly performed in a version prepared by Riccardo Drigo, condensing the action into three acts and cutting over a third of Tchaikovsky's score. Järvi gives us everything. There's no filler. Marvel at the opening oboe solo – a subtle variation on the familiar Swan motif, and, as David Nice's notes point out, a spooky premonition of the descending string melody in the last movement of the Pathétique Symphony. Individual dances are often tantalisingly brief, but Järvi never lets things feel saggy and episodic. And how refreshing to hear a conductor who excels in the lighter dances whilst never underselling the drama – the opening of Act 2 contains some fantastic, doom-laden brass playing.
The abrupt changes are spectacularly handled – sample the moment in Act 3 when Rothbart and Odile enter the ballroom to the accompaniment of cymbal crashes and a plangent reprise of the swan theme on winds. What makes this set such a marvel is being able to hear each dance in its proper context, making Tchaikovsky's balancing of whimsy and tragedy sound all the more radical. The final act, lasting barely 18 minutes, packs a huge punch, the denouement emotionally devastating. Spectacular recording quality allows us to appreciate just how good the Bergen Philharmonic's playing is. There's a marvellous cornet solo from Gary Peterson in Act 3's sequence of national dances, and Johannes Wik's harp playing is a source of continual delight. James Ehnes's star turn as guest violin soloist is a bonus. Unmissable, in other words.


Joy to the World – An American Christmas Handel and Haydn Society/Harry Christophers (Coro)
There's a tiny carol by Charles Ives on this disc. Part of me hoped that it would be an unhinged polyrhythmic mess requiring two conductors. But it's a delectable jewel of a carol that wouldn't scare anybody, though listen carefully and you'll notice a few hints of Ivesian quirkiness. More obviously arresting are two carols by the eccentric William Billings, whose rugged, unpolished music wasn't entirely to the taste of middle-class Bostonians in the early 19th century – so they founded the Handel and Haydn Society in an attempt to introduce audiences and congregations to more sophisticated styles. Harry Christophers' well-chosen anthology includes a few works familiar to British audiences, but I suspect that most listeners will turn to the novelties. O little town of Bethlehem's alternative melody was composed in 1886 by Louis Redner. The barbershop style harmonies are delicious. There's also a sweet alternative version of It came upon the midnight clear, Richard Storrs Willis's melody sounding as if it's escaped from a Savoy opera.
More recent carols include Morten Lauridsen's sublime O magnum mysterium. It's spectacularly sung here, five minute of slowly unfolding bliss, beautifully controlled by Christophers. The recording quality is outstanding in its naturalness – you sense that the engineers have simply set up the microphones and let the choir get on with it. James Bassi's Quem pastores laudavere is another sumptious wallow. Holst's In the bleak midwinter feels a little subdued, preceded by a thigh-slappingly upbeat rendition of Joy to the world. The disc closes with Leontovich's bracing Carol of the Bells, finishing with a resonant, onomatopoeic "Bohm!" Glorious stuff.


4 Girls 4 Harps at Christmas (Discovery Music and Vision)
Harpist Harriet Adie reminds us that the harp has plenty of Christmas associations – particularly when tinkling away in Tchaikovsky's Nutcracker and adding piquant spice to Britten's Ceremony of Carols. Having four harps dispatch ingenious arrangements of 20 different carols is occasionally problematic, as the harp isn't the most expressive of instruments, and the less-distinctive arrangements here can sound dangerously like an amplified mechanical music box. The more obscure carols are the most successful here – like the 16th century Guadete, full of shifting metres, the harps sounding like a lute consort. Edgar Pettman's wistful Gabriel's Message feels as if it's being improvised on the spot. As does Adie's tender reinvention of I Wonder as I Wander – all the better for using so much of the instruments' lower registers. The Huron Carol is another highlight; bass notes ring out like tolling bells accompanied by rapid percussive strumming.
The Carol of the Bells works well in its new clothes, as does a rhythmically quirky version of We Three Kings. I Saw Three Ships is too saccharine, as is Deck the Halls, not helped by a rather too closely balanced vocal from soprano Helen Winter. But listen to this in small doses and you'll be sweetly entertained. The playing is excellent.
Some conductors slow down with age. Neeme Järvi demonstrates again that he's speeding up.
Explore topics
Share this article