Downton Abbey Christmas Special, ITV / The Trachtate Middoth, BBC Two |

reviews, news & interviews
Downton Abbey Christmas Special, ITV / The Trachtate Middoth, BBC Two
Downton Abbey Christmas Special, ITV / The Trachtate Middoth, BBC Two
Creeps and Crawleys for Christmas
Wednesday, 25 December 2013
The Abbey genuflects at the Palace
A year ago it was all so different. Lady Mary gave birth and on his way home from the delivery suite Cousin Matthew steered his vintage soft-top into a tree trunk. There's rather less to report from Downton Abbey (***) this Christmas and the Daily Telegraph is free to devote its Boxing Day front page to something else. No actor has asked to be written out of the series, no one got engaged or even kissed, no one ended up in prison or even tears.
His Lordship came dressed as Santa Claus, although he claimed to be wearing the uniform of a Lord Lieutenant.
The yawning sense that there is nothing but yesterday's mashed potatoes on the menu in Julian Fellowes's kitchen was underpinned by a plot cameo for the Prince of Wales, to whose parents young flibbertigibbet Lady Rose was being presented at court. The heir to the throne whom posterity knows as the Duke of Windsor has not been seen on our screens since Dancing on the Edge, Upstairs Downstairs, Any Human Heart, The King's Speech and Madonna's misbegotten royal fantasia W.E. On this occasion a naughty love letter of his was half-inched by that caddish cardsharp last seen leaving Downton with his coattails between his legs. Cue a semi-baked break-in caper.
Mark Gatiss's ghost story did what it had to do: show and tell and scare
In other evidence that plots are increasingly having to be found from outside the collection of stuck records that is the core group of characters, Shirley MacLaine and the embarrassingly good Paul Giamatti were shipped in from America to scowl at their Crawley's in-laws and get sort of embroiled in slightly pointless romances. Meanwhile a Yankee valet developed the hots for Daisy, who loved every minute of being courted having apparently forgotten all about the entire first series when that footman wouldn't leave her alone until she married him.
Four series and four Christmas specials in, Fellowes's gift for letting all the drama happen off-screen grows ever more finely honed. Lady Edith has had a baby while we weren't looking (we weren't allowed into the bedroom to see the conception either), and the script has in her instance taken to extremes the family tradition that Crawley children are neither seen nor heard. Its father is missing in Germany presumed contractually unavailable. We also have a whole series to look forward to of identical twins in stiff shirts battling ever so politely for the hand of Lady Mary. "Let battle commence," she drawled, as if opening a slightly tiresome village fête.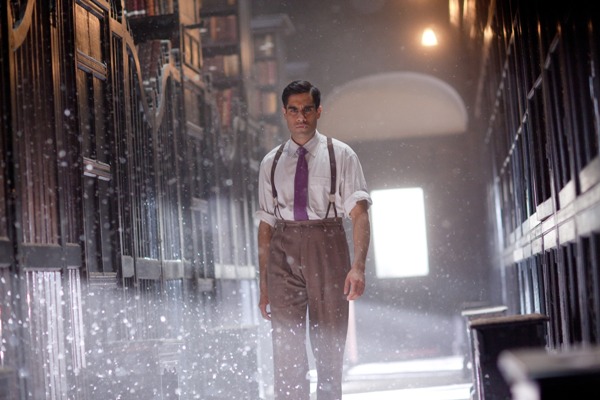 If anyone can explain why Bates would have forgotten to destroy the evidence linking him to the murder of his wife's rapist, do tell.
There was a lot to be said for The Trachtate Middoth (****). Mark Gatiss's adaptation of a ghost story by MR James was in and out in half an hour, and did what it had to do: show and tell and scare. Gatiss is of course a scholar of these things, so you'd never have guessed this was his debut as a director. Sacha Dhawan played a librarian caught up in the search for a lost will, secreted inside a dusty Talmudic tome and guarded by a ghoul with, it was briefly apparent, cobweb for skin. There should be more creeps at Christmas, rather than just creepy Crawleys.
Julian Fellowes's gift for letting all the drama happen off-screen grows ever more finely honed
Explore topics
Share this article