theartsdesk in Brussels: Chapelle Musicale Reine Elisabeth at 75 |

reviews, news & interviews
theartsdesk in Brussels: Chapelle Musicale Reine Elisabeth at 75
theartsdesk in Brussels: Chapelle Musicale Reine Elisabeth at 75
Maria João Pires celebrates the rebirth of a Belgian centre of musical excellence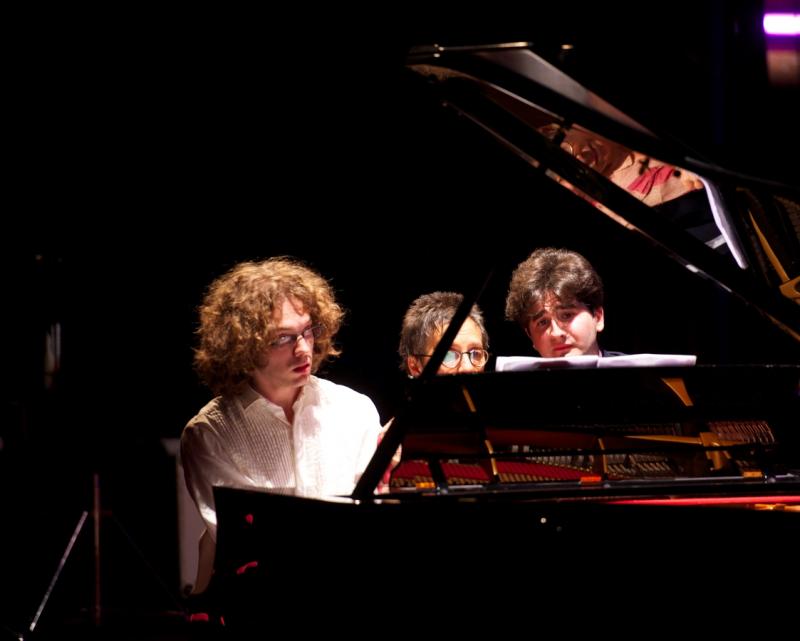 Maestro with her pupils: Julien Libeer, Maria João Pires and Julen Bernal play six-handed Rachmaninov
There was deliberate symbolism in the way Maria João Pires chose to make her first entrance onto the stage at the birthday gala of the Chapelle Musicale Reine Elisabeth in Brussels earlier this week. The concert was a grand occasion. A well-heeled, well-dressed audience replete with supporters of the 75-year-old music academy, plus some Belgian royalty, had filled the Palais des Beaux-Arts to capacity.
The Portuguese pianist, a diminutive figure, tiptoed through the orchestra, just a couple of steps behind one of her young piano students - to turn the pages for him.
This gesture of humility from Pires underlined the commitment that she has taken on, towards the rapidly changing Chapelle Musicale, an academy for young musicians, since making her home in Brussels in 2012.
Throughout the section of the programme featuring Pires's students, she was content to share the limelight with them. First, Julien Bernal performed the concertante part in Mozart's concert aria "Ch'io mi scordi di te". Then she joined another student, Julien Libeer, to perform Schubert's F minor Fantasy. It was a stunning, transcendent reading, balanced yet fresh, enough to convince any listener that the work is a finely wrought masterpiece. She then settled between both of her two tall Juliens to play a Romance for Six Hands, written by the teenage Rachmaninov.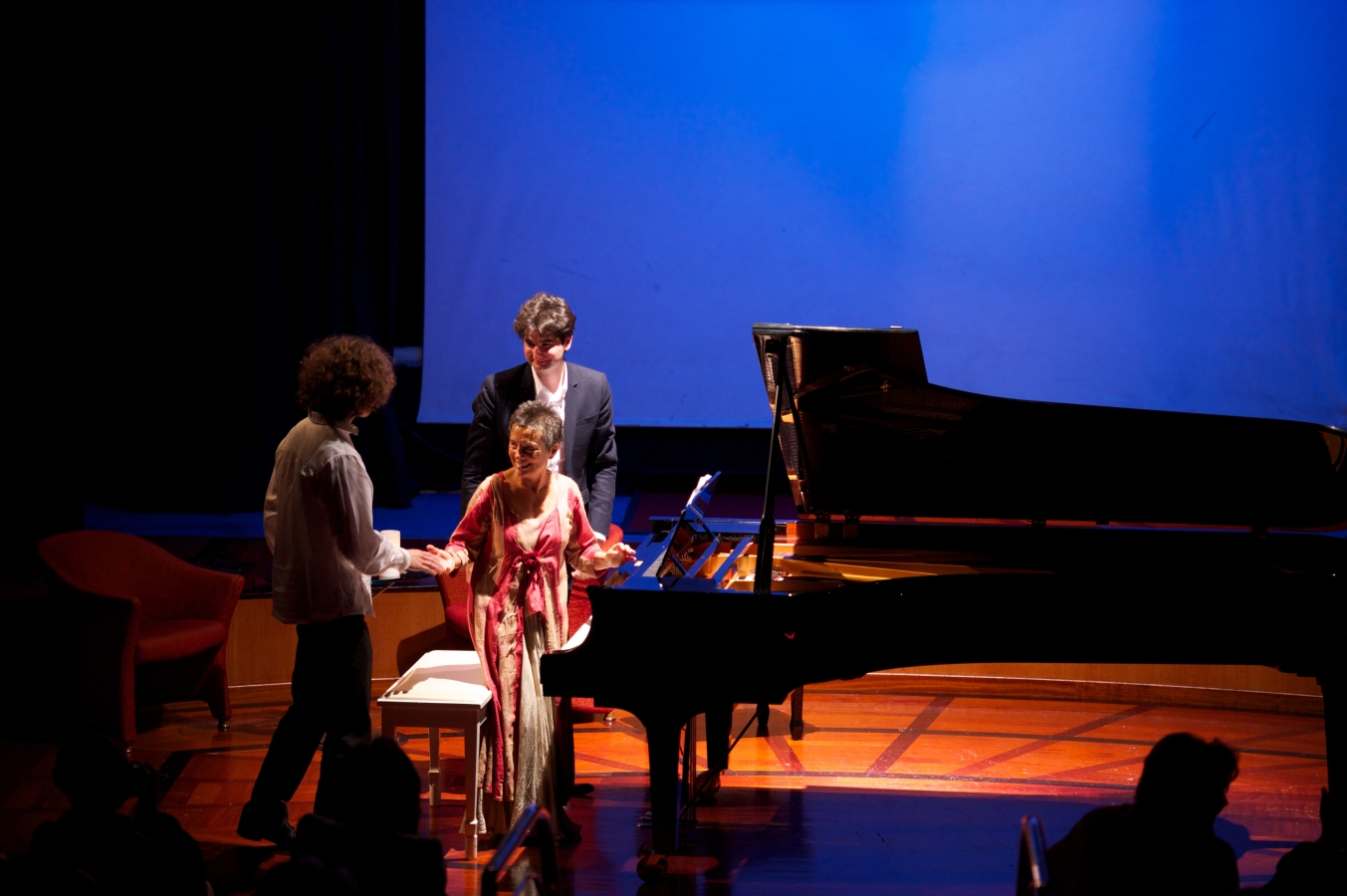 The rest of the programme was a showcase for the violin and cello students of the Chapelle. A fascinating rarity was "Amitié", a "poem" for two violins and orchestra, by Eugène Ysaÿe, in which moody, orchestral writing in the shadow of Debussy's Pelléas provides a sombre background for the two equal violin soloists both to express emotion and to dazzle. The two soloists, Liya Petrova and Hrachya Avanesyan, alumni of the Chapelle, succeeded in playing an idiomatic and strong account of the piece. For these two, technique is clearly no barrier to expression. The Orchestre Royal de Chambre de Wallonie responded well to Augustin Dumay's clear yet fluid beat. Then came the crowd-pleasers, notably the Waxman Carmen Fantasy, played with quicksilver authority, drama and humour by Esther Yoo.
The Chapelle Royale is a scarcely known in the UK. It is a centre of excellence where young musicians can study with top people like Pires. Students typically stay for three years, sometimes more, sometimes less. Alumni of the school are starting to make their mark. The English baritone Ronan Collett, currently an ensemble member at the opera in Stuttgart, was there in 2010-11, and told me that he sees his time there as a decisive step in his career: "My year at the Chapelle opened the doors for me to the opera world of continental Europe."
The signs of transformation are obvious: it's currently a building site. Alongside the 1920s building with its tall, wood-panelled rooms, in which the students are currently taught, a purpose-built new block with rehearsal and teaching rooms and residential accommodation, will rise out of the ground later in the year. Currently students are billeted with families or with friends. One told me he has a hilly six km bike ride to and from the Chapelle. Within a year it will be able to accommodate all of its students on-site, in Waterloo, a pleasant 20-minute drive south of Brussels, mostly through the beech woods of the Forêt de Soignes.
If the external changes which this small, elite music academy is going through are very visible, the academy has also been undergoing a much longer and deeper process of change. The institution is being adapted to the needs of young entrants into the international classical music scene, and being integrated it through a web of national partnerships. It co-operates with the Curtis School, seen as an institution with a similar mission and ethos. Through ENOA (European Network of Opera Academies), it is affiliated with institutions like the Britten-Pears Academy in Aldeburgh, and it opens up its wide network of connections to its students to help them progress.
As the Chapelle's Director Bernard de Launoit told me, "We put on more than 200 concerts a year, of which between 30 and 40 are with an orchestra. I don't think there is any other music education institution which is doing that."
The Chapelle has annual operating budget of 2.5 million euros. It receives just 20 percent of its funding from the public sector, and the remainder from a variety of private sector sources. Income paid in fees by students is less than five percent of total income, most students being given bursaries, so, by deduction, very few if any pay the full fees of 12,500 euros, De Launoit was also clear that no student had been turned away in recent years because of an inability to pay.
De Launoit worked in fine art and in film before becoming general manager of the Orchestre des Champs-Elysees in France. Around the turn of the millenium, and while in that role, he was offered the task of seeing if and how the mission and the positioning of the Chapelle Musicale could be brought up to date, and that work led to his current role as director.
The Chapelle has a group of six international guest professors and a total teaching staff of 30, working in five disciplines: piano, violin, cello, singing and chamber music. The students are typically post-conservatoire, although there are exceptions: it will occasionally make the teaching available to younger musicians of real talent.
The Chapelle is on a small scale, and has the feel of a family. People walking through the common areas invariably greet each other. A considerable effort is put into pastoral care and psychological well-being, under the aegis of psychologist Tica Cabral.
It also has close ties with the annual Reine Elisabeth competitions, with students from the Chapelle encouraged and prepared to enter it. I met the Chapelle's first ever Chinese student, Yu Shao, a young tenor from Zhejiang province south of Shanghai, who is being prepared for the competition. He came to the Chapelle from a conservatoire in the suburbs of Paris, and sees the difference between the Chapelle and the places he had been previously: "There are more concerts, it's all far more professional here." He was grateful to have been given the opportunity to appear as one of the singers in Stravinsky's Pulcinella, performed at the Belgian Royal Palace, and transmitted live on TV.
Other opportunities come via a growing catalogue of recordings, the latest of the complete concertante works for violin and cello by Saint-Saëns, involving a professional orchestra and no fewer than 11 of the young artists of the Chapelle, issued by Zig Zag Territoires. The recording has received a Diapason D'Or in the French press.
Belgians tend to be anything but flamboyant people. Jacques Brel once said that, rather than performing on stage in big venues, he often felt he'd like to disappear under the water in his bath-tub. So, in Belgium, you have to look below the surface to know what is going on. The most telling phrase in Bernard De Launoit's trilingual welcome speech was a phrase which he only uttered not in French, or in English, but only in Dutch: "This anniversary is really a new start, and something we have been preparing for 10 years."
Sebastian Scotney has been professor of professional skills in the postgraduate school of the Royal College of Music and is an honorary associate of the Royal Academy of Music
In Belgium, you have to look below the surface to know what is going on
Explore topics
Share this article