RoboCop |

reviews, news & interviews
RoboCop
RoboCop
José Padilha's reboot boasts stars and a slick finish but lacks substance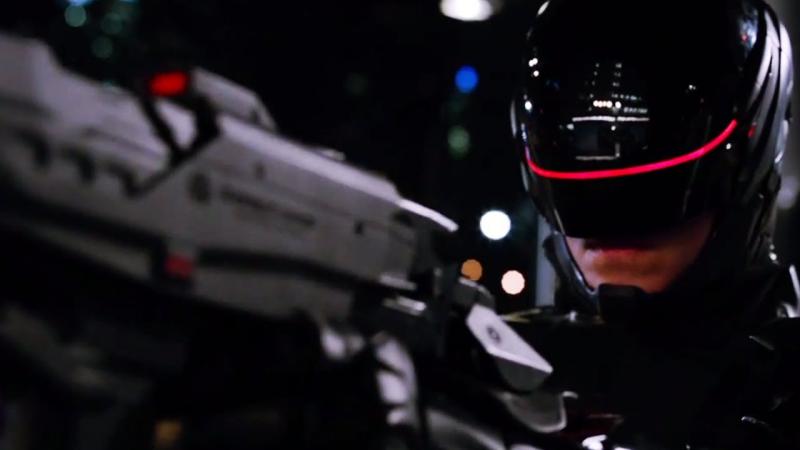 Another day, another remake. 'RoboCop' gets the 12A treatment.
José Padilha's glossy reimagining of RoboCop is entertaining but mostly forgettable. Geared towards the profitable 12A market, its good looking but illogical action sequences are no replacement for the grimy, grubby and magnificently realised dystopian world from Paul Verhoeven's 1987 scathing satire.
Just like Verhoeven did back in the 1980s, Padilha is making his way into the Hollywood arena thanks to his adept hand at fast paced action sequences, which can be witnessed in his superb Elite Squad films. Unlike in Verhoeven's version however, the screenplay penned by newcomer Joshua Zetumer isn't quite up to scratch, lacking in humour and sharp satire.
Joel Kinnaman (pictured below right with Gary Oldman) stars as law enforcer Alex Murphy, who is transformed into RoboCop after a horrific accident. Abbie Cornish is his distraught wife Clara who agrees to this risky procedure, putting his life into the hands of OmniCorp CEO Raymond Sellars (Michael Keaton) and scientist Dr. Norton (Gary Oldman). Sellars is intent on marketing and selling a law enforcement droid with emotional intelligence (and a human face) to US citizens so seizes the opportunity to take advantage of Murphy's situation for his own gain.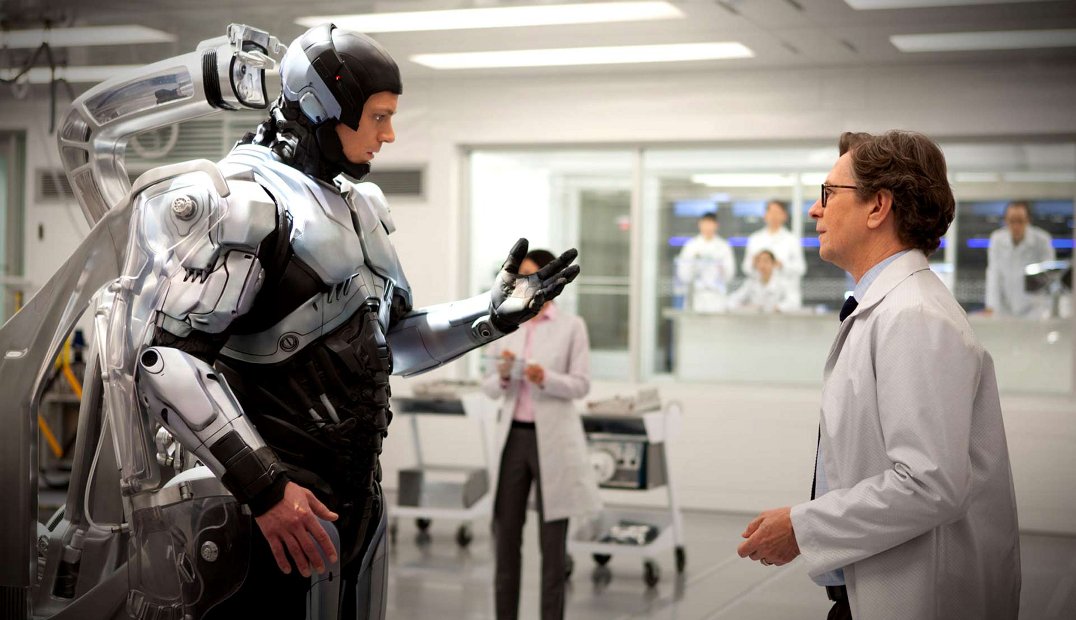 This update is still set in futuristic Detroit, albeit with a noticeable absence of crumbling decay - replaced instead by a shiny, generic vista of skyscrapers. Zetumer still deals with corruption and monolith corporations but in a very straightforward manner, hammering home a discourse in the debate over man vs machine but diligently sitting on the fence when it comes to any real political stance. RoboCop touches upon the use of drones and issues with the advancement of technology but with no real passion or bite.
A few of the action set pieces eschew all reason, choosing cool and slick over considered. A shootout in a warehouse where the criminals turn off the lights to engage in combat against a robot - so that Padilha can show off night vision effects - is nonsensical if you really think about it. Also no respectable scientist would decide to upload vast files of criminal records and CCTV footage to RoboCop's memory banks minutes before a public appearance, which happens here merely to push the sluggish and incredibly cheesy storyline along. Every step feels controlled and safe, like it was designed by a Hollywood boardroom think tank.
The decision to change the sex of Murphy's partner Lewis, played by Nancy Allen in the original, strips this version of a tough female character. Michael K. Williams (Omar from The Wire) takes the role of Lewis but he's sadly nothing more than a plot device. Focus is placed on Murphy's transformation from man to machine and sentient being with an overwrought narrative playing out between Murphy and his wife and son.
Saying all that, there are some interesting and grotesque visual flourishes, including showing the full extent of Murphy's injuries with a floating head, lungs and lone hand revealed beneath his robotic plating. Keaton plays the villainous head of OmniCorp with aplomb, manipulating media and broadcast news through his spin doctor Pat Novak (Samuel L. Jackson on fine form here too) - who spews lines such as, "What's more important than the safety of the American people?" However, a distinct absence of threat and sense of humour plague this popcorn flick making it unengaging, unrewarding and, most importantly, lacking in any real political edge.
Overleaf: watch the trailer for RoboCop
Every step feels controlled and safe, like it was designed by a Hollywood boardroom think tank.
rating
Explore topics
Share this article