Marc Almond, John Harle, The Tyburn Tree, Barbican
Marc Almond, John Harle, The Tyburn Tree, Barbican
The musical undead walk amongst us in this prog-rock evocation of dark London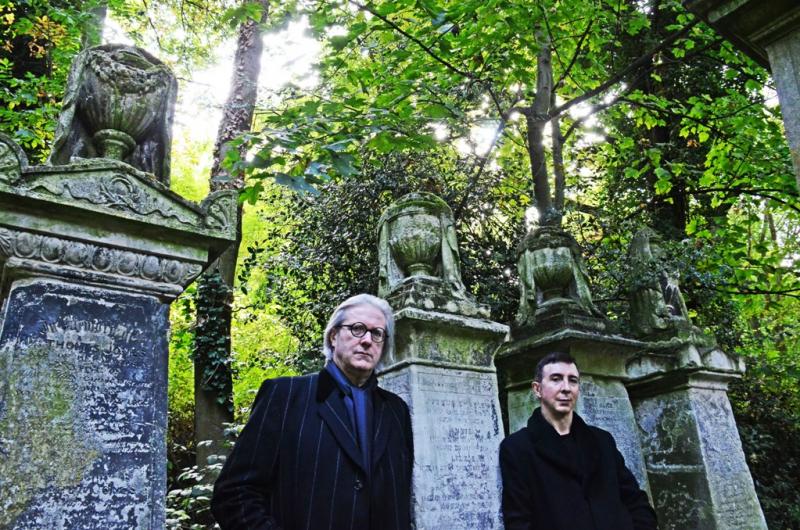 Harle and Almond: devilish duo
On paper this sounded promising: a gothicky song-cycle of historical London and the dark, seamy side of the city, performed a stone's throw from where they do Jack the Ripper tours. Lead performers were Marc Almond, whose distinctive voice we have loved for 30 years, ever since his pervy soul debut with Soft Cell, and John Harle, a more than useful jazzy classicist who is often original and known for his TV theme tunes. Thown in the mix was some Iain Sinclair psycho-geography.
An intriguing combination with a positively reviewed album
The Tyburn Tree,
of which this show was a presentation. What could possibly go wrong?
What we had was the musical undead, walking vampire-like amongst us. Most of us had thought that the prog-rock concept album had had a stake plunged through its heart by the vigorous brevity of punk, with any possibility of revival nailed by This Is Spinal Tap, 30 years ago. Despite being an old punk, I do actually have a soft spot for some prog – the lunacy and poetry of Van Der Graaf Generator's Pawn Hearts, the sheer originality of Magma's Mekanik Destructiv Kommandoh, the whimsy and weirdness of bands like Comus. This however, brought to mind justly forgetton bands like Gentle Giant and Greenslade, the more earnest ones where grandiosity moves into passages of plodding rock.
They are in good company, anyway – Lou Reed's worst album may well have been his settings for Edgar Allan Poe
The adventurousness of Almond and Harle is, however, to be admired – they could have both carried on doing the thing they know people like forever, and this was an ambitious experiment.They are in good company, at least – Lou Reed's worst album may well have been his dreary, pretentious settings of Edgar Allan Poe.
Modern pop with a prog element like Muse is at least funny in places, and fizzes along as the band know the songs backward and they aren't conducted. Perhaps because of this, the attempts at funky guitar and rock passages last night felt wooden.It's likely that once the musicians really know the piece it will flow better.
There was at times a crushing literalness at play – a women is in despair, cue wailing wordless soprano (Sarah Leonard, an excellent singer, regardless), crows are mentioned, we get cawing and so on. There were the tropes of a hundred B movies – doll's house/toy noises to evoke the sinister, circus waltzes at a hanging, nursery rhymes to suggest the psychotic. We have been there and done that, many times. What it almost is, and could be, is a dark, chilling cabaret in which the melodrama and clichés work for the show rather than against it. A video backdrop was the equivalent of visual muzak and served no obvious artistic point.
It could have been much camper and worked, and maybe it really was some new kind of camp that I didn't pick up, in which case I have misjudged the show. Or it could have gone the other way and been more austere and considerably more effective. As it was, it was overblown and tedious.The use of William Blake for a couple of songs seemed in this context an attempt to give the show a poetic gravitas it didn't live up to, despite, or probably because of, its apparent desire to be musically overwhelming. I did find myself thinking that if Ricky Gervais or Steve Coogan were to invent a prog-rock band for a TV series it could well sound something along these lines..
It was a first night and the sound needed tweaking, to put it kindly, and Almond, dressed in priestly garb, took a few numbers to get into gear, none of which helped. The most frustrating thing was that there were several moments which suggested there was an atmospheric and evocative show buried under several layers of musical gloop. On "Ratcliffe Highway" Almond plaintively sang of murdering a prostitute, going to the river and the gates of hell opening up in the mists. Iain Sinclair's lines about Moorgate, Cripplegate, Aldgate and the dark Thames did stir up ghosts of the past.
It is only fair to report that about a third of the audience gave this a standing ovation and there may well be a demand, once they sort the sound out, for this kind of stuff in places like Serbia and Denmark that are untainted by English cynicism and our fatal attraction for the cool. "It's like Marmite" said the press officer. Never liked the stuff myself, but apparently plenty do.