Bastille, Alexandra Palace |

reviews, news & interviews
Bastille, Alexandra Palace
Bastille, Alexandra Palace
Bastille's breakthrough gig was a well-mannered affair without a trace of bad blood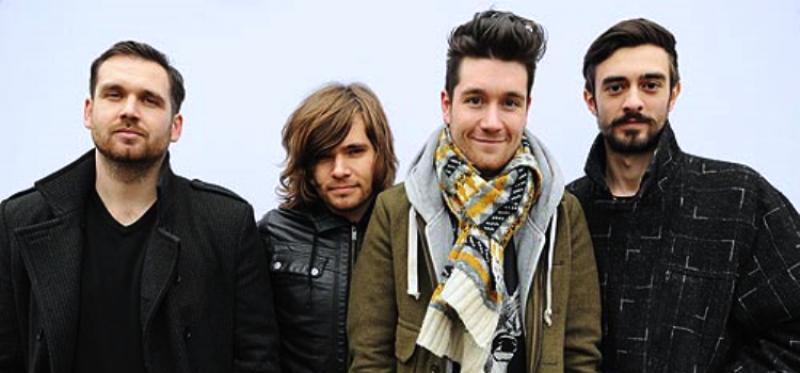 Bastille: 'surging melody, sexlessly tumescent choruses, marching band drum solos, string parts as glossy as nail varnish, and cascading synth lines'
Bastille didn't so much raise the roof at Alexandra Palace last night, as ask it politely if it wouldn't mind elevating itself a touch. Their gentleness belies their success over the past year, since their first album, Bad Blood, was released. The album, most of which they played last night, is characterised by surging melody, sexlessly tumescent choruses, marching band drum solos, string parts as glossy as nail varnish, and cascading synth lines.
Critics couldn't agree, some finding it inspiringly tuneful, others derivatively risk-averse. Live, though, it's difficult not to get carried away in the musical ebb and flow. They're not subtle, but these anthems can build an irresistible momentum, especially the bleaker ones like "Oblivion", described by leader Dan Smith as their most depressing song.
It was a fairly low-key performance. Understandably, they seemed a little overwhelmed by the occasion, having never played a venue of that size before. On a large stage, they tended to bunch together in the middle, and could do with some more dance routines. But there was a touching freshness in both their excitement and the audience's, many of whom had followed the band's career from the start and could now see them make it big. The kaleidoscope of adoring smartphone screens that now carpets every concert venue had, this time, an almost devotional feel.
The band's symbolism of violent revolution gives a false impression of what is really feel-good music of the most unthreatening kindLighting was vivid, with lots of red mist (bad blood?), and a triangular video screen projecting live footage of the band in action. The sound, however, was so-so; there was plenty of volume, but the clarity of the lyrics was rather muddy. Last night's audience knew all the songs by heart, but they still sound better when you can hear the words. While there's an ecstatic atmosphere live, their songs definitely sound like higher-quality music in recorded form, with crisper rhythms and cleaner tones. Smith's lyrics have a potent, allusive originality and wide cultural scope that isn't always matched by the music, including (thanks, Coldplay) some biblical allusions. Though "Daniel in the Den" can't help feeling more like Sunday School than bad blood, somehow.
Dan Smith's onstage persona is so modest, he can't have much self left to deprecate. But if he wasn't such a nice man, you would suspect him of a marketing sleight of hand: the symbolism of violent revolution in the name "Bastille"; its album cover, like a still from one of the darker episodes of Breaking Bad; and its title track, "Bad Blood" (which is actually about a mundane falling-out between friends), give a false impression of what is really feel-good music of the most unthreatening kind. The online message boards are full of parents declaring Bastille to be their children's favourite band, and the audience demographic confirmed that. At one moment Smith stopped the gig to ask the audience to sing happy birthday to his sister. No bad blood there, then.
The atmosphere in Ally Pally was warm but not wild, more a good family night out than a party to make the eyeballs shudder. Smith thanked us all again before we went home, even the people who'd listened to the album illegally. Isn't that nice?
Bastille now go on international tour, returning to UK in June with a series of concerts in Manchester. Full details

here

.
Smith's lyrics have a potent, allusive originality and wide cultural scope that isn't always matched by the music
rating
Share this article