The Michael McIntyre Chat Show, BBC One |

reviews, news & interviews
The Michael McIntyre Chat Show, BBC One
The Michael McIntyre Chat Show, BBC One
Stand-up gets to sit down and blather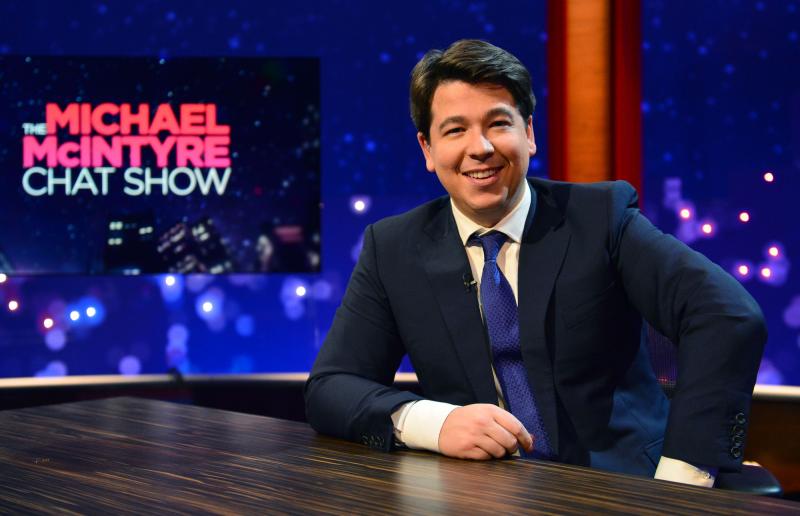 Michael McIntyre sits behind a desk to chat to celebrities
It may seem strange that something we do every day of our lives – talking – is an incredibly difficult thing to put in a televisual setting, and the list of those who have tried to do a chat show and failed to make an impact is long. Davina McCall, Gaby Roslin, Ruth Jones, to name just a few - despite having real talent in broadcasting and comedy – have crashed and burned when given a sofa and a bunch of people they've never met before to have a natter with.
And so Michael McIntyre, who reckons he's a natural for the job, is the latest to be given a shot at the genre - following in the wake of fellow comics Sarah Millican and Rob Brydon.
Starting with the title, The Michael McIntyre Chat Show doesn't try to reinvent the wheel and instead relies on tried and tested (and ennui-inducing) tropes - a bit of The Tonight Show-style introductory monologue, a nod to Ellen DeGeneres' trick of running into the audience, early Graham Norton-style fun involving an audience member's mobile phone, Alan Carr-esque fawning over his guests – provided a neat tick list of things we had seen before, even down to some fourth-wall-breaking backstage shtick à la The Larry Sanders Show. Television really will eat itself.
It was fitting, then, that the first guest on McIntyre's show (which runs for six weeks) was Terry Wogan, a superbly talented broadcaster and in his prime a master of the art of sofa chat. Only, as he pointedly remarked to his newbie interlocutor, whose programme is recorded, his shows were live and went out three days a week. It was said with the Irishman's trademark avuncular twinkularity, which can mask any manner of ironic intent.
What followed was retch-inducing levels of arse-kissing, as McIntyre told Wogan how wonderful he was and showed a few highlights from his BBC career. Wogan was replaced in the single chair on the set (which owes everything to American chat shows) by Lily Allen, but this time no mention was made of her car-crash 2008 chat show on BBC Three, the kind of celebrity vehicle that must surely have been in the "cons" list when Corporation executives were deciding whether they should close the station. She was on long enough to plug her latest album but, thankfully, not long enough to perform a track from it.
The highlight was an appearance by Alan Sugar, whose unwillingness to have his sphincter muzzled by McIntyre was laudable, and who batted off his compliments with a shrug or a bemused grimace. He's a great raconteur – dry, self-depreciating and has some good tales (about The Apprentice colleague and friend Nick Hewer, and Sugar's encounter with the Duke of Edinburgh) – but wasn't allowed to get into his flow. Here the show's editing (the director is Richard Valentine), not for the first time, looked jagged. When McIntyre thanked Allen "for being here", she replied: "I'm very well." Either the editing went to cock, or she went off script.
Done well, chat shows can be a joy and create memorable television – pretty much most of Michael Parkinson's career, Wogan at his best, Jonathan Ross when he's on form, Graham Norton most weeks – but boy, are they difficult for the not-so talented; any idiot can talk, but whether they can make interesting conversation is quite another matter. This show was trailed by a BBC announcer saying, "Stepping into the shoes of the chat-show greats..." but on the evidence of this first outing Michael McIntyre is good at being chirpy and making slurping noises, but not much else.
The Michael McIntyre Chat Show

is on BBC One on Mondays
Either the editing went to cock, or Lily Allen went off script
rating
Share this article