20 Feet From Stardom |

reviews, news & interviews
20 Feet From Stardom
20 Feet From Stardom
Oscar-winning documentary memorably foregrounds life as a backing singer
Let it go: Darlene Love seizes her moment in the spotlight in Oscar-winning documentary
Always the bridesmaid but never the bride: that adage, and its many equivalents, courses through 20 Feet From Stardom, the hugely entertaining but also gently poignant documentary that was a popular winner at this year's Oscars. A look at the life of backup singers over time - who they were and are and where they have got to - Morgan Neville's short (90-minute) and bittersweet film casts a necessary spotlight on those show biz folk who aren't necessarily given centre-stage.
It deepens our response that the given milieu also works as a metaphor for so many lives across all vocations that exist if perhaps not on the margins then at least in the service of others. The film gives pride of place to Merry Clayton, Darlene Love, and the astonishing Lisa Fischer while prompting us to wonder who else may be out there in the shadows ready to step into the light?
The worry, quickly put right by the film itself, is that Neville is going to soft-pedal the abrasions of a profession where even second-tier artists can be spat out. One of the many fascinations of the film is the trajectory it traces among its various women. Darlene Love had faded from view, ended her marriage and was cleaning a posh California bathroom at that point in the 1980s when she suddenly heard on the radio "Christmas (Baby Please Come Home)", one of the many Phil Spector hits for which she had provided backing vocals some two decades before. Claudia Linnear, a onetime Ikette, was integral to the celebrated 1971 Concert For Bangladesh at New York's Madison Square Garden, and sang on that year's Oscar-winning film Klute, only to find herself trading it all in for a life teaching Spanish. (In 1974, she posed for a Playboy pictorial entitled "Brown Sugar".)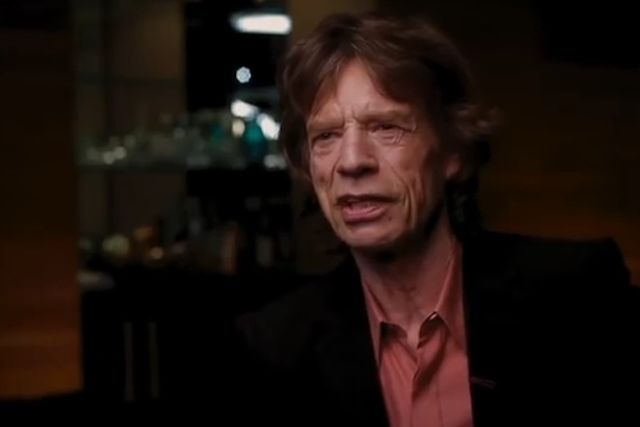 And so the tales of life's vagaries and vicissitudes go, the line in the entertainment industry between "springboard" and "quicksand" (to cite two words used in the film) fraying by the day.
Neville locates the origins of this vocal skill set in the churchgoing habit of call-and-response: Merry Clayton was a preacher's daughter who found her way to singing with Ray Charles, Joe Cocker, and the Rolling Stones, while the wonderfully named Dr. Mable John, one of Charles's erstwhile Raelettes, has returned to the fold and is an LA pastor. That these black women were taken up not just by black singing stars but by white ones as well tallies with the larger cultural changes going on in America during that period, though it certainly won't be lost on observers this side of the pond just how many of the talents and acts were, in fact, British - Mick Jagger (pictured above), Tom Jones, and Sting, among them. At the same time, leave it to the deeply American Lou Reed's "Walk on the Wild Side", with its provocative lyrics about "colored girls" singing and the lengthy list of "doos"s that follows, to make one wonder whether the interest in these women wasn't tinged with the patronising belief that they were in some way "exotic".
The film's structure posits a call and response all its own in the contrast between the women's own account of their roller-coaster-ish lives interspersed with appreciations of their artistry (and legacy) from Jagger, Bruce Springsteen, Stevie Wonder and the like. Especially moving on that front is the encomium that Sting throws in the path of Lisa Fischer, the R&B vocalist (pictured above) who has sung with him and continues to perform on Stones tours to this day. "I think of her as a star; she's a star," Sting notes, simply and admiringly. Fischer's own, characteristically self-effacing view of her career is that "some people will do anything to be famous, and some people just want to sing". Amid a movie packed with powerhouse vocals and the full spectrum of emotion, pay special heed to Fischer: this woman in every way is the real deal.
Overleaf: watch the trailer for 20 Feet From Stardom
Some people will do anything to be famous, and some people just want to sing
rating
Share this article