Listed: Celebrating Dylan Thomas |

reviews, news & interviews
Listed: Celebrating Dylan Thomas
Listed: Celebrating Dylan Thomas
As the great Welsh poet turns 100, theartsdesk lists 10 must-see centenary events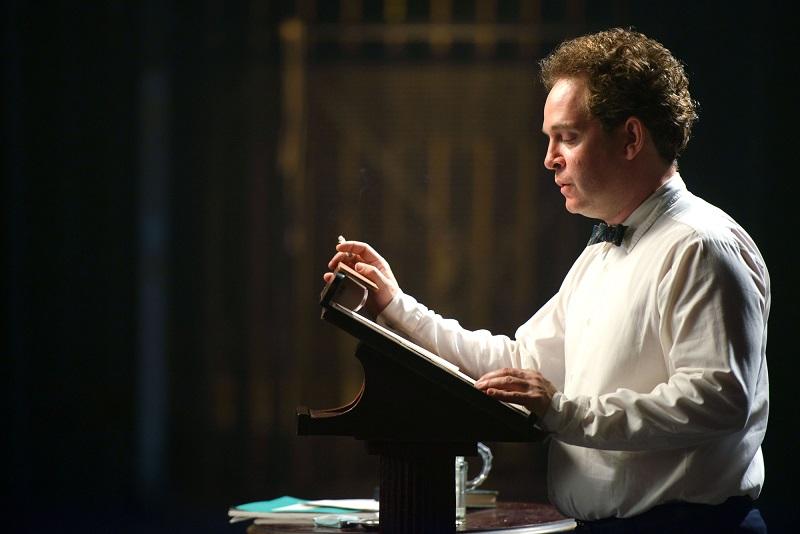 Bible-black: Tom Hollander as Dylan Thomas in 'A Poet in New York'
It won't have escaped the attention of anyone with an ear for poetry that Dylan Thomas turns 100 this year. He was born in a suburban house on a hill overlooking Swansea Bay a few months after the outbreak of war, and by his early 20s had been hailed a significant poetic voice by TS Eliot. By 39 he was dead, hastened to his grave by a lethal combination of alcohol, pneumonia and New York doctors.
The roaring boy who lived hard and died young has been iconised on the cover of Sgt Pepper, and gave his name to a scrawny-voiced crooner from Minnesota (although this is sometimes disputed by Dylanologists), but his centenary represents an important opportunity to revitalise his memory as a poet and playwright. An abundance of great work is sprouting all over Wales and beyond – in theatres, in galleries and museums and, above all, on the streets - including sundry visualisations of the radio play Under Milk Wood. Many of the events will interlock with television and radio. This edition of Listed is a by no means comprehensive guide to the best on offer in the centenary known as #DT100.
Under Milk Wood, Theatr Clywd Cymru
The oddity of this centenary year is there is no radio performance of Under Milk Wood (buy the original recording of Richard Burton and co on CD for that). The closest to Thomas's original play is Theatr Clwyd's touring show. Terry Hands's stage production has already embarked on its long journey across England and Wales. Owen Teale (pictured right by Catherine Ashmore) plays the First Voice. @ClwydTweets
Under Milk Wood: An Opera
There is a great deal of singing in the radio version of Under Milk Wood – not least Polly Garter serenading her dead lovers. In a new operatic adaptation by Welsh composer John Metcalf, the entire village will break into song, played by a company of eight singers accompanied by five musicians. At Taliesin Arts Centre, Swansea from 3 to 5 April then touring Wales from 8 to 15 April. @Milkwoodopera.
Dylan Thomas Season
A Poet in New York is the headliner (see below), but there is plenty more on the BBC and S4C. Benjamin Zephaniah demonstrates in A Poet On The Estate: Townhill Does Dylan how poetry can step in and help build confidence quite as much as joining one of Gareth Malone's choirs, while Owen Sheers take a fresh look at the work of a writer better known as a drinker in Dylan The Poet. In A Poet at War, Ifor ap Glyn explores Thomas's contribution to the war effort as a writer of propaganda films. S4C's star commission is a documentary by Kevin Allen (director of Twin Town) and Rhys Ifans investigating the influence – the dylanwad - of Welsh on the poet whose father chose not to give him the language. BBC and S4C throughout 2014
Below: Welsh actors and presenters read "Do Not Go Gentle Into That Good Night" for the BBC
Laugharne Literature Festival
Laugharne has a regular festival known as the Laugharne Weekend, but this year there is an additional weekend focussing specifically on the town's most famous resident. Many poets are taking part: Simon Armitage, Jackie Kay, John Cooper Clarke, Wendy Cope, Jo Shapcott and Rhian Edwards. Dylan completists also have the chance to see two one-performer plays: Helen Griffin's Caitlin and Rhodri Miles in Burton. Laugharne, Carmarthenshire, 2-5 May
A Poet in New York
Andrew Davies's take on the desperately sad final days of Dylan Thomas featuring a richly empathetic performance by Tom Hollander. Essie Davis (pictured left with Hollander) adds firepower as Caitlin, while Ewan Bremner hints at the saturnine opportunist in John Brinnin, the tour manager who brought Thomas to America. Shot entirely in Wales by director Aisling Walsh, it brings New York remarkably alive with clever use of stock footage. Carmarthenshire has a delectable cameo. BBC Two, May. @APoetinNewYork
Raw Material: Llareggub Revisited
National Theatre Wales's most celebrated production was a three-day street festival The Passion of Port Talbot. This site-specific reinvention of Under Milk Wood by artist Marc Rees and writer Jon Tregenna – taking place across three days - will be a very different beast. NTW promises pre-recorded performances from some of Wales' best-known actors and singers and an immersive visit to the estuarine village - 'the strangest town in Wales' - which inspired Llareggub. Thre will be a tie-in broadcast on BBC Cymru Wales towards the end of the weekend with actors in New York, Los Angeles, London, Cardiff and Laugharne. 3 to 5 May. @NTWtweets
Llareggub: Peter Blake illustrates Under Milk Wood
Peter Blake listened regularly to various recordings of Under Milk Wood for 25 years while working on this homage to Thomas's play for voices. The spur was a visit to Laugharne which happened to take place on the same day that the poet's widow Caitlin returned for the first time in many years. The result is an absorbing series of portraits of every character mentioned in the play, plus collages and other illustrative riffs on Thomas's play for voices. (Pictured right, Captain Cat © Sir Peter Blake) First seen at the National Museum of Wales in Cardiff. Oriel y Parc, St Davids, Pemrokeshire, 17 May to 23 September
Dylan's Swansea, Swansea Museum
Swansea's wonderful old museum has been mostly closed in recent years, but hosts an exhibition of illustrations by Wyn Thomas of the Swansea – much of it bombed over a three-day blitz in the war - that the poet knew. In collaboration with the world's leading Dylan Thomas expert and collector, Jeff Towns. Swansea Museum until 6 July
Do Not Go Gentle Festival, Swansea
Its third year will almost exactly coincide with Thomas's 100th birthday. Not the only festival in Swansea inspired by the city's most famous son – the Dylan Thomas Centre hosts the official festival - but this is the one which positions itself as the festival Thomas might have liked to attend. It takes place in Uplands, the buzzy outskirt just down the hill from Thomas's birthplace. Emphasis less on talking heads than on music and comedy as much as poetry. Uplands, Swansea, 24-26 October. @Dylanthomasfest
Dylan Thomas in Fitzrovia, London
Organised by Griff Rhys Jones and Jason Morell, features celeb actors galore – Siân Phillips (who once read poetry on the BBC with Thomas), Patrick Stewart, Jonathan Pryce, Rhys Ifans, Tom Hollander. Locations include the Fitzroy Tavern and Westminster Abbey (where the plaque is), plus a cameo for a copy of Thomas's writing shed. London, 25-26 October. @DTFitzrovia
Share this article