Divergent |

reviews, news & interviews
Divergent
Divergent
Neil Burger provides the dismal direction on a film which fails to stand out from the crowd
I fought the law and matters were left undecided: Shailene Woodley is a rebel with a cause in 'Divergent'
Goddamn The Hunger Games movies for reminding us (after the travesty that was the Twilight saga) that films based on YA fiction could be thought-provoking and thrilling, for they've only gone and hoiked our expectations up too high. Those expectations have recently been dashed by the likes of Ender's Game, The Mortal Instruments and Beautiful Creatures.
And now along comes
Divergent
, directed by Neil Burger (
Limitless
) and based on the first of a series of - if we were to judge them solely by this film - very poor books by Veronica Roth.
It's set in a futuristic Chicago which is still reeling from a long past war, where the inhabitants have built a wall to keep out those who threatened them and what exists beyond it is now a mystery. To maintain internal discipline they've split people into five archaically named factions, based on their personality type - Abnegation, Amity, Candour, Dauntless and Erudite. Each assume the corresponding societal responsibilities, for example Erudite are the scientists and innovators, and Dauntless comprise the lawmen and military.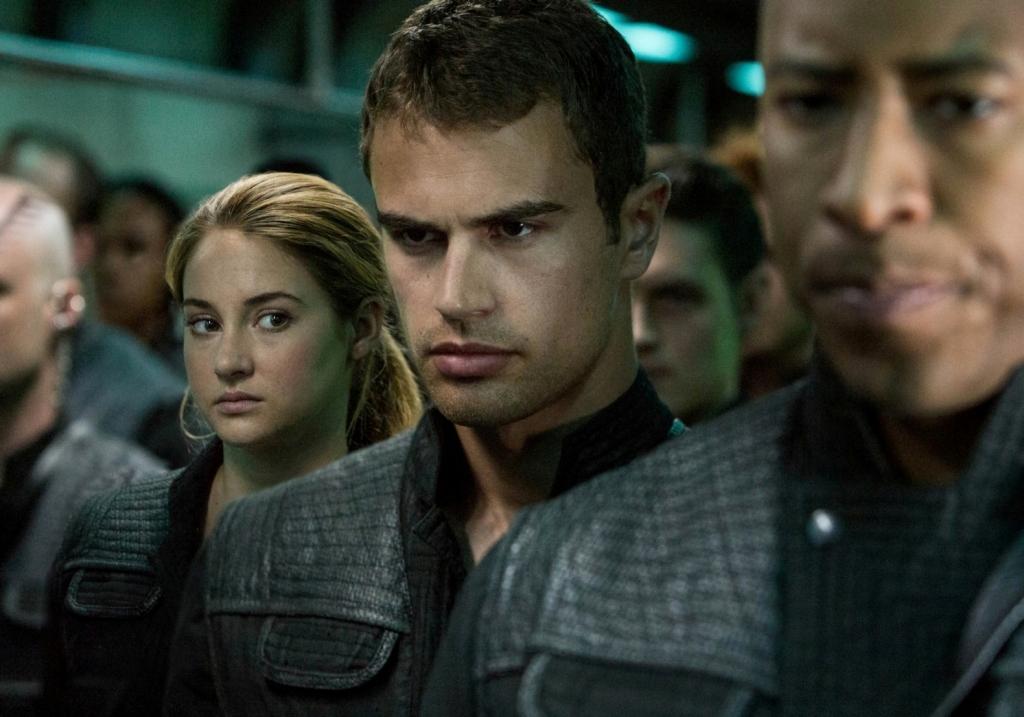 Oddly all people are found to fit pretty seamlessly into these five groups when they take their faction test aged sixteen. The few who do not are seen as a threat to the orderly society - because they cannot easily be labelled. Or rather they can be labelled, but it is a bad label - they're Divergents, and they must be destroyed (cue evil laughter). Our heroine Beatrice Prior (Shailene Woodley) is identified as Divergent during her test but luckily her invigilator is sympathetic to her predicament and just pops down that she's Abnegation (the charitable faction of her upbringing). However, during the ensuing choosing ceremony she opts to join the Dauntless group - who basically seem like a bunch of extreme sports arseholes.
Somewhat surprisingly, during the Dauntless faction's selection process the newly monikered "Tris" has no aptitude for anything and flounders right at the bottom of her class. Thus for a large part of the film you're wondering why Divergents are quite so feared because this one seems pretty rubbish. However what Tris lacks in talent she makes up for in determination and she ultimately manages to scrape her way into the final cut. However, as she enters the second stage, which allows those testing her to see inside her mind, she's at risk of being exposed as a Divergent.
There's half-hearted romance with the initially glowering Four (Theo James, pictured above right - centre, who you may recognise from Downton Abbey), one of the Dauntless trainers, who's as fine-featured as a mannequin and about as animated. Although they share a moment in his "fear landscape" (sexy!), she's having none of it; "I don't want to go too fast" she says pre-emptively when he kisses her. It's nice to be reminded that romance ain't the be-all-and-end-all but, given their precarious existence, and the fact that Woodley looks (and in fact is) well into her twenties it seems a bit prudish.
Elsewhere, Kate Winslet (pictured left) struts around with a face on her and is in it so little it's easy to forget she's in it at all. She's the chief villain (so far at least) - a dastardly plotter seeking to weed out Divergents and overthrow the governing faction - so you would think they could have done a bit better than calling her Jeanine Matthews. I mean please.
Divergent has the superficial slickness you'd expect and there's some moderate excitement but this is a film that, for all its ostensible complexity, basically has one idea (that difference is, like, totally awesome but also well dangerous) and there are, in all probability, at least two more of these films to come. The lack of a wider context frustrates and the concept of the factions is baffling - the fact that anybody, let alone nearly everybody could be so easily categorised. And it beggars belief - with so many clear evil-doers in play - that such a rotten society would give power to the woolly jumper wearing, do-gooder faction, only to have to then scheme to take it back.
It's important to stress that Divergent's failings should not be laid at Woodley's door. She's a very promising young actress (see The Descendants or the upcoming The Spectacular Now) and on the rare occasion that she's given something interesting to do she breaks free of the film's straightjacket of mediocrity.
Conceptually confused, poorly written, anonymously helmed and lacking in suspense, Divergent is a major disappointment - especially with talent like Winslet and Woodley on board. It's pretty preposterous that a film which places so much importance on being true to yourself has ended up so sanitised and generic. I kept telling myself that it's empowering for young women to have another strong heroine who gets stuck into the action and uses her brain. But in the end Divergent fails even this test, as a film can only feel truly empowering if it's any good.
Overleaf: watch the trailer for Divergent
Kate Winslet struts around with a face on her and is in it so little it's easy to forget she's in it at all
rating
Explore topics
Share this article