DVD: Seven Samurai |

reviews, news & interviews
DVD: Seven Samurai
DVD: Seven Samurai
There's much more to Kurosawa's scintillating 16th-century epic than kinetic fight scenes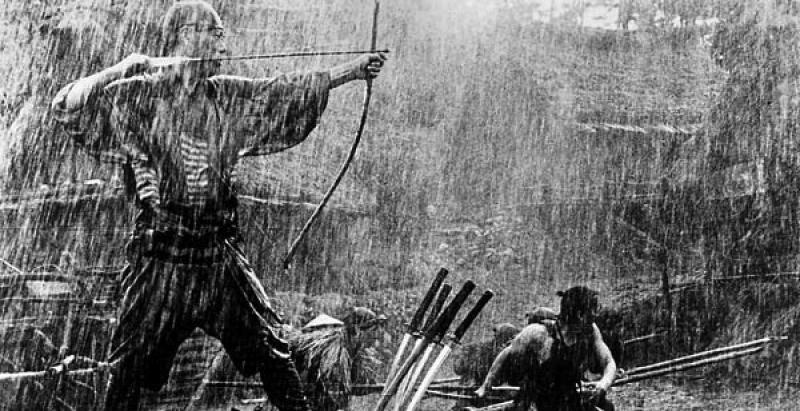 Takashi Shimura as Kambei, imperturbable leader of the samurai band
Sixty years a masterpiece, Akira Kurosawa's Seven Samurai is being released by the BFI on DVD and in a Blu-ray Steelbook. Digitally restored by Toho from an original 35mm master positive, it ought to be a mandatory purchase for movie-struck kids raised on CGI, 3D, and hyperbolic action epics that bear no relation to reality. They and everyone else should, of course, see it in a cinema, too.
Set in 1587, during Japan's late Warring States period, it tells the story, both stirring and elegiac, of five seasoned ronin, a boastful charlatan, and a starstruck rookie hired to spearhead a mountain farming village's defence against rapacious mounted bandits. Directing his first samurai film, Kurosawa used three cameras when he shot the dynamic running battles. A night skirmish and the climactic fight in the mud and pouring rain may not have required a cast of thousands, but they throb with a haphazard, ferocious intensity denied most films made by Hollywood before or since The Wild Bunch.
The black and white film was influenced by John Ford's Westerns (and remade by John Sturges as The Magnificent Seven), but it is far more than a historical actioner. The first two-thirds of its 207 minutes depict the recruiting of samurai in need of food and work, and then their shaping of the farmers into a fighting unit while barricades are erected.
This affords robust humor and rich characterization among the ronin and the villagers, a mean-spirited lot unwilling to share their rice and saki supplies with their potential saviours. One of their more sympathetic members is the chief recruiter, a lonely man (Yoshio Tsuchiya) anguished since he lost his wife. Finding her takes his torment to a whole new level. .
Though led by a preternaturally calm veteran (Takashi Shimura) and boasting a lethal sword fighter (Seji Miyaguchi), the band scarcely gives an impression of invincibility. They are burdened, too, by the inexperience of the youth (Isao Kimura), who soon falls for a village maid (Keiko Tsushima), and the impulsiveness of the buffoonish wannabe. It is the latter, played with manic energy by Toshiro Mifune (pictured above), who comes to embody the crucial spirit of cooperation between the ronin and the villagers. The lovers' tentative trysting in the woods, secretly observed at one point by the taciturn swordsman, has a Shakespearian aura that benefits from Asakazu Nakais's stunning deep focus photography.
The disc extras are a 49-minute British documentary, The Art of Akira Kurosawa; the original Japanese theatrical trailer; and a 16-page booklet with insightful essays and bios by critic Philip Kemp.
Toshiro Mifune plays the buffoonish wannabe with manic energy
rating
Share this article