DVD: Mifune - The Last Samurai |

reviews, news & interviews
DVD: Mifune - The Last Samurai
DVD: Mifune - The Last Samurai
The life and times of the great Japanese actor Toshiro Mifune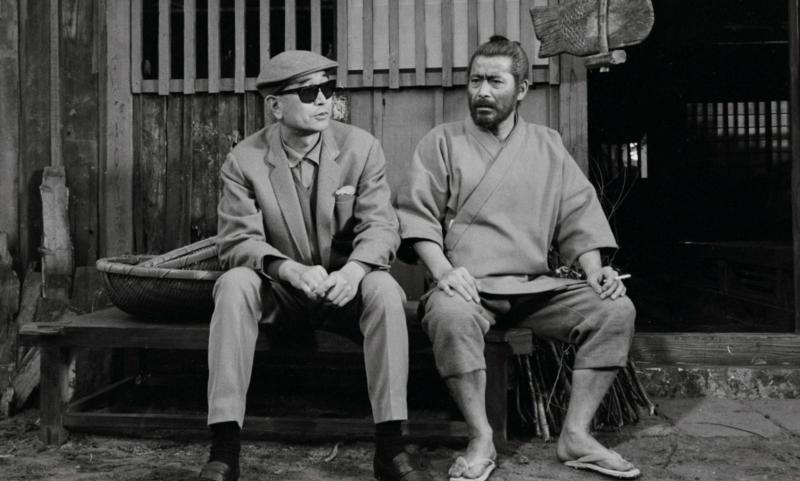 Director Akira Kurosawa, left, with Toshiro Mifune on the set of their final film together, 'Red Beard'
Akira Kurosawa's 1950 early masterpiece Rashomon was a revelation for post-war western screen audiences, winning the Golden Lion at the Venice Film Festival that year and becoming a standard-bearer for the new generation of Japanese film.
Its lead
actor
, Toshiro Mifune, would become known as "
Japanese cinema's
biggest export after Godzilla", a pioneering star – the first recognisable such figure from outside Europe and the US – whose charisma crossed national boundaries. His work with Kurosawa has been described as the greatest actor-director collaboration of all time in cinema, best known for the new dimensions it brought to the traditional samurai world. It proved no less influential internationally, too, with their 1954 classic
The Seven Samurai
remade in America as
The Magnificent Seven
six years later.
Steven Okazaki's Mifune: The Last Samurai goes beyond the genre associations of its title to create a wider documentary study that is as much about the actor's world – the context of Japanese cinema over the course of half a century, from Mifune's first role in 1947 through to his death in 1997 – as it is a particular portrait of his subject: details of biography are subordinate to a more general context of the times. It starts with the cinematic environment into which a new generation of post-war directors emerged, and how they adapted traditional elements of Japanese culture for new times (occupying US forces banned sword-fighting films, the formulaic chanbara, for seven years after the end of the war).
Mifune himself came to acting almost by chance, originally thinking that his wartime experience training pilots might qualify him for work as a cameraman, making his appearance at a Toho Studios "New Faces" talent competition almost accidental. It was there that his originality, his sheer intensity as an actor, was spotted by Kurosawa, and the 16 films they would make together over 18 years defined a new sort of hero. Okazaki assembles a fascinating range of interviews with some of their surviving collaborators, from the fight sequence trainer who remembers how he was killed on screen by Mifune more than 100 times, to Kurosawa's script supervisor remembering the filming of the grandiose climactic scene to the director's 1957 Macbeth adaptation Throne of Blood: the tension of Mifune's death in a spectacular hail of arrows was made all the more anxious, she recalls, by the fact that it was being shot without accident insurance.
Mifune acted extensively outside Japan too, and there are interviews with Martin Scorsese and Steven Spielberg; the latter worked with Mifune on his submarine comedy 1941 and recalls him as "a wild character from the earth, like he had been created by the forces of seismic activity from underground… very funny and violent", as well as highlighting the influence that 1950s Japanese cinema had on a new generation of American directors, the tropes of the samurai hero finding new form in the western (Spielberg and his own generation would also become active supporters of late-career Kurosawa). Okazaki tackles the issue of Mifune's separation from Kurosawa that followed their final film Red Beard in 1965 with sensitivity, speaking to the sons of both. It was more a parting of the ways than any disagreement as such, driven not least by the responsibilities that Mifune had assumed at his own studio. Kurosawa would recall fondly, in a letter read out at Mifune's funeral, how the two had been "been part of the golden age of Japanese cinema together". Let down only by a disengagingly monotone narration from Keanu Reeves, Mifune: The Last Samurai is a worthy broadbrush tribute that leaves you wanting to discover more, to return to these screen masterpieces.
His work with Akira Kurosawa has been described as the greatest actor-director collaboration of all time in cinema
rating
Share this article