Uncle Vanya/Three Sisters, Wyndham's Theatre |

reviews, news & interviews
Uncle Vanya/Three Sisters, Wyndham's Theatre
Uncle Vanya/Three Sisters, Wyndham's Theatre
Quiet truth in finely observed ensemble Chekhov from the Mossovet State Academic Theatre
Heartbreaking: Alexander Domogarov as Astrov and Yulia Vysotskaya as Sonya in 'Uncle Vanya'
London has had its fair share recently of Chekhov productions from Russia, though none anywhere near as quietly truthful as these from Moscow's Mossovet State Academic Theatre. Veteran film and theatre director-designer Andrey Konchalovsky understands how lives may fall apart or hang in the balance while human beings sip a cup of tea, strum an out-of-tune piano or push a pram.
What's more, his admirable actors – at last a true Moscow ensemble, at least in this Three Sisters – can play several parts which seemingly share so much in common between the two plays, and yet they make complete individuals out of each to the point of being unrecognizable once roles have been exchanged. Can even the most ardent of Chekhovians claim to have seen Uncle Vanya and Three Sisters from the same company in a single day? I now have, and it was a profound experience which continues to resonate.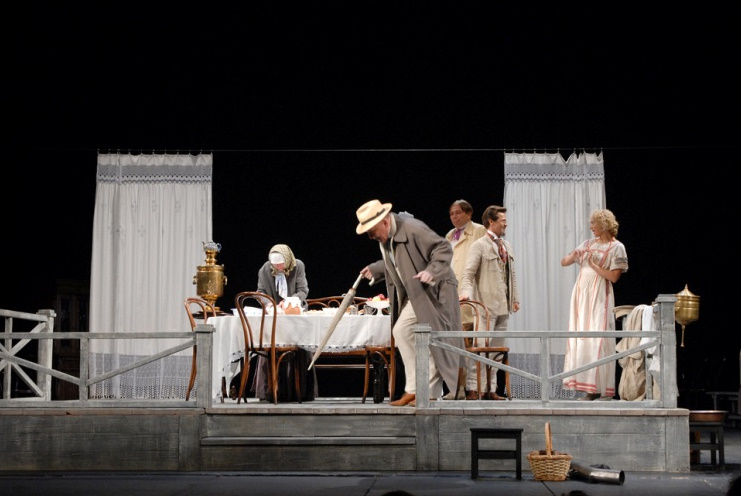 These performers share the stage with the expected samovar, plates of raspberry jam and elegant lace – though Konchalovsky's realistic turn of the century interiors are sparely and tellingly pitched against blue, grey or black (Vanya stage pictured above), with a special visual beauty in the most recent of the productions, Uncle Vanya (to which Konchalovsky is returning 35 years after his film version, desperately needed on DVD along with Louis Malle's inexplicably absent Vanya on 42nd Street). Interludes project a noisy contemporary Moscow street scene, or actors talking about their Three Sisters roles, and yet what's most real, in a period setting which never seems alien to us, is the way these timelessly bored, frustrated, self-deceiving and yet loveable – because fallible and failing – characters behave, frequently talking to empty air, only being noticed when they explode or go mad.
Seeing the two masterpieces side by side highlights the mastery of Chekhov's range as well as the similarities. Both begin graced with Konchalovsky's meticulous eye for unharmonious gatherings, though there's a genuine vivacity about the sisters' milieu to be worn away by time, while the merriment and laughter of Vanya's "Scenes of country life" barely conceal the despair and insanity to come. In each production, one character in particular shows us a look of tragic fixity that pinpoints man's essential isolation: we see it when Galina Bob's Irina changes from a convincing youthful vivaciousness in Act One to the understanding that life makes no sense, and when Alexander Domogarov's Astrov moves beyond even the sympathetic reach of Yulia Visotskaya's ardent Sonya.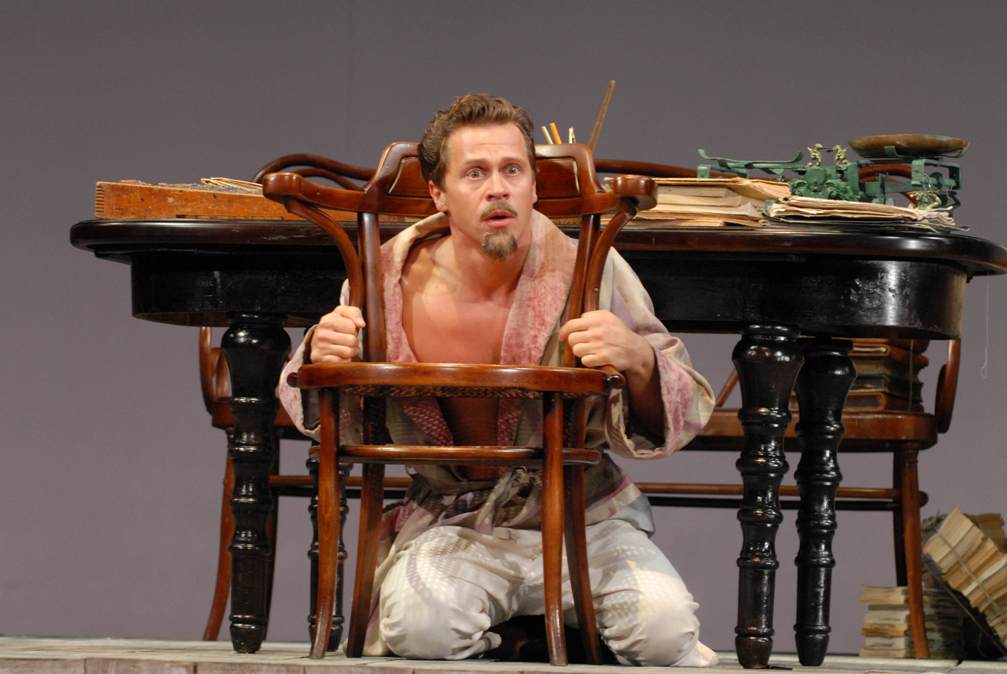 Domogarov and Visotskaya are the superlative half of Vanya's central quartet, its symmetry of deepening one-to-ones beautifully highlighted here. Konchalovsky nails both moments of coming-together by having his pairs seated on the steps downstage: Astrov and Sonya sharing slices of cucumber before he rests like a child in her lap, Sonya responding with what seems like a schoolgirl crush to a gesture of friendship from her father's beautiful young wife Yelena Andreyevna.
Yet in the almost whispered, fast-talking confidentiality which seems such a risky hallmark of Russian theatre – and which fell so disastrously flat in the Sovremennik Company's Three Sisters – this Yelena, Natalya Vdovina, lacks the vocal flow of Visotskaya's initially soft and low delivery, just as Pavel Derevyanko's too-young Vanya (pictured above) – I'm guessing barely 30 rather than the requisite world-weary 40 – is no match for the superb modulations of Domogarov, a battered Astrov with a striking physical resemblance to Martin Clunes (a not improbable candidate for the role of the forester-doctor in a future English production). Derevyanko is surely too much the camp clown, though the real breakdown, when it comes, is suitably frightening both to the audience and to his nearest and dearest onstage. It comes as no surprise that Sonya's famous final "we shall rest" speech is one of explosive and convincing fury from Visotskaya.
And there she is, headscarf off and locks flowing, as tragic, restless and consumptive Masha in Three Sisters, the frustration always lower key until the final despairing but silent clasping of Domogarov's weak Vershinin, never as momentarily likeable as his Astrov and played with superb differentiation. Vdovina is vocally better as the awful wife of the sisters' beloved but feckless sibling Andrey (Alexey Grishin, as convincing in drunken nihilism as Vladas Bagdonas's catalytic Chebutykin), never shrieking, her banal inhumanity conveyed in almost throwaway high-handedness. And Derevyanko is better suited to the tenorial role of the decent but unloved Tuzenbach.
This time there are no weak links in the ensemble, with Larisa Kuznetsova transformed from Vanya's nanny Marina to a third sister (pictured above, between Visotskaya's Masha and Bob's Irina) clearly going quietly mad in reaction to the stresses around her. Bold, energetic performances in the minor roles come from Vladislav Bokovin and Yevgeny Ratkov as the slightly manic sub-lieutenants as well as old stager Vladimir Goryushin, impassive as dogged Ferapont. Bob is clearly a fine new asset to the company as the youngest sister, and there's an appropriate air of weird menace from Vitaly Kishchenko's strong-featured Solyony. Irina Kartasheva, emblem of the best Russian tradition having spent 60 years with the company, metamorphoses impressively from Vanya's worried mother into the sisters' nurse Anfisa, the only character who ends up happy.
Vanya composer Eduard Artemyev marshals a fine range of onstage piano music for Three Sisters, sparely and tellingly employed, and the genuinely charming or quizzical actor comments in the little films between the scenes enrich rather than distract. It has to be said that the whole makes for hard listening, given the rapid, naturalistic delivery – though the lines aren't gabbled – and if you're exclusively dependent on the supertitles, you may well be frustrated by their frequent out-of-synch behaviour in Three Sisters.
Even so, exhausted as I was at the end of a long day, I wanted Konchalovsky's Seagull and Cherry Orchard to follow. After the hit-and-miss Sovremennik visit, and the sheer perversity of the atrocious Vakhtangov Vanya, this is at last the real Russian Chekhov (the Maly Theatre's spellbinding Platonov was a special case). With its support both of this and the once-in-a-lifetime Khovanskygate in Birmingham, the UK-Russia Year of Culture project has this week wrested artistic triumph from the shadows of political fallout – and some of us can be proud that Konchalovsky and many of his actors recently signed a contra-petition against the all too ready support of Gergiev and other artists for Putin's Crimean annexation. That wouldn't affect the standard of their enterprise, but it does mean you can support these performances with a clearer conscience.
MORE CHEKHOV ON THEARTSDESK
The Cherry Orchard, National Theatre (2011). Zoë Wanamaker (pictured below) shines in Howard Davies's murky production of Chekhov
The Cherry Orchard, Sovremennik, Noël Coward Theatre (2011). Russians soar in third, and final, offering of their first-ever London season
Uncle Vanya, The Print Room (2012). Iain Glen stars in a version of Chekhov at his most tenderly intimate
A Provincial Life, National Theatre Wales (2012). Moments of visual beauty punctuate a Chekhov adaptation that struggles to find its focus
Three Sisters, Young Vic (2012) Benedict Andrews' energetic update is stronger on ensemble work than individual performances
Uncle Vanya, Vakhtangov Theatre Company (2012). Anti-naturalistic Russian Chekhov buries humanity under burlesque and mannerism
Uncle Vanya, Vaudeville Theatre. Anna Friel, Laura Carmichael and Ken Stott shine bright in Lindsay Posner's production of Chekhov's drama
Longing, Hampstead Theatre (2013). William Boyd's dramatisation of two Chekhov stories with Iain Glen and Tamsin Greig is more pleasant than towering
The Cherry Orchard, Young Vic (2014). Katie Mitchell delivers Chekhov's masterpiece with devastating power

Winter Sleep. Turkish master Nuri Bilge Ceylan's Cannes Palme d'Or winner, based on Chekhov short stories, is huge in every sense
The Seagull, Regent's Park Open Air Theatre (2015). Strikingly staged Chekhov continues a strong season in the park
Uncle Vanya, Almeida Theatre (2016). Robert Icke's lengthy revival/reappraisal is largely a knockout
Young Chekhov, National Theatre (2016). Jonathan Kent's three-play Chekhovathon builds to a shattering climax
Wild Honey, Hampstead Theatre (2016). Early Chekhov begins strongly then falls away