Lykke Li, Village Underground |

reviews, news & interviews
Lykke Li, Village Underground
Lykke Li, Village Underground
A bold night of new songs from Sweden's sorrowful singer-songwriter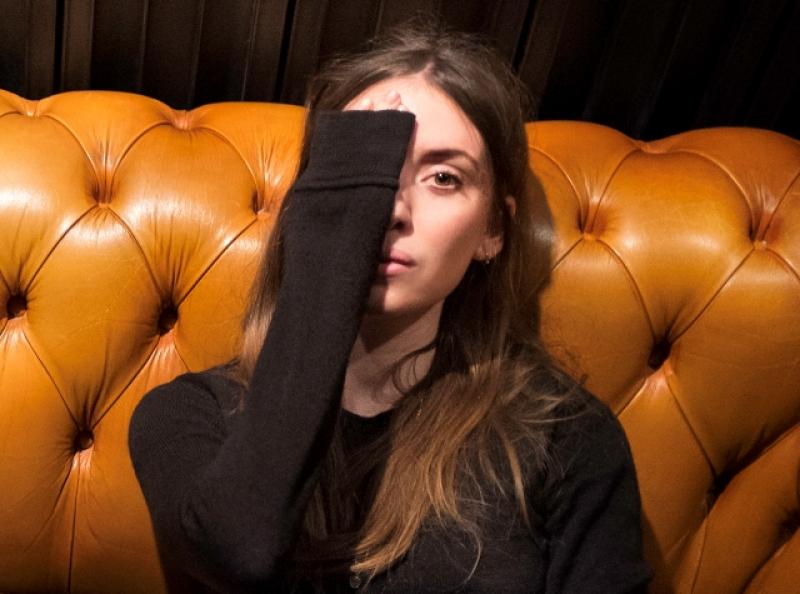 Lykke Li: despite the attempt to hide, familiar in her usual black
A mournful voice sings "even though it hurts, even though it scars, love me when it storms, love me when I fall" over a strummed acoustic guitar which shares the lyrics dolefulness. As the centrepiece of her set last night, Lykke Li's delivery of her new album I Never Learn's "Love Me Like I'm Not Made of Stone" asked a lot from the audience at her first London show for three years. With the familiar came the new. With the upbeat came the sorrowful. And lots of it.
Although the Swedish, LA-dwelling singer-songwriter has shifted mountains of records in the wake of her last album, 2011's globe-conquering Wounded Rhymes, few concessions were made to her recent past. "I Follow Rivers," "Jerome", "Love Out of Lust", "Little Bit" and other familiar songs were performed, but the concert was about I Never Learn which was aired, with the exception of "Silverline", in full. And apart from "Rich Kids Blues" and "Youth Knows no Pain", the older songs were reconfigured in the spare style of her new album.
The dramatic pirouettes and flamenco-style stomps were gone This show was as bold as Li herself, who asked the crowd to put away their mobile phones and forget Instagram for a while. "We're here, now" she said. People may have been intent on capturing this as a comeback, as an event, but it was as distracting amongst the audience as it appeared to be from the stage.
Although familiar in her usual black with her arms still lashing like those of Stevie Nicks, the dramatic pirouettes and flamenco-style stomps were gone. The restraint allowed the songs themselves to be foregrounded. "No Rest for the Wicked" and "Sleeping Alone" are grand arcs which feel as though they could find a home in stadia. "Just Like a Dream" sounds like the one-off marriage of If I Could Only Remember my Name-era David Crosby and Cher. The on-stage combination of pedal steel and organ evoked Laurel Canyon, while Li's cracked voice invested everything with emotion.
I Never Learn – released this week – is a break-up album. The songs rarely reach mid tempo and the lyrics are crammed with pain and sorrow. "My one heart hurt another, so only one life can't be enough…Lonely I, I'm so alone now," she sings on "No Rest for the Wicked". The forthright titles "Sleeping Alone", "Love Me Like I'm not Made of Stone" and "Heart of Steel" make it even more explicit. This is not a pop romp.
The small venue suggested bets were being hedged It is also not a sequel to Wounded Rhymes. Where that was mostly up-tempo and driven by percussion, I Never Learn is more a reductive take on the power ballad style. It's as if her last album's "Sadness is a Blessing" – the final song performed – spawned a succession of songs cast in its mood yet written from the viewpoint of being abandoned at the bottom of a canyon while administering self-flagellation. How this tonal and stylistic shift was going to translate to a stage setting was open to question, especially as songs from Wounded Rhymes – particularly "I Follow Rivers" – are still on repeat in film soundtracks and occupying the air of high street shops. With her last album still casting a shadow and the new one a different creature, Li had some log to roll. As if to acknowledge that, her penultimate song was the Swedish-language "Du är den ende" and she and her five-piece band walked off stage to The Beatles' "Don't let me Down".
Nonetheless, the 400-capacity Village Underground was sold out. But booking a venue too-small for demand suggested bets were being hedged and that this was a test for how the new album would work live. In the event, this assured concert proved Lykke Li has grown as a performer and songwriter without sacrificing any of her identity or power. This might be called maturing.
Overleaf: watch the video for the title track of Lykke Li's I Never Learn
Lykke Li's cracked voice invested everything with emotion
rating
Explore topics
Share this article