Schwanewilms, Connolly, Crowe, LSO, Elder, Barbican |

reviews, news & interviews
Schwanewilms, Connolly, Crowe, LSO, Elder, Barbican
Schwanewilms, Connolly, Crowe, LSO, Elder, Barbican
A Mozart symphony and the plums of Richard Strauss's best-loved opera shine bright
Hugo von Hofmannsthal and Richard Strauss, creators of 'Der Rosenkavalier', at work: silhouette by Bithorn
Mozart usually makes a fine concert bedfellow for his most devoted admirer among later composers, Richard Strauss.
With the proviso that the 39
th
rather than the 38
th
Symphony would have made a better prologue to excerpts from
Der Rosenkavalier
last night – Mozart's later work has a minuet which Strauss imitates in the breakfast badinage of his Marschallin and Octavian, while the "Prague" Symphony has none – Sir Mark Elder made the companionship shine last night. The Barbican Hall took on a brightness for the Mozart, while the hall dazzled and spun as it must in any great
Rosenkavalier
encounter. And you wouldn't find a better trio of ladies in any other performance, dare I say ever.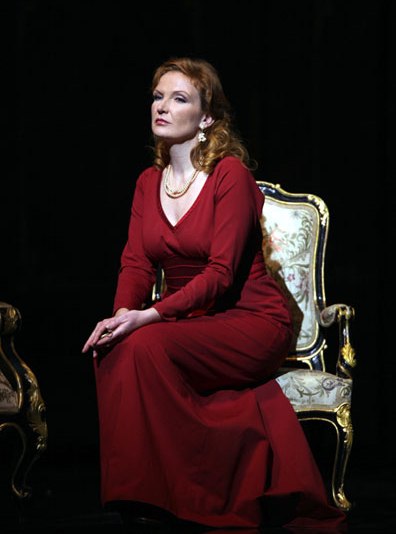 Elder struck the right balances in the symphony. Literally so, by having first violins to his left and seconds to the right, for the "Prague" reminds us that Mozart was a pioneer in the antiphonal effects we tend to associate more with Wagner, Strauss, Mahler and Elgar. And as an interpretation, featuring all repeats including the second half of the finale, it had a near-perfect mix of light and shade, space and buoyancy. Conducting period instrument bands as well as lush ensembles like last night's London Symphony Orchestra, Elder knows where to keep the strings vibrato-free and how to articulate phrases long and short. Besides, to my ears no authentic woodwind could gild the lily quite as beautifully as the LSO's flutes, oboes and bassoons in the finale.
If there's a fault about Elder's late-romantic conducting style, it seems to me that it lacks the ideal elasticity, the rubato, which bring the last degree of vivaciousness to Der Rosenkavalier in interpretations by Christian Thielemann and the late Carlos Kleiber. But he is a conductor whom singers can trust, as Anne Schwanewilms (pictured as the Marschallin above by Javier de Real) suggested in her interview with theartsdesk and bore out last night in her subtle interaction with the conductor when she stood next to the podium. Unaffectedly as tall, beautiful and magnetic as a classic film star in her signature red dress, Schwanewilms' regal but always human Marschallin fixed all eyes on her from her first easy loveplay with Sarah Connolly's impetuous Octavian (pictured below). Both singers have plenty of experience in their roles, so no wonder it all felt real, if with that extra frisson in concert of a lesbian relationship which once so repelled the prim Benjamin Britten.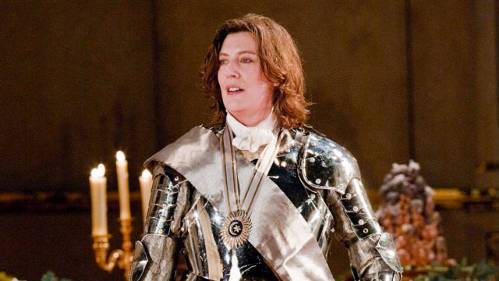 We got the orgiastic horns of the Prelude followed by post-coital bliss and Mozartian breakfast, the minuet-into-waltz properly cadenced for concert (Sir Charles Mackerras's work, I believe). We then had the full emotional sweep of the Marschallin's anger at the puffed-up, vulgar Baron Ochs's easy assumption of marital privilege, her memory of a girl just like victim-to-be Sophie, herself, and the changed mood about ageing and instability it induces, baffling her young lover.
There was perfect equilibrium here between the ardent boyishness and desolation of Connolly, pushing for proper effect, and Schwanewilms' intimate inflection of Hofmannsthal's magical text, silvery middle range, flawless white notes and full, womanly chest voice. She floated the high setting of "Ros'n" in her penultimate line of the act with a perfection I haven't heard since Kiri te Kanawa moved us to similar tears back in the 1970s and 80s. For once, there was perfect synchronicity from the quartet of footmen - students from the Guildhall School's postgraduate courses, one of whom, Johannes Kammler, got to sing a crucial line later, very well indeed - and LSO leader Carmine Lauri led the "certain Viennese sentimentality", as Strauss called it, of the quiet curtain to its hallowed conclusion. How right that Schwanewilms surprised him with a kiss at the end.
Pretty young thing Sophie always gets a tough time as romantic second fiddle – not least from our own Edward Seckerson in his comment on the role of Octavian – but she's spirited and sympathetic, especially in the hands of as consummate a singer as Lucy Crowe (pictured right by Scott Rylander), who'd outshone the other ladies the last time the Royal Opera revived the opera. Here, of course, she was on equal footing, at least as far as the role demands. Her supernatural ectasy at "Wie himmlische, nicht irdische" ("how heavenly, unearthly"), reeling at the scent of Persian attar in Octavian's silver rose (last night a real one), even made us momentarily forget our Marschallin as we were wafted up to the Barbican ceiling. How we felt for the girl's pain and embarrassment under the kind but inevitably condescending inspection of the Princess, whose breaking heart Schwanewilms so consummately suggests between the poise of the final scene.
The famous, ineffable trio? Never better, with Schwanewilms luminously nailing the big opening phrase of "Hab mir's gelobt" – and if the orchestra swamped the voices at the climax, that's the one point in the opera where it's allowed. The Strauss 150th anniversary celebrations roll on with two complete Rosenkavaliers this month - Richard Jones's production at Glyndebourne and Andris Nelsons conducting a Birmingham concert performance - but they'll be lucky to hit such heights. Heavenly, unearthly indeed.
There was perfect equilibrium between the ardent boyishness and desolation of Connolly and Schwanewilms' intimate inflections
rating
Share this article