An Autumn Afternoon |

reviews, news & interviews
An Autumn Afternoon
An Autumn Afternoon
Final film from Japanese master Yasujiro Ozu is unforgettable cinema
Fathers and daughters: remarkable performances from Shima Iwashita and Chishu Ryu
The classic Japanese director Yasujiro Ozu named a number of his films after the seasons, but he restricted himself to spring, summer and autumn. I don't believe he ever titled one after winter - not that his work doesn't touch on the closing of the year, and its associations with death.
Re-released in a wonderfully restored print,
An Autumn Afternoon
turned out to be the director's last film, made in 1962; the previous year had seen the death of Ozu's mother (the director never married, and lived with her all his life), and Ozu himself would die a year later. But while there is sadness here, and a feeling of time passing, there's also a sense of an emerging new generation, and much affecting comedy along the way.
It's no surprise that Ozu returned to his recurring theme of parents and children, known best from his 1953 masterpiece Tokyo Story. While that earlier work was about how the younger generation had little time for their parents, An Autumn Afternoon poignantly shows how a father (played by Chishu Ryu, the director's longterm collaborator, not least in Tokyo Story) subtly presses his daughter towards marriage and an independent future, even though her departure from his home leaves emptiness behind.
The colour cinematography is wonderful at dabbing patches of bright colour onto an otherwise restrained canvas
We first encounter the father in his office environment – and so come to know him by his surname, Hirayama – and from the first scene the issue of female employees leaving work to marry is being mentioned. He's a salaryman in a factory (the chimneys of which brightly open the film: this was one of six films that Ozu made in colour), and we later learn that he served in the navy during the war. His life out of the office includes regular drinking sessions with old friends, and at one of them, a school reunion, the guest is an old schoolteacher, who's known only as "the Gourd" (due, we presume, to his ability to imbibe plentifully: Eijiro Tono plays a beautiful cameo, and frequently steals the scenes in which he appears). Delivering the tipsy teacher home at the end of the evening, Hirayama discovers that he has been reduced to running a noodle shop, looked after by his discontented daughter, who has never married.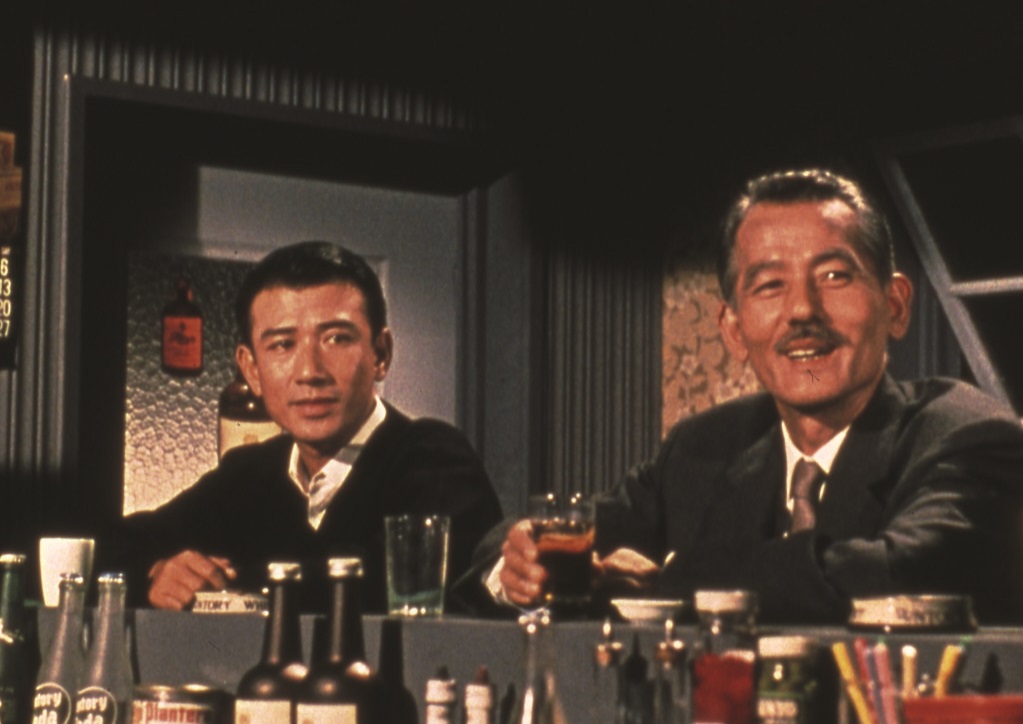 Returning to his own home, he's greeted by his daughter Michiko (the luminous Shima Iwashita): Hirayama is a widower, and she looks after him – greeting him every time he comes home a little the worse for wear with a mild reproach – as well as her younger brother, keeping the home in order. An elder brother Kochi (Keiji Sada) is already married, living the new consumerist lifestyle with his assertive wife (Akika Hirayama, more fine comedic playing). The sense of the differing values of the older and new generation is subtly caught in the latter's relationship, where domestic tasks are shared, and the subject of family disputes is whether the next purchase should be a new domestic appliance or something more frivolous (Kochi finally gets his golf clubs, even if he has to pay for them in instalments, and playing golf in Tokyo anyway involves firing balls at a target set up on the roof of a skyscraper).
Ozu is a master of intonation (the frequent "h'mm" which speaks more than any words) and nuance, and the sense of a changing society, moving from the legacy of war towards industrial boom, is everywhere, not least in the differences of costume, from the traditional kimono to new western styles. The gentlemen's working attire is strict three-piece suits, which become progressively more rumpled as the sake goes down - there's a lot of imbibing in the film (pictured above right, Hirayama with his eldest son Kochi, played by Keiji Sada). The colour cinematography, by Ozu's favourite lenser Yuharu Atsuta, is wonderful at dabbing patches of bright colour onto an otherwise restrained canvas, and the city of Tokyo itself still looks somehow modest, naïf, a far cry from the visual extravagance that we associate with it today.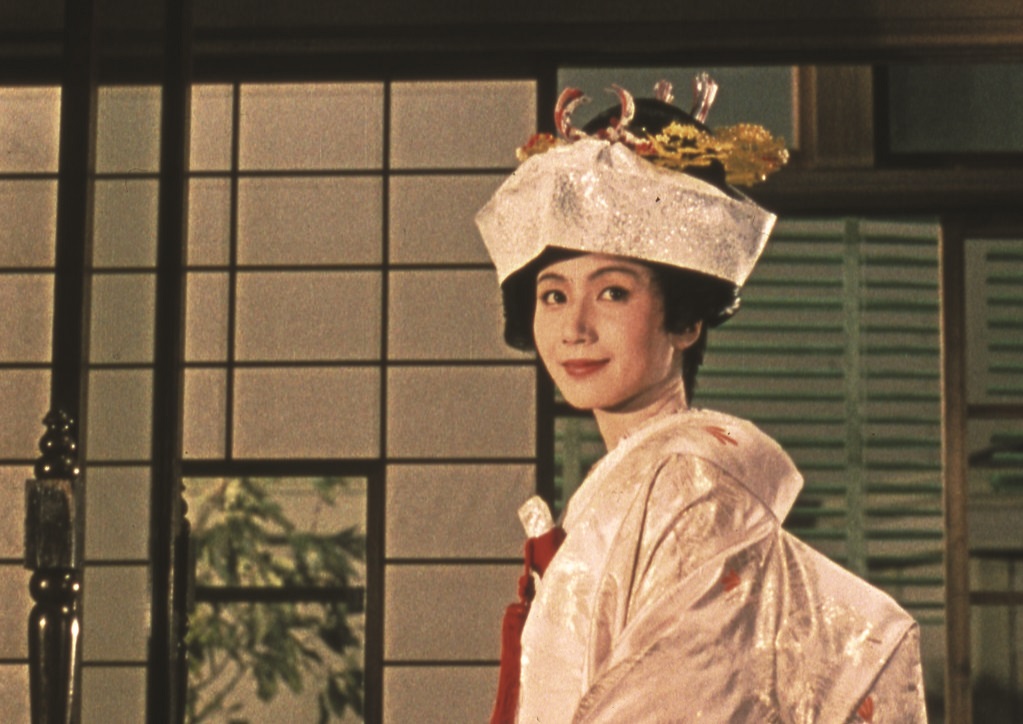 There's very much a sense of emancipation for women in the air too, of moving beyond the traditional roles that society had accorded them. A final melancholy for Michiko comes, after she has accepted the idea of marriage, when she discovers that the man she had had feelings for has become engaged to another woman, having assumed that Michiko would indeed go on looking after her father. The film does end with marriage, even if it's something of a negotiated one, and we never actually see the formal ceremony, only its preparations and aftermath. In the process of those discussions the brilliant Iwashita manages a scene, a silent trajectory of the eyes, which is truly haunting (pictured above left).
There are wells of sadness behind the banter, oceans of humanity alongside the bitter-sweet formality of behaviour and family drama (I couldn't help thinking somehow of Mike Leigh, but Leigh played at 16 rpm). There's something strangely Chekhovian there as well, catching the Russian writer's sense of life both going on, and simultaneously receding into the past. Music from another Ozu collaborator Kojun Saito is also utterly distinctive from the director's work, something spare that approaches but never broaches the sentimental. Both that and the visuals are perfect in this new restoration from Shochiku Studios, which was where Ozu worked for his whole life. An Autumn Afternoon comes very close to perfection. Glorious.