Adrienne Truscott, Soho Theatre |

reviews, news & interviews
Adrienne Truscott, Soho Theatre
Adrienne Truscott, Soho Theatre
Show about a serious subject is acidly funny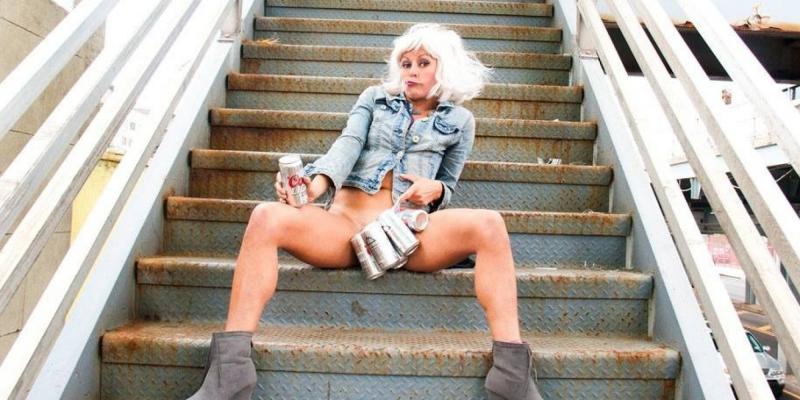 Adrienne Truscott performs much of her show dressed only from the waist up and below her ankles
Adrienne Truscott's show was awarded the Edinburgh Comedy Awards' panel prize at the Fringe last year (Bridget Christie won the main prize for another avowedly feminist show), and if it hadn't been for its thought-provoking content and highly original delivery, then it surely deserved an accolade just for the title, Asking For It: A One-Lady Rape About Comedy Starring Her Pussy and Little Else!
Truscott is one half of American performance artists the Wau Wau Sisters, famous for pushing the boundaries of cabaret/circus genres, and it should come as no surprise that she walks on stage in a crazy blonde wig, but dressed only from above the waist (in lots of denim, which forms the first of several neat sight gags) and below her ankles.
"I'm going to do a show about rape whether you like it or not," she says near the top of the hour-long evening. As openers go, it's a grabber and a good indication of what's to follow – material that's cleverly worded, discomforting and funny in equal parts. Talking of parts, we soon see why Truscott is only half-dressed, as she uses her pubic region as a sort of projection screen on to which images of male faces are shone, and her pubic hair acts as a goatee or beard for them.
Flimsily dressed and necking copious amounts of canned gin and tonic, Truscott is in character as a woman who is "asking for it" as she tackles rape and misogyny in modern society head-on. While delivering some gloriously rude sexual material, she explains how lightly rape is now taken in so many cultures, even supposedly sophisticated ones. She reserves her most acidic barbs for comics who tell "jokes" about rape - Reginald D Hunter and Jimmy Carr (pictures of whom grace the stage) are just two she mentions by name on what is a depressingly long list - and those on the religious right in the US. Some of the latter group, she tells us, believe in the absurd notions of "legitimate rape" or that rape-induced pregnancies are a gift from God.
Truscott's nudity is not to titillate but to make the point (obvious to us, but apparently not to rapists and the justice system) that even her character, seemingly primed and ready for sexual action, is not in any way asking for it. Her examination of modern misogyny is a clever, biting and serious work, but also often hilariously funny, not least in her interaction with men in the audience.
Truscott performed Asking For It.... in a tiny room in Edinburgh last August and had to put on extra shows to meet demand, but still only a low percentage of those who wanted to see it could, so it's fantastic it has a long run at the Soho Theatre. Those who don't follow American politics and club comedy may struggle with some of the references, but this is a well crafted show that uses many comedy tropes – repetition, slapstick, puns and callbacks - to make some considered points, and Truscott's long set-piece inverting a rape scenario, in which the man becomes the abused, is a tour de force of comic writing.
Truscott is in character as a woman who is 'asking for it' as she tackles rape and misogyny in modern society head-on
rating
Explore topics
Share this article