Choreographics, English National Ballet, Barbican Pit |

reviews, news & interviews
Choreographics, English National Ballet, Barbican Pit
Choreographics, English National Ballet, Barbican Pit
Impressive showcase of new work by company dancers
Tender comrades: Juan Rodriguez, Guilherme Menezes and Joshua McSherry-Gray in Makoto Nakamura's 'Ripple Effect'
"We want to be the most creative and the most loved ballet company in this country," Tamara Rojo told the audience in the Barbican Pit last night. "We want you to love us." The director of English National Ballet knows a thing or two about gaining the love of audiences, something she has excelled at in her own dancing career, but it has been nothing short of jaw-dropping, over the 18 months she has been at ENB, to watch how skilfully she can work the same magic on a far larger stage.
Under her leadership, ENB's company atmosphere and public image now vibrate with passion, frankness, intelligence, and dedication – and all those qualities were richly on display in this annual choreographic showcase performance.
Yoking the creation of the four new pieces to ENB's WWI commemoration spectacular, Lest We Forget, was a smart move, allowing the budding choreographers to build on the time that, as dancers, they have already spent immersed in that imaginative world, and also to ride on the back of Lest We Forget's critical and commercial success. Each choreographer was asked to choose a poem to start with, then their composer had to set the poem as a song, then both worked together to create the final piece under the supervision of experienced mentors.
Before the First World War pieces, the winner of the English National Ballet School choreography competition, Emmeline Jansen, performed her solo Count down, a very impressive brief work, with equally impressive attack. Jansen's stuttery, rapid-fire contemporary style was obviously influenced by Wayne McGregor in its jerky neck and hyper-extended spine, but she also showed a knack for stillness, and a brief tableau where she knelt, moving only one gently circling wrist, was one of the better depictions of mental distress (the piece's theme) I've seen so far in a year with too many over-theatrical madwomen.
David Hewson's setting of Wilfred Owen's Anthem for Doomed Youth (sung by Jonny Muir) introduced one of the evening's themes: the vastly inferior quality of the song settings to the instrumental music of the final dance piece. To be fair, it's a hard task to set a poem already used by Britten, that master of tenor solos, in his War Requiem, but Hewson's riff on the Last Post sounded like a second-rate musical. Transferred onto a chamber ensemble for Makoto Nakamura's Ripple Effect, however, Hewson's tender melodies became the perfect setting for Nakamura's skilful pair of pas de deux, one between two men – comrades in arms – and one between a veteran and the wife who can't get through to him. There's a gentleness to the storytelling here, and a touching sincerity in the relationships, particularly that of the soldiers to each other which Nakamura achieves by giving the men strongly gendered pas de deux moves (supported pirouettes and arabesques). It's simple, clever, and highly effective.
Fabian Reimair's We Are Free (poetic inspiration: Siegfried Sassoon's Absolution) is the joker of the pack, with a surreal/grotesque design aesthetic and expressionist dance language very different from the naturalistic look of the other three pieces. Stephan Hodel's song has a Rodgers and Hammerstein feel, which in the dance music is - fortunately - darkened and subverted in minor shades, the waltz section acquiring the sardonic lushness of Shostakovich's waltzes in the Jazz Suites. The rather static choreography (one character, the blood-red-clad Fate or War figure, is actually rooted to the spot by her dress, pictured above right) is at its best in simple gestures – a woman putting a hand over a man's eyes, or heart.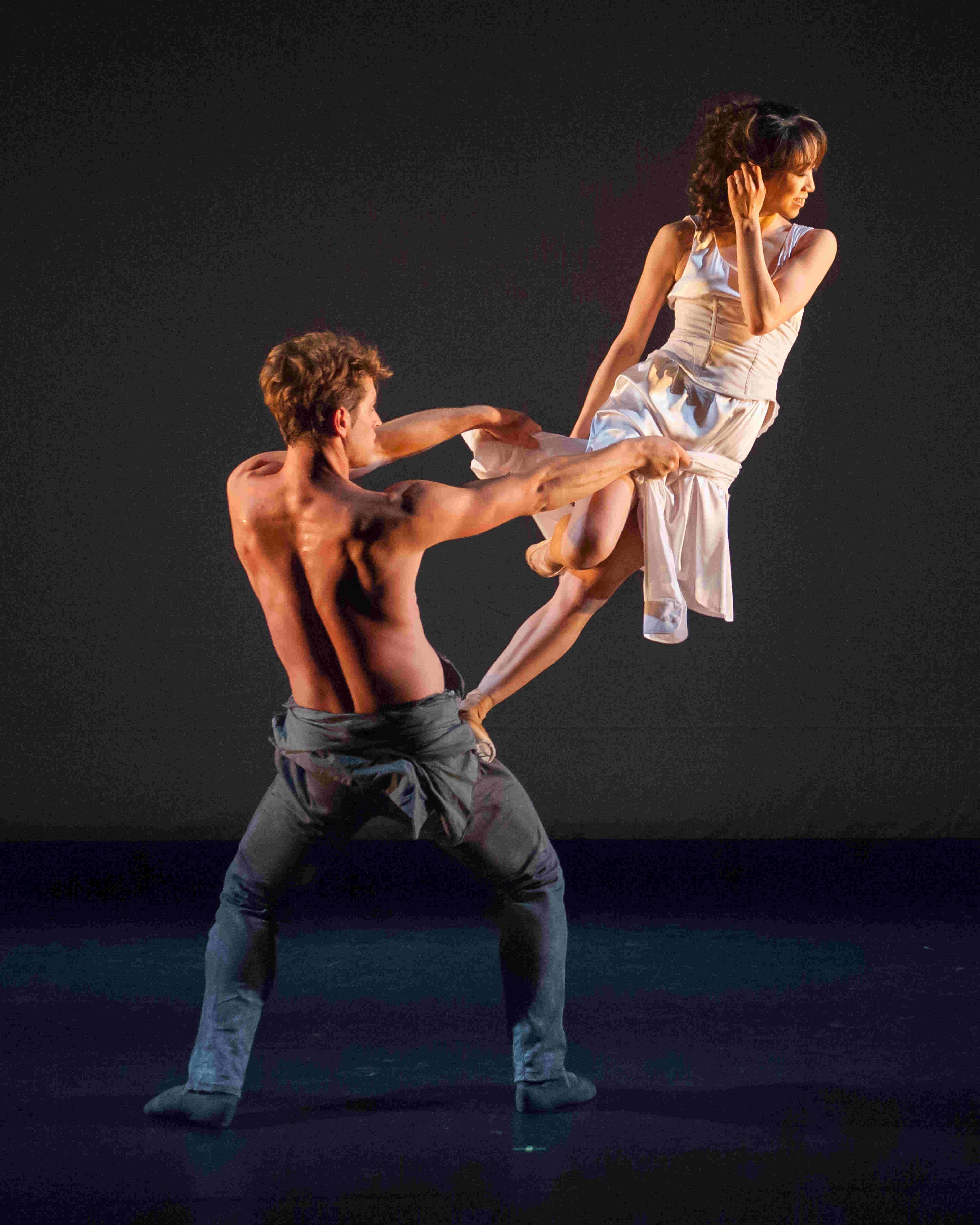 James Streeter, one of ENB's most talented and likeable dance actors, has taken a much more emotive approach to storytelling in his In Living Memory. Clearly he has a personal connection to the material through hearing a grandfather reminisce about war (mentioned in the short film that preceded this, as every piece), and this emotion comes out as dance with a very obvious Kenneth MacMillan influence. Loosely based on a dying soldier's flashback to past happiness, In Living Memory is mostly a lyrical, passionate pas de deux in the high MacMillan style between Erina Takahashi and James Forbat (pictured left) – it is a pleasure to watch, and Christopher Hamilton's unsugary score is a pleasure to listen to.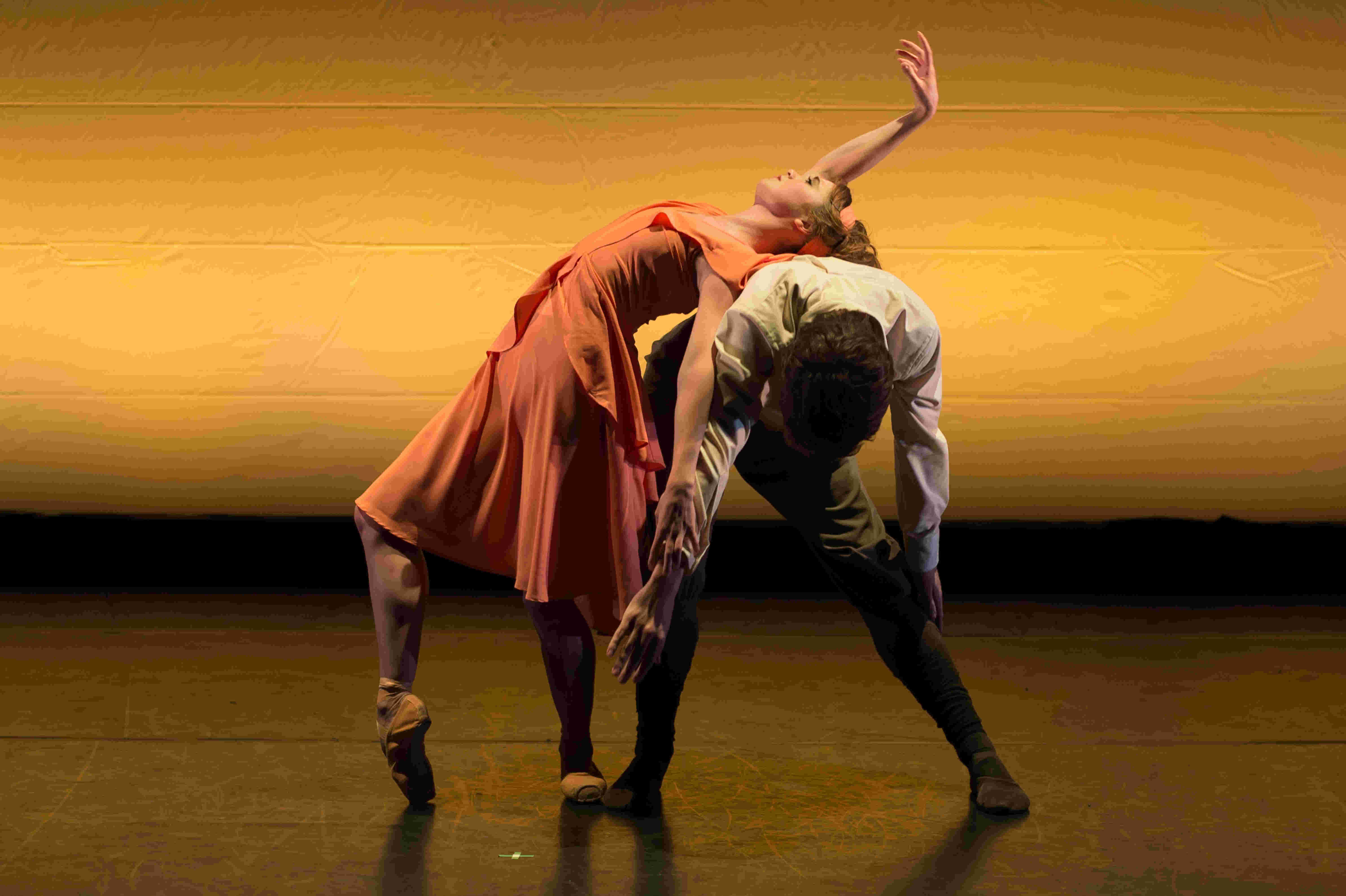 Stina Quagebeur's Vera stands out for departing from the obvious soldier stories, common to the other three pieces and to Lest We Forget, in favour of exploring bereavement firmly from the perspective of a woman (inspired by Vera Brittain's description of her grief in Testament of Youth). It's all about Nancy Osbaldeston, here - wide-eyed, vulnerable, by turns lethargic and frantic, she is completely mesmerising for the ten minutes of what is effectively a solo (Guilherme Menezes takes a very secondary role, pictured right). Almost at odds with the fluidity, even prettiness, of the actual dancing is Quagebeur's powerful gestural language, which – among other things – gives Osbaldeston a flex-footed, tentative walk on her pointes that succeeds magnificently in making that essentially bizarre movement look alien, and so function as a sign of disconnection and discomfiture.
It's tremendously heartening to see a programme so well designed for young choreographers and composers, offering them the framework, funding and mentoring to produce a well-finished product, down to the costumes, lighting and dancing. These four works hang together beautifully as a programme, and their quality reflects extremely well both on their creators' talent and on English National Ballet.
There's a gentleness to the storytelling here, and a touching sincerity in the relationships
rating
Explore topics
Share this article