Oculus |

reviews, news & interviews
Oculus
Oculus
Karen Gillan's move from Who to Hollywoood begins with a clever, unscary horror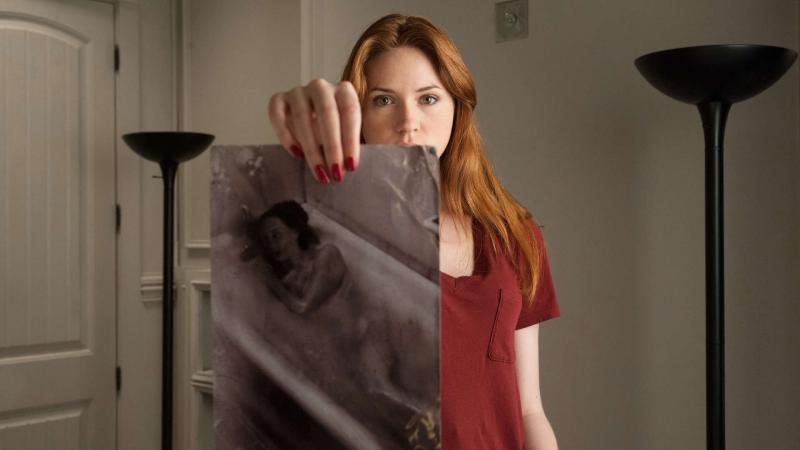 Mirror-image: Kaylie (Karen Gillan) and a previous owner of the Lasser mirror
Karen Gillan's first Hollywood leading role finds her in the surely unusual position of not liking what she sees in the mirror.
After five years as
Doctor Who's regularly killed and resurrected companion Amy Pond
, life doesn't get any easier for the now LA-based actress in this low-budget horror, as her character Kaylie Russell tries to outwit the malevolent mirror which caused her parents' death a decade earlier.
Director Mike Flanagan's elaboration of his 2005 short of the same name tips one wink to Who fans, when statues seem to move in the mirror, much like the Stone Angels who haunted Amy Pond. Her genre past aside, Gillan convincingly holds the big screen as the stronger, cleverer, almost manically obsessed sister of Tim (Brenton Thwaites), impatiently awaiting her brother's release from psychiatric care so she can drag him into a return bout with the mirror which put him there.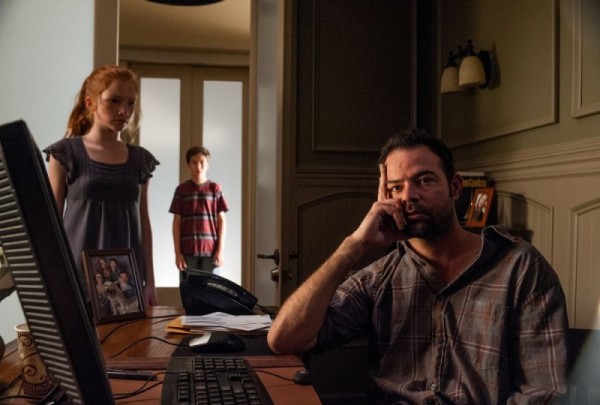 Flanagan's double-narrative follows Kaylie's attempts to convince the fragilely healed Tim that the past he has been taught to remember rationally involved supernatural slaughter, and join her elaborate plot to destroy the mirror, and clear the name of their father. This requires returning to the family home where Dad's actions had him posthumously declared insane, with Mum's broken, toothless body as Exhibit One. Meanwhile, we follow Kaylie and Tim's conflicting memories of the family's fatal stay in the house.
The disintegrating marriage of Marie and Alan Russell (Katee Sackhoff and Rory Cochrane, the latter pictured above right with Annalise Basso and Garrett Ryan as young Kaylie and Tim) might be due to her fears over her pregnancy-scarred body and his possible unfaithfulness, and his overwork in the study where he spends so much time. Or it might be to do with the black-framed antique which dominates that study: what the adult Kaylie calls the Lasser mirror, after its first known, 18th century owner. Lasser, like many subsequent purchasers, was mentally and physically shredded by its reflections. Sackhoff and Cochrane's sober descent into flesh-rending insanity, to the horror of their helpless children, recalls The Shining. The mirror, and the grinning female succubus which crawls out of it to lean over Alan at his desk, is the snow walling them into their madhouse.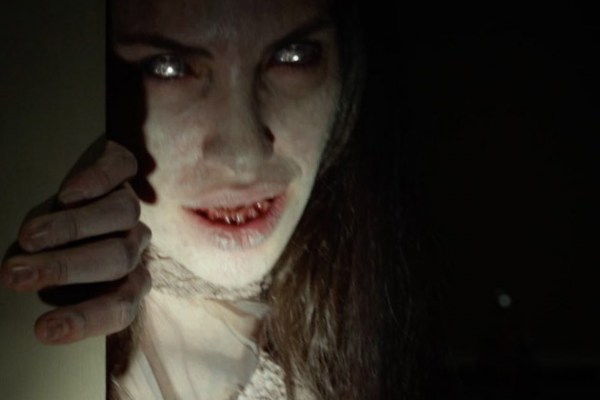 The adult Kaylie has prepared a cunning trap for her nemesis. But as past and present narratives become blurred mirror-images, time and space play tricks, and it becomes impossible for the traumatised siblings to believe their eyes or ears, her hubris becomes clear. It's also about now that Flanagan's well-acted, emotionally involving film loosens its grip. With a great horror talent such as the Merseyside writer Ramsey Campbell, reality losing its moorings remains a distressingly real experience. Oculus's hall of mirrors becomes a fairground ride spinning out of control. The upsetting, intimate disturbance of the haunted house, where the safety of family and home are upended, has fuelled many frightening films. The monster mirror which infects the Russells' unhappy home ends up as just another funhouse trick.