Forbidden Broadway, Menier Chocolate Factory |

reviews, news & interviews
Forbidden Broadway, Menier Chocolate Factory
Forbidden Broadway, Menier Chocolate Factory
The stars cut down to size by scabrous musical spoof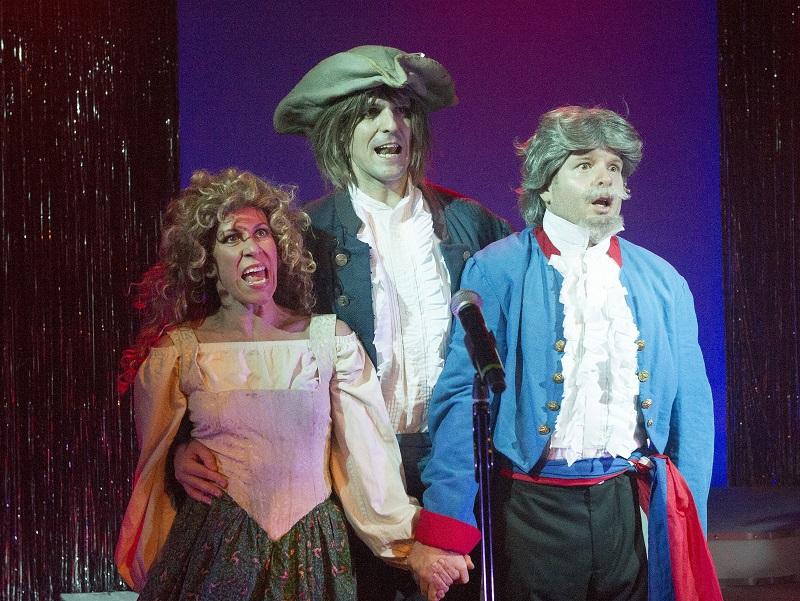 Miserable: Anna-Jane Casey, Ben Lewis and Damian Humbley in 'Forbidden Broadway'
Since 1982 it's been open season on the great and the good of Broadway musicals. It was in that very year that a chap called Gerard Alessandrini created Forbidden Broadway and from the hitherto innocuous sidelines of the fringe set out to cut any and everything with ideas above its station down to size. No show, no star was off limits. It was all good clean fun (sort of) but a sense of humour among those targeted was certainly recommended.
They tried in vain not to recognise themselves but eventually learned to smile through the pain.
On opening night of this now familiar British incarnation of Off-Broadway's most scabrous export (slickly directed and choreographed by Phillip George) our unofficial first lady of musicals Elaine Paige chortled loudly at every direct hit until with cruel inevitability she spied herself spookily chortling back in the form of glorious Sophie-Louise Dann (on her knees for diminutive effect) who had caught her so precisely that she was if anything more recognisable than the real thing.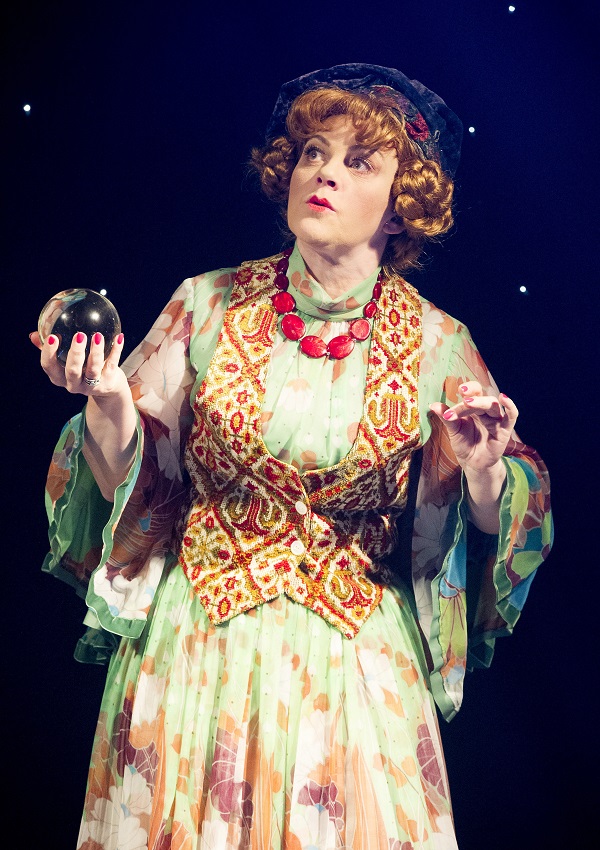 The point about Forbidden Broadway is that, witty though spoofs like "Into the Words" (for Sondheim) and "The Book of Morons" and "Once (Is Too Many)" are, it's the performers that make the wickedness (yes, of course, that show is in there as well) land. Sophie-Louise Dann is a born comedienne with every bone a funny bone and a voice of frightening versatility. When she took on the two legendary Dames - Andrews and Lansbury - she did so with more than enough sharpness of mannerism (Julie's upper lip, for instance) and voice. And yet, while Lansbury as Madame Arcati (pictured with crystal ball) was hysterically on the money, the number from Dear World (transformed from "I Don't Want to Know" to "I Don't Want to GO") still weirdly honoured the great lady by recalling how she once nailed the number like Dann now did.
Dann's shining moments for me were as a mad mute accordion (and recorder) player in the unforgiving take-off of Once where splendid Ben Lewis's leading man sent up a prayer for all actors who end up playing their own instruments and Anna-Jane Casey's Eastern European heroine quickly arrived at the inevitable conclusion that this show had a lot in common with her vacuum cleaner: "It suck." Casey had lots of great moments, ranging from Frankie Valli to an inspired Liza Minnelli where her vibrato was wider than the Thames at its widest point and the windmill arm could power the West End. But the point is it takes a star to parody one.
Damian Humbley is certainly a star but his great skill lies in deadpan timing and the unexpected thrills of his vocal equipment. He led the Cameron Mackintosh assault with the best of a series of appalling wigs for a Jean Valjean who hasn't quite mastered the perils of the show's forever turning revolve. Casey's Eponine sings a song called "On My Phone" and the act one finale is redubbed "Ten Years More".
But if there are serious points in here - the global domination of Disney (Humbley's Lion King number is wondrous) and other sponsoring corporations - the evening is primarily all about belly laughs at the expense of our favourite and unfavourite musicals. And in that respect Forbidden Broadway is thoroughly undiscerning about the deserving. I nearly lost it completely during the drone strike on Miss Saigon - the threshold-of-pain sound levels, the crassness of the lyrics, the insane bigness of it rendered so small and trite and low-tech.
But isn't that the thing about us musical theatre obsessives? We love to laugh at the things we secretly love the most.