DVD: The Grand Budapest Hotel |

reviews, news & interviews
DVD: The Grand Budapest Hotel
DVD: The Grand Budapest Hotel
A game of two halves in Wes Anderson's hotel-set fantasia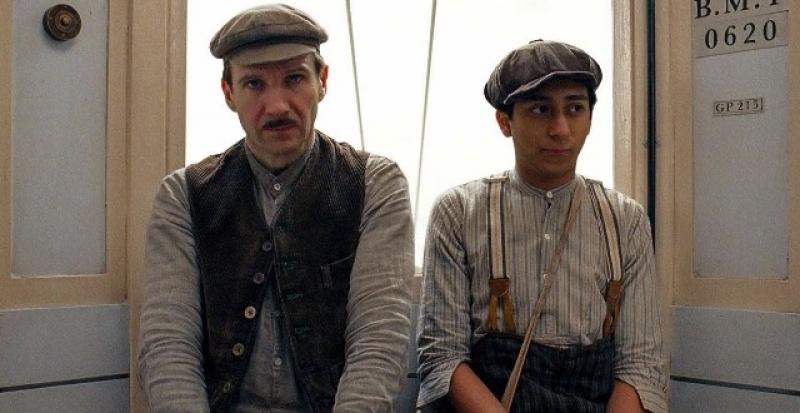 On harder times in 'The Grand Budapest Hotel': Ralph Fiennes as Gustave H. and Tony Revolori as Zero
After the initial wave of exhilaration which comes with experiencing the latest of director Wes Anderson's fanciful creations wears off, the most striking aspect of The Grand Budapest Hotel is its formal compositions. The framing and centring are as strictly regimented as Alain Resnais' Last Year in Marienbad and the palette is as impressive as Nicolas Winding Refn's more recent Only God Forgives.
Anderson must have approached each scene with a ruler in hand, a protractor to ensure symmetry and a swatch of colour samples to ensure one tone complements another. Once that's become familiar, it becomes evident the film is also carried by the joy Ralph Fiennes brings to his portrayal of the titular hotel's florid concierge Gustave H. Cameos by Adrien Brody, Jeff Goldblum, Harvey Keitel, Léa Seydoux and Tilda Swinton (most of whom are Anderson regulars) don't hold a candle to the force which Fiennes brings to the screen. Although charming, newcomer Tony Revolori's Zero – Gustave H.'s protégé – is in Fiennes' shadow. Without Fiennes and the composition, this would be very slight.
The Grand Budapest Hotel is a film of two halves. The first is the hotel-set fantasia, while the second is an on-the-lam caper. More of the former and less of the latter would have made the film more striking and helped raise its ranking in a putative listing of Anderson's best. As it is, though frequently delightful, it rests above The Darjeeling Limited and below The Life Aquatic with Steve Zissou.
Beyond a short showing how to make one of the sweet delicacies from the film's Mendl's patisserie, the extras on the DVD are perfunctory and include a stills gallery and two gushing promotional shorts: one with the actors rhapsodising and the other focusing similarly eulogistically on Anderson. Something on the nature of filming, the locations and evolution of the scenario would have been much more interesting.
The Grand Budapest Hotel is carried by Ralph Fiennes' portrayal of florid concierge Gustave H
rating
Share this article