DVD: Harold and Maude |

reviews, news & interviews
DVD: Harold and Maude
DVD: Harold and Maude
Early Seventies black comedy which demonstrates love recognises no boundaries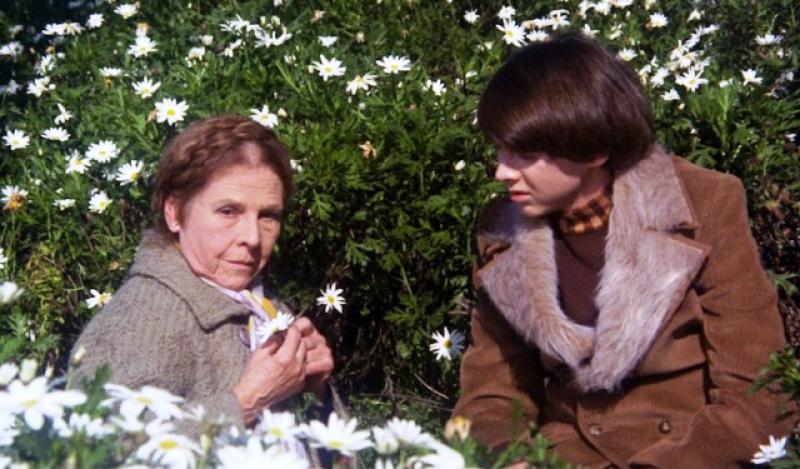 Maude (Ruth Gordon) teaches Harold (Bud Cort) to embrace the joy of life
That 1971's Harold and Maude still confounds and delights in equal measure is a tribute to its timelessness. Despite evocative, period-specific music from Cat Stevens, and settings and trappings which place it as a film conceived and completed as the Sixties still cast a shadow, it still hinges on finely honed characterisations and a story which was, and remains, unique.
Although mainstream, it played with the nature of romance and what is or isn't acceptable in the day-to-day to such an extent that it continues to be both uncomfortable viewing and engender warm-hearted feelings. Reactions veer off in two directions at once: aversion and fascination.
The death-obsessed 20-year-old Harold (Bud Cort) haunts funerals. He meets the 79-year-old Maude (Ruth Gordon). Romance blooms as she brings him out, while helping him to realise life is to be cherished. Frequently funny, it is also deeply poignant.
Recently, the only film springing to mind which had the same effect is Richard Linklater's fact-based Bernie. Both Bernie and the fictional Harold and Maude deal with death and relations with older women, but the pull between the two films is not about that. Instead, it is about foregrounding attitudes and behaviour which are usually avoided. Director Hal Ashby had no problems addressing the potentially taboo. His previous and first film as a director, The Landlord, dealt sympathetically with mixed-race issues and children born outside marriage. As with Harold and Maude, its male protagonist was living off family wealth.
This essential film is issued as a Blu-ray. The extras include a commentary by Hal Ashby biographer Nick Dawson and producer Charles B. Mulvehill, first heard on the US Criterion release. A new commentary by the critic David Cairns is unique to this edition. The image-packed booklet includes a lengthy, fascinating 1976 interview with Ashby as well as one with Ruth Gordon from 1971.
Overleaf: watch the trailer for Harold and Maude
Watch the trailer for Harold and Maude