Glasgow Girls, BBC Three |

reviews, news & interviews
Glasgow Girls, BBC Three
Glasgow Girls, BBC Three
More drama than musical in TV adaptation of the inspirational true story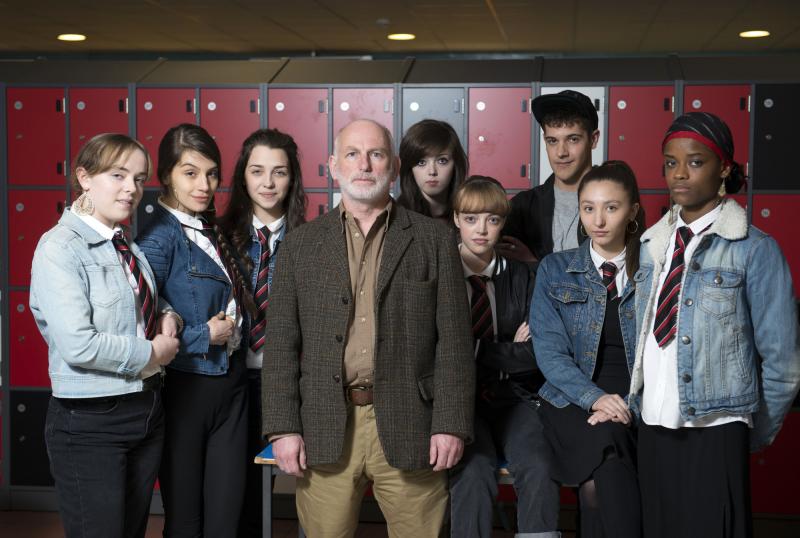 Not giving in: the Glasgow Girls with teacher Euan Girvan (Gary Lewis)
A few months ago, Glasgow Girls - Cora Bissett and David Greig's 2013 musical based on the true story of seven teenage girls from Drumchapel, Glasgow and their campaign to end the forced removal of school-age asylum seekers - returned to the city's Citizens Theatre for another sell-out run.
It makes the timing of this all-new reinterpretation of a story that has already been the subject of two TV documentaries a little strange, particularly as it too was billed as a "musical drama": surely a more effective approach, I thought, would have been to adapt the existing critically acclaimed show, with its powerful and emotive musical numbers, for the wee screen?
The cynic in me wonders if perhaps the marketing materials were designed to confuse fans of the show, because to make things even more confusing BBC Three's Glasgow Girls is barely a musical at all. Sure, the soundtrack to the drama - in the form of incidental music, songs on the radio and the skilfully selected contemporary pop hits that the girls dance around to in their bedrooms - pays homage to the independent Scottish urban artists who wrote for the musical, but with the exception of an awkward interlude in which some of the talented young cast perform a version of Pink Floyd's "Wish You Were Here" and a big musical finale the TV version hardly fits the criteria. Rather, what this adaptation excels at is being an incredibly powerful drama - which, in some respects, meets and even betters other versions of the story.
Before I explain: first, a quick trip back to 2005. Amal (Letitia Wright, pictured right) is a young Somali refugee, bussed up to one of Glasgow's most notorious housing estates with her family shortly after their arrival in the UK. On her first day at Drumchapel High School she befriends Agnesa (Olivia Popica), a Roma from Kosovo; Roza (Aruhan Galieva), from Kurdistan; and Ewelina (Effie Scott), a Polish Roma. When Agnesa and her family are taken by immigration officers in a dawn raid, teacher Euan Girvan (Gary Lewis) and Glasgow-born teenagers Emma (Erin Armstrong), Jennifer (Kirstie Steele) and Toni-Lee (Kirsty Pickering) join their classmates in an award-winning campaign for both their friend's release and, ultimately, changes to the law.
Perhaps more so than the musical this drama, co-written by Joe Barton and director Brian Welsh, really brought home the challenges faced by the girls (and bonus "Glasgow boy" Elvis, an Afghan teenager who, regardless of any real-life correlation, conjures images of the musical's memorable number featuring former Scottish First Minister Jack McConnell in a gold suit and quiff) in winning over the hearts and minds of their own community, as well as the wider public. Steele's portrayal of Jennifer is particularly notable, her character being the one who goes on the biggest journey and one which mirrors that of many in the community. There was swearing, slammed doors and laughs that turned to cold horror as young kids parroted myths about asylum seekers that, in real life, they learn from their parents. The portrayals of the raids themselves were as powerful and terrifying as expected, while Greg Hemphill pulled off the impossible and portrayed a McConnell more insincere than any real-life politician.
The true story of the Glasgow Girls is an inspirational one, and this version of it is as worthy an addition to the canon as any of them. Just don't go in expecting a big dance number.