theartsdesk at Latitude: Lily Allen/Haim |

reviews, news & interviews
theartsdesk at Latitude: Lily Allen/Haim
theartsdesk at Latitude: Lily Allen/Haim
Kid-friendly festival has an audience as eclectic as the line-up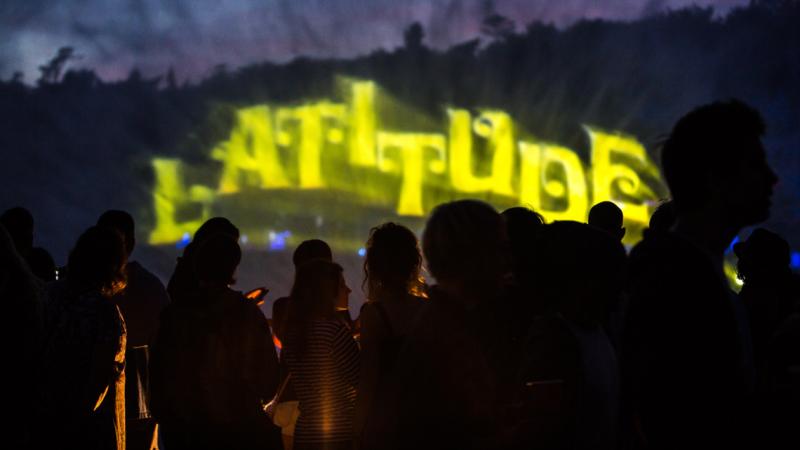 A magical mix of kids, culture and contemporary music - all with a distinctly bohemian vibe
The only bad thing about Latitude is a serious case of FOMO (fear of missing out). Some proper planning is advised - or a quick purchase of the Latitude App, if you're lucky enough to get reception over the weekend - to weigh up clashes and work out routes through the forest and up and down the undulating landscape of Henham Park, Suffolk.
And yet the civilised chaos of who and what to see, where, is what makes up the Latitude experience. From the bewitching opening ceremony on the Waterfront Stage on Thursday evening, with a spellbinding vocal performance from The Irrepressibles and a haunting surrealist display of costume, ambient sounds and pyrotechnics of Ilotopie performing Le Reve A Travers La Porte (Doorway To A Dream) to the final mammoth rock of The Black Keys, drifting past stages nestled in whimsical, bohemian locations leads to the continuous unearthing of new, unexpected delights.
Latitude has a multi-arts offering spanning ballet and mainstream theatre to conceptual performance and live art as well as music - popular and new - in abundance. The festival sees audiences of all ages from newborn to grandparents, as well as the usual hot pants and wellies-clad teenagers and 20-somethings, this year mostly covered in neon glow paint. Whereas kids and culture are often a happy festival addition, here these elements are an integral part of the line up.
Friday morning began with early morning pyjama games in Pandora's Playground, accidentally watching Made Up Stories From My Unmade Bed by Page One Theatre Company, a troupe of performers aimed at small children (we had been heading for live art in the woods). After a good play in the kids' arena - woodcraft workshops, sandpits, carousels and a helter skelter, craft stations and bubbles galore, we drifted past the Alcove Stage - a fairy-lit intimate space nestled underneath a yurt tangled in the branches of the forest - where we happily chanced upon Jagaara. This electro-folk trio blend enchanting vocals with enticing harmonies. They are like a young, soft, post-Haim alternative with a poetic maturity that belies their age. Latitude is their first festival, but I'd be very surprised if it was their last.
The dance highlight of the weekend came next on the Water Front stage with Sadler's Wells presenting Ballet Revolucion. This high energy Cuban show mixed Latin-American beats and hip gyrations with big ballet leaps and pirouettes en pointe. The dancers' radiant smiles and sexy wiggles sat joyfully alongside bursts of classical spectacle, and while their introduction was a bit like watching the company in class (although to be fair, this worked best to give audiences on all four sides of the open stage a good look) the chair duets that came next drew gasps from the crowds with instagrammable lifts and extraordinarily flexible poses. They then burst into all-out fun with street moves spliced into arabesques and releves to pop beats like Rihanna's "We Found Love". It's often said that ballet dancers don't know how to dance in nightclubs, but Ballet Revolucion are proof that the Cuban ones can - a perfect mix of talents for this festival audience.
From the sublime to the ridiculous, we stopped by Norma Jean Martine, a bluesy pop singer with soaring vocals and a warm, husky sound, before nipping in to catch some of the Swedish psychedelia that is Goat. They are everything that far-out festival fun should be - golden sequined kaftans, barefoot stomping, elaborate face masks, head dresses and costumed guitarists that could spawn their very own subculture. Would I want to go away and download these tracks? Probably not, but I sure as heck enjoyed getting down and cutting a rug to their experimental psychedelic beats. The bewitching vocals of Anna Calvi came next in the BBC Radio 6 stage. Her mesmerising songs and impeccably controlled guitar skills have an almost frightening depth, traversing devastating, powerful heights and poetic breadth that leaves the crowds mesmerised.
After the controversial announcement that Lily Allen (pictured) would be replacing headliners Two Door Cinema Club on the stage of the Obelisk Arena (the star suffered a torrent of abuse on Twitter, calling for it to stop by saying she was "exhausted by nastiness"), the singer pulled off a pretty rocking performance, injecting some much needed energy into the crowd after a fairly bland set from The Editors (not helped by technical problems). While many high brow music lovers might have chosen to give the Obelisk a miss in search of something more worthy of their time, the young 'uns surged towards the baby-bottle decorated stage to hold their iphones in the air and bounce around to old favourites "Smile", "The Fear" and "LDN" as well as more recent hits from the Sheezus album such as "URL Badman". She told the crowd: "I'm sorry I'm not Two Door Cinema Club. But I promise I'll give it my all." And that she did confidently, even giving a cover of the TDCC track "Something Good Can Work" a good go. If Latitude might not seem the festival to house such frivolity on the main stage, Lily Allen proved that she does have a place in contemporary British pop music with her frothy, acerbic take on the noxious notion of celebrity, modern motherhood and the surface of mainstream politics. She held her own and the crowd had a blast.
It's quite a trek from the family campsite to the main arena, even with a festival wagon, but a spot of family yoga or a play in the enchanted garden breaks the journey. Once we're in the Kids Area the girls skitter off to have faces painted before heading to an enchanting woodland glen to forage for fairy furniture and build tiny houses where tea parties for forest folk will be held (in their imaginations). The promise of a carousel ride on the way out enticed them on their journey, and we all head off to the Waterfront Stage for a mooch around the village, where we were seriously side tracked by booths offering fairy glitter, feathered head dresses, neon tutus and flowery headbands.
Just when I thought attending a festival couldn't be more like going on a pilgrimage - trekking long pathways through heat, in uniform, to self flagellate in the mosh pits just to get close to your idol - I happened upon a confessional in the form of live art in the Faraway Forest, where you perform your own ritual of writing down a secret, swapping it for someone else's, speaking their truth, found written on sacramental bread, which you then eat. Once cleansed, we headed on up to catch the mellow, melancholy sounds of Scandinavian singer-songwriter Agnes Obel, before checking out a bit of Dirty Dancing, setting the Saturday night scene for revellers having the time of their lives.
First Aid Kit was a highlight of Saturday afternoon - particularly the singalong to "My Silver Lining" - with the indie-folk harmonies and poetry-rock of another pair of sisters, Swedish duo Johanna and Klara Soderberg. Bombay Bicycle Club took their indie vibe and raised it with a little more rock while Catfish & The Bottlemen upped the rock on the Lakeside Stage and really got the party started for the evening's festivities. By the time Royksopp & Robyn came on the BBC Radio 6 stage the crowds were in full throttle festival revelrie with the pop-meets-electronica surging through the stormy night in one of the only acts I've seen that's both nostalgic and futuristic at the same time.
By Sunday, having successfully managed to fail at making any of the yoga classes on offer, we made do with watching wannabe dancers on the Dance East platform, joining in with capoeira, hip-hop and musical theatre classes, while we ate our ice creams in the heat. Continuing the dance theme, the English National Ballet's appearance drew huge crowds to the waterfront, where we heard from choreographer James Streeter about his inspiration for creating "In Living Memory", a piece made all the more dramatic by the rumble of impending thunder. Based on a poem and visualising the past and future, the trio on an open stage was even more elegiac than on a traditional proscenium arch, in broad daylight, with Erina Takahashi's white silk skirt billowing in the wind. Van Le Ngoc's "The Four Seasons" was an uplifting display of joyful classicism to round off the bill.
While George Ezra was a huge hit with crowds spilling out of the big top to sing along to "Budapest", our journey took us back down to the kids area where the National Theatre presented an engaging and colourful version of Dr Zeuss' "Cat in the Hat" and a refresher at a soft play area for the littlest poppets with free water, sun screen and tea on tap for frazzled parents, before heading to an epic set from Haim at the Obelisk Arena.
The American sisterly trio treated audiences to an array of musicality in their thunderingly original sound, almost as impressive as Este's range of terrifying faces as she went hard at her guitar (pictured, above). If she's the personality in the band, middle sister Danielle is the serious, musically accomplished one while the "babyest of baby sisters" Alana, gets the percussion going as well as adding to the group's outstanding vocals. Cutting through the emotional BS (as she calls it) Este demands that the crowd get on each others' shoulders - most are too frightened to ignore her insistence, but they are rewarded with an invite into Haim's metaphorical home to jam with them and shake their "asses and titties" so hard that at least one of them sheds a tear. The audience try pretty hard. Haim let rip with an emotional honesty that was raw, endearing and impressive - maybe because as the last stop on their 2014 tour they gave all that they could. They certainly proved their worth and showed how they occupy an important space as a serious female rock band that can be enjoyed by a pop audience. They are the antithesis of Lily Allen, representing non-manufactured pop that can spring from Indie roots to get ahead on the strength of their individuality. They can shred and headbang with the best of them while we sing along to their radio-friendly hits like "If I Could Change Your Mind" and "The Wire", and party as hard as they want us to.
The Black Keys closed the Obelisk Stage of the festival with a set that stuck to the script. Pounding their popular, impressive brand of blues rock, Dan Auerback on guitar and vocals, and Patrick Carney on drums didn't push boundaries or take any risks, but they gave a show as good as you'd hear on the radio and that was enough for the energetic crowd who diligently sang along to all the biggest tracks from the Grammy award winning band's last four albums. The respected rock phenomenon is a fitting choice to round off the weekend, showing that Latitude is a festival that embraces creativity and excellent music alongside kids, culture and multi-coloured sheep. It's a truly magical combination.