A Bright Room Called Day, Southwark Playhouse |

reviews, news & interviews
A Bright Room Called Day, Southwark Playhouse
A Bright Room Called Day, Southwark Playhouse
Tony Kushner's play chronicling Nazi ascent in Germany lacks punch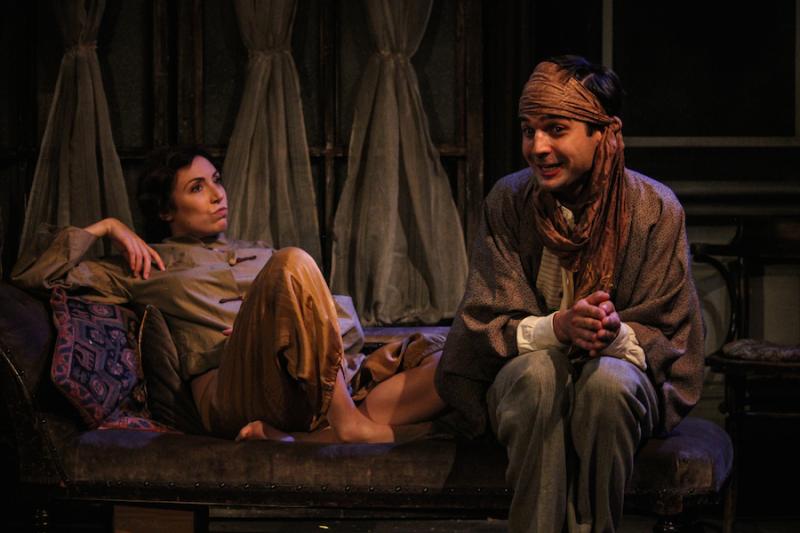 Chaise longueur: Gotchling (Holly Morgan) and Baz (Charlie Archer) ponder Berlin's political climate
The pivotal early 1930s period in which Herr Hitler overcame strong if fractured left-wing opposition should make for meaty drama, but the sluggish polemic currently occupying Southwark Playhouse will leave carnivorous viewers unsatiated.
American playwright Tony Kusher is rightly celebrated for his Pulitzer Prize-winning
Angels in America
, which combines urgent social issues with a moving portrait of humanity, but his earlier work
A Bright Room Called Day
only hints at that remarkable skill. The aphorism "History repeats itself, first as tragedy, then as farce" is solemnly intoned to illustrate the author's intent – would that we had some of either to liven up a nearly three-hour undergraduate seminar.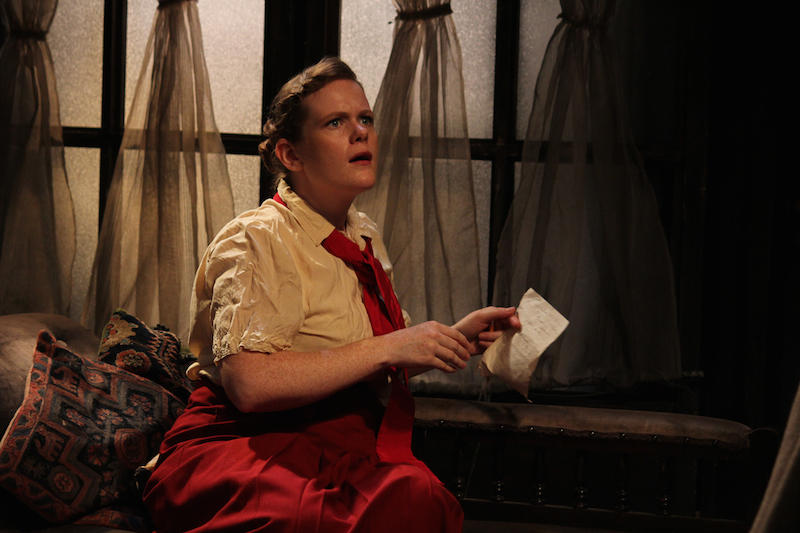 The play nominally examines a group of Berlin-based artists observing their nation's dramatically shifting landscape, although in truth they are more useful personifications of political viewpoints than fully developed characters. Middle-aged actress Agnes (Alana Ramsey, pictured right), who develops skits for the communist party, and her Hungarian Trotskyite lover Husz host salons for friends Paulinka, an opium-addicted starlet, committed socialist campaigner Gotchling, and flamboyantly homosexual Baz, a psychologist convinced extremism stems from sexual frustration. Their differing responses to the rise of Nazism form the second-half conflicts, although these remain curiously muted for such charged subject matter.
The main issue is Kushner's decision to stay at a distance: the arch bohemians offer a running commentary on events, but seldom engage directly with them. Instead, they adopt a stylish air of suffering, striking mannered poses while sighing "I feel like I'm in a film all the time", or – without a trace of irony – rebuking one another for "bad romantic posturing" or their "carefully constructed but immobile" existence. Kushner is tantalisingly close to producing a brilliant self-referential farce, but decided instead to maintain the straight-faced, explicit didacticism of the source material, Brecht's The Private Life of the Master Race, without also translating the searing political incisiveness.
Most problematic is the presence of 1980s Long Islander Zillah (Charlotte Jacobs, pictured left), who in between gabbling conspiracy theories and scrawling letters – in green ink, no doubt – is at great pains to convince us of the parallels between Hitler and President Reagan. It's a link one might hope would be illustrated rather than stated, but Kushner, while aiming for the metaphorical power of The Crucible, seemingly lacks faith in his material. The tonal shifts between Zillah's rambling and events in Berlin jar, as do the jumps from staid naturalism to heavy-handed symbolism, with both a ghostly embodiment of history repeating and the devil himself making creaky appearances. Seb Harcombe offers no solutions with a rather plodding production lacking the artistic daring we might expect in the Southwark's studio space.
Harcombe also fails to underscore the play's thematic relevance, with its pointed critique of armchair liberalism and infighting among parties with similar goals. Instead, the stultifying debate leaves us almost entirely disengaged, despite the young cast's eager efforts. Alana Ramsey does well to convey sensible Agnes's passion and Charlie Archer as Baz offers moments of vulnerability when he's not doing his best Noël Coward impression. Holly Morgan is a brisk Gotchling, Charlotte Jacobs as Zillah begins at a high pitch and has nowhere to go, Laura Hanna provides a surface-level reading of narcissistic Paulinka, and Ethan Holmes as Husz brings dynamism, though struggles to transcend his eye patch, plus-fours and variable cod accent. Elizabeth Andrewatha and Jonathan Leinmuller give absurdist life to dithering communist representatives, but histrionic portrayals of the spectre and devil respectively. All contribute to a decent depiction of elegant inaction, but it makes for an exceedingly wearisome viewer experience.
The stultifying debate leaves us almost entirely disengaged, despite the young cast's eager efforts
rating
Share this article