First Person: 'Thomas Bernhard? I love him' |

reviews, news & interviews
First Person: 'Thomas Bernhard? I love him'
First Person: 'Thomas Bernhard? I love him'
The actor Peter Eyre introduces the German rarity he is bringing to the Edinburgh Festival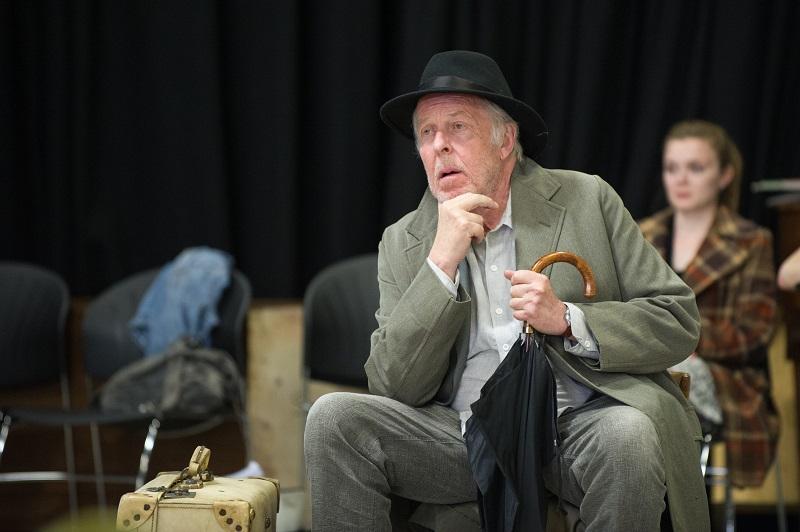 'I don't come out of the theatre thinking I could have a go at that role': Peter Eyre rehearsing Minetti
Some years ago I read a piece about a novel of Thomas Bernhard, Wittgenstein's Nephew. Bernhard (1931-1989) was perhaps the most famous Austrian writer of his time, but unknown to me. In this article he was described as intense, manically obsessive, addicted to the unvarnished truth, and innovative in his constructions. I read the novel and was hooked. Bernhard's novels have no paragraphs, and read like the monologues of a man possessed. You almost need to read them in one sitting. I read all his novels available in translation, and rushed to the bookshop every time I heard of a new publication.
Once I was in New York having a drink with Sonny Mehta, the head of Knopf, and his wife, the author Gita Mehta. Gita said pointedly to Sonny, "Don't worry about Bernhard sales. Peter buys all his work." After a long silence, Sonny said, "I can only quote Mandy Rice Davies: 'He would, wouldn't he?'"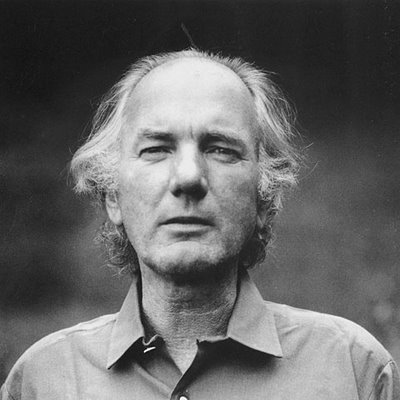 Bernhard (pictured, right) is still slightly unknown in the English-speaking world. It seems to me there is a resistance to German writing of the post-war period, maybe a prejudice after two world wars, but he has had notable admirers: Harold Pinter in the UK, Jonathan Franzen in America.
Very few of his plays have been produced here, but in Paris I have seen many. When I saw Minetti there with the great actor Michel Bouquet, I was mesmerised. Minetti is the story of an elderly actor planning a comeback as King Lear. It is an intense, but often comic play, about an isolated and dedicated artist struggling to survive in an indifferent world. Bernhard wrote it for the famous German actor Bernhard Minetti, and although incidents in the play have a similarity to Minetti's own life, it is not in any way a biographical portrait. Bernhard was in fact quite radical in the way he titled plays. One of his plays is called Ritter, Dene, Voss, after the three leading actors at the time of Vienna's Burgtheater. It's as if a play might be called Dench, Gambon, McKellen.
A few years ago I was having lunch with Meredith Oakes, playwright, author of the libretto of Thomas Adès's The Tempest, and a frequent translator of German writing. She mentioned Minetti, and asked if I thought I would like to do it. I told her that had never occurred to me. When I see a wonderful actor like Bouquet, I don't come out of the theatre thinking I could have a go at that role. In fact, the opposite.
She told me a friend of hers had translated it, and suggested I have a read. So I did, and I was hooked. I thought I should try to see if I could do anything with it, but had difficulty thinking of an English theatre director who would respond to Bernhard. I went through endless lists.
If the ghost of Thomas Bernhard is watching, I hope he will be pleased
Tom Cairns is a true man of the theatre, a designer, director of plays, operas, a film, a TV series, and soon to be the author of the libretto of The Exterminating Angel, Adès's next opera. I called him up., and we arranged to meet, and when I nervously told him I wanted him to read a play by Thomas Bernhard, he responded immediately: "Bernhard? I love him." So over a period of two years we talked about it and did a workshop. We were both a little amazed and encouraged by how quickly it bounced off the page.
Jonathan Mills of the Edinburgh Festival read it, loved it, and decided to present it. He had a brilliant idea. The action of the play is constantly interrupted by a chaotic group of young people celebrating New Year's Eve in the hotel where the play takes place. Rather than hire a group of young actors who might possibly be frustrated at being crowd artistes, he got two drama schools to agree to send some of their students to participate, and to have their first experience of a professional production. So Juilliard in New York, and RADA in London, have joined together, and we have a very lively and free-spirited gathering every day in our rehearsal room.
Soon we will be on the stage at the Lyceum Theatre. My journey with this play will have reached fruition. What I hope more than anything is that people will be excited by an introduction to the work of this great author, and if the ghost of Thomas Bernhard is watching, I hope he will be pleased. But the thought of Bernhard being pleased by anything is inconceivable
Subscribe to theartsdesk.com
Thank you for continuing to read our work on theartsdesk.com. For unlimited access to every article in its entirety, including our archive of more than 10,000 pieces, we're asking for £3.95 per month or £30 per year. We feel it's a very good deal, and hope you do too.
To take an annual subscription now simply click here.
And if you're looking for that extra gift for a friend or family member, why not treat them to a theartsdesk.com gift subscription?