Prom 64: Berlin Philharmonic, Rattle |

reviews, news & interviews
Prom 64: Berlin Philharmonic, Rattle
Prom 64: Berlin Philharmonic, Rattle
Colour and subtlety, but not always depth, from the Proms' favourite visitors
Saturday, 06 September 2014
Rattle (and Berlin Phil principal viola Amihai Grosz): good on the pianissimos
After Monday's Respighi extravaganza at the Proms, it was back on the rainbow express for more wonders of orchestral colour last night. In the young Stravinsky's large-scale signing-in and poor depressed old Rachmaninov's signing-off, you could trust Sir Simon Rattle's Berlin army of generals to turn in any amount of subtle colours.
It seems fair to launch by praising Stefan Dohr's first horn and the cor anglais of Dominik Wollenweber as the respective signature tones of The Firebird and the Symphonic Dances. But while I've spent an obsessive interim period of listening to confirm Respighi has more depth than we often give him credit for, I'm convinced Rachmaninov absolutely has, something we didn't always get from Rattle. And there must be something amiss when the Firebird finale doesn't give you goosebumps.
Lush collective strings are probably the only contenders today for the kind of sound Rachmaninov envisagedIt's a familiar story from the current Berlin team. You know that Rattle, 35 years on from the first time I saw him at the Proms in an unforgettable Shostakovich Tenth Symphony with the BBC Scottish Symphony Orchestra, has worked intensively on every leading phrase, even every bit of counterpoint, in his chosen works, that the players respond well and love the chances they get – many in Rachmaninov's selective and peerless orchestration – to listen to their colleagues. This has always been a fine and attractive group to watch. Rattle's conducting style has also become more relaxed – sometimes he just lets the orchestra get on with it, or conveys his intentions with a shoulder-shrug or an encouraging smile. But the finesse sometimes gets in the way of atmosphere and longer lines.
It wasn't a problem in the opening dance of Rachmaninov's sequence, fleshing out the licence of genius to work wonders on little more than rising and falling arpeggios (just as Tchaikovsky mined simple major and minor scales in The Nutcracker). But what about that valse triste, that danse macabre of the central haunted ballroom? Again, gorgeous solo colours and lush collective strings which are probably the only contenders today for the kind of sound Rachmaninov envisaged when he wrote the work for the Philadelphia Orchestra and Eugene Ormandy in 1940. But Rattle's sense of elasticity has always felt a little contrived to me, at least compared to the scary flexibility of Temirkanov, this music's supreme living interpreter. And in the hothouse midnight nightmare at the heart of the final dance, there was a bigger suspicion that the sighs and groan were being manipulated rather than allowed to be and properly to feel.
Charged-up amends came in the final cavalcade of night, shunned by an almost military exultation in Rachmaninov's quotation of the Alleluias from his Vespers, then capped by the drafting in a second tam-tam to hold the resonating question-mark at the end (the composer has the instrument cling on for two quavers longer than everyone else in the score, but Rattle adopts the honoured tradition of letting it echo for a fair bit longer). And no work could have spotlit the exquisite Berlin woodwind better. At one point, before looking up, I couldn't have told you at one key point where Wollenweber's cor anglais ended and Jonathan Kelly's oboe took over, so close were they in timbre; and who was that fabulous soulful saxophonist in the homesick reverie? Our programmes told us of the orchestral members cited therein that "this is a complete list of players, not all of whom are appearing in tonight's concert", but in fact it was incomplete and quite a few who appeared went uncredited.
That also applied to the performance of Stravinsky's complete 1909 Firebird (Bakst's original costume design pictured below) for the two extra harps to join consummate Marie-Pierre Langlamet and the second contrabassoonist: you can be sure that they made the most of the two lowest instruments playing in creepy harmony. The full choreographic splendour and enormous orchestra of the original have become a Proms fixture, not least for the spatial coup of the three extra trumpeters, here placed north, east and west in Albert's colosseum as ogre Kashchey's forces of evil wake up to terrorise the brave prince and the languishing captive princesses.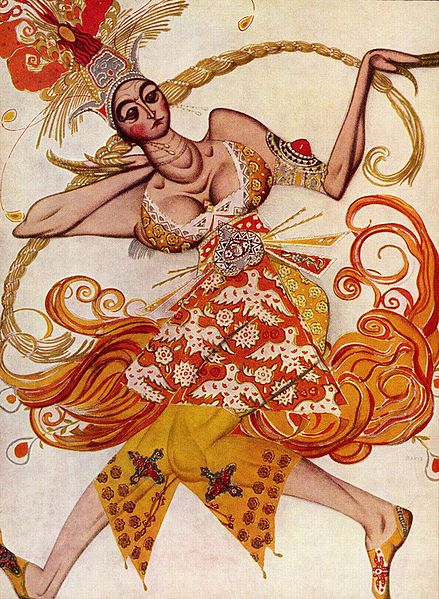 Peerless solos from Dohr's princely horn to Egor Egorkin's uniquely silvery piccolo slivers couldn't quite keep the lack of concert-hall momentum in the ballet's first half at bay, and Rattle's Firebird never quite left the ground in her would-be flights and arabesques. But we, too, were captive from Kelly's opening solo for the Princesses' Khorovod - all in one breath - onward. The Infernal Dance went at a precise lick, and the moment of dawn on pianissimo strings – always a Rattle speciality – achieved its magic to a packed and mostly quiet Albert Hall audience.
Perhaps there was too much sheer fascination in the unorthodox sounds of the great Russian-folk finale – not least the timpanist articulating single notes rather than rolling his support – for the tingle quotient to truly kick in, and maybe I wasn't getting the full depth of brass sitting at the side virtually next to horn player Sarah Willis. But sonically it did indeed raise the roof, and Rattle chose his encore carefully – not a romp but the soul-searching of the Intermezzo in Puccini's Manon Lescaut. It was kicked off exquisitely by principal cellist Bruno Delepelaire – whom I'd last heard as a peerless Don Quixote in Berlin Strauss conducted by Bychkov back in June – and came very peacefully to rest in the silences which are the special asset of this sometimes maddening but more often magical venue. The Berliners love coming here, and this concert told us why.
No work could have spotlit the exquisite Berlin woodwind better than Rachmaninov's Symphonic Dances
rating
Explore topics
Share this article