Breeders, St James Theatre |

reviews, news & interviews
Breeders, St James Theatre
Breeders, St James Theatre
A witty dissection of modern parenthood shies away from real taboos
Monday, 08 September 2014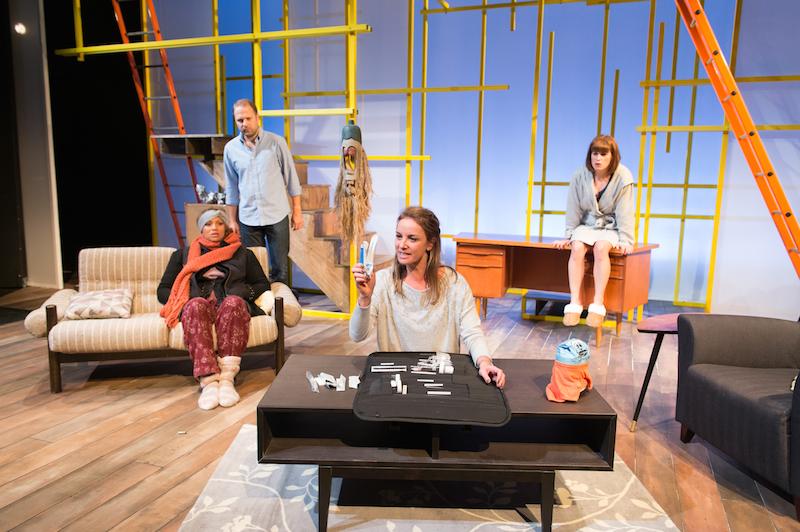 Baby love: Andrea (Tamzin Outhwaite) breaks out the fertility kit
There is a moment in Breeders when Ben Ockrent appears to be channelling Dennis Kelly's chilling Utopia. Never mind the topical issue of homosexual parenting – should we even have children at all? Surely, argues Jemima Rooper's eco-warrior Sharon, we would simply be bringing more people into a world that we have all but destroyed? Ockrent toys with that arresting darkness, before dismissing it in another droll one-liner.
Sharon is really covering other insecurities; of course we should all cherish the desire to procreate.
It's a strange dodge – one of several – in a play that is otherwise admirably forthright about the logistical and emotional process of creating a contemporary family. Andrea (Tamzin Outhwaite, below with Angela Griffin and Nicholas Burns) and Caroline (Griffin) want a child with biological ties to them both, leading them to recruit Andrea's brother Jimmy (Burns) as sperm donor: Caroline will carry the baby, and it will share genetic history with Andrea. In the spirit of "It takes a village", Andrea invites Jimmy and girlfriend Sharon to move in with them, so that the child will have the support of a loving community – plus live-in babysitters.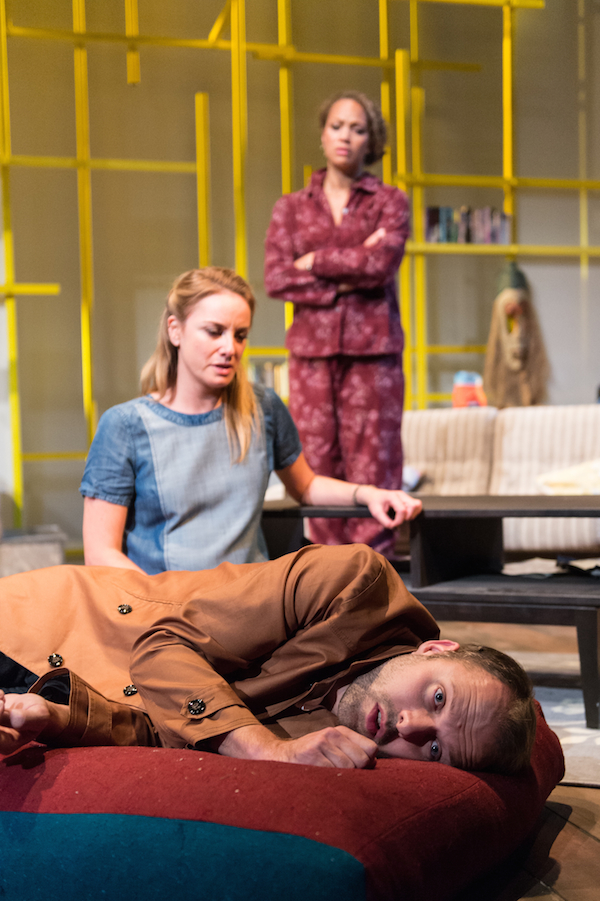 Breeders revels in the comedy of awkwardness as oversharing Andrea plans the conception with military precision, controlling Jimmy and Caroline's lifestyles and keeping her squirming brother informed of every development. Ockrent's piece conveys the sheer complexity of the process, in stark comparison with heterosexual parenthood, which can begin in the passion of a thoughtless moment. In the most effective scene of a meatier second half, farce turns to recrimination as Andrea and Jimmy interrogate one another's motives: is parenting inherently selfish, and might we use those roles to, in some way, legitimise or normalise alternative relationships?
Such thought-provoking musings are, however, restricted to swift tangents, with the bulk of the sitcom style show dedicated to tracking shifting dynamics in the increasingly claustrophobic living space. Here, Ockrent and director Tamara Harvey do sterling work: amusing conflicts ebb and flow organically; the sibling dynamic is sincere, intricate and fully realised; Outhwaite and Griffin share nicely understated chemistry; and the sweet adolescent bond between Rooper and Burns, threatened by the all-consuming baby-making, offers gentle poignancy. Their evolving house, mired in construction work, offers an obvious but effective visual metaphor for building a life.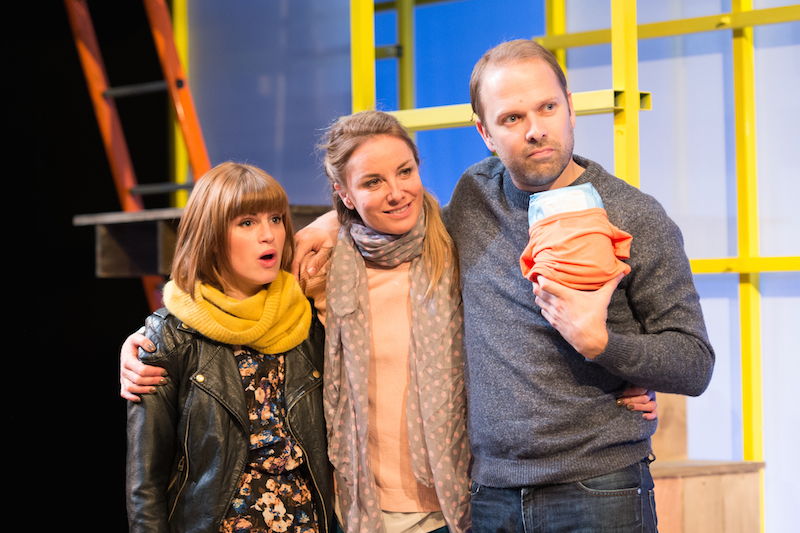 Yet despite its provocative subject matter, Breeders is curiously risk-averse, determined to maintain its characters' likeability. Outhwaite (left with Rooper and Burns) does well to push into challenging territory on occasions, relishing the desperation of Andrea's obsession, while Burns shows glimpses of calculated irresponsibility beneath the jocular veneer, an impressive Rooper commits to Sharon's blithe tactlessness and raw vulnerability, and Griffin lands an all-too-brief moment of crisis as she questions whether motherhood is something she really wants, or feels she ought to pursue.
However, the only truly audacious element is the scene changes, featuring actors warbling gloriously surreal Swedish covers of carols and pop songs, a family passion inherited from Andrea and Jimmy's late father – Rooper's rendition of "Total Eclipse of the Heart" (complete with wind machine) stops the show. It's hysterical, weirdly compelling and wordlessly illustrates the inescapability of tribal traditions and bonds of blood.
Breeders is at St James Theatre until 4 October
Despite its provocative subject matter, 'Breeders' is curiously risk-averse
rating
Share this article