Ballyturk, National Theatre
Ballyturk, National Theatre
Enda Walsh's unsettling comedy triumphs at the Lyttelton
Wednesday, 17 September 2014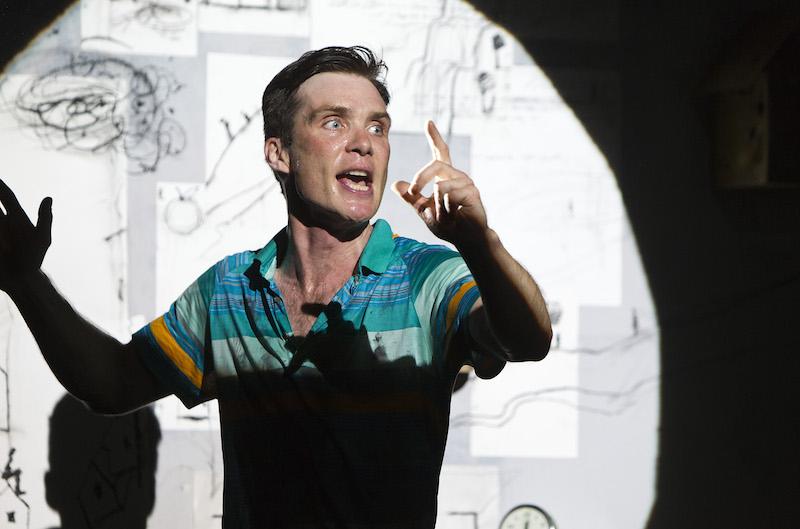 Cillian Murphy holds forth beside his drawings of Ballyturk inhabitants
In his masterly essay in the programme for Enda Walsh's latest play, Colm Tóibín warns against attempting to pin his work to a particular philosophical position, but simply to read into it a metaphor for humanity's efforts to cope with life while knowing that there is no escape from death. And certainly an attempt at blow-by-blow analysis – even understanding – would be a waste of time. Ballyturk is a thing in and of itself.
Having said that, it has recognisable traits of Walsh's previous pieces for the stage and he has himself said that it was inspired by his daughter, then six years old, asking if we all have to die. Perhaps his work is best summed up in a useful (if by now somewhat shopworn) shorthand – something which fits this play in particular – as a mixture of Beckett and Buster Keaton.
This is what we see. Two friends share a shabby room which they never leave. The setting, we are told, is "No time. No place", but it is also, of course, specifically Irish. Tóibín's description of Walsh's characters as being left "in a Trojan horse with the battles for Troy all over" is apt, although this place has the trappings of a particular, run-down twentieth-century dwelling: cuckoo clock, microwave, fridge, drop-down bed and dingy shower. It also has a wall covered in drawings and a curtained screen with the word "Ballyturk" in neon revealed at precisely the same moment each day. There are faces drawn on the screen and, as names are called to fit them, 1 or 2 aims darts at them.


Cillian Murphy plays 1 and Mikel Murfi 2. Murphy has a small frame and an angelic face which can sometimes take on a sinister aspect: in BBC 2's Peaky Blinders his knife-blade cheek bones rival the lethal razor blade in his cap and his piercing blue eyes might dazzle an opponent to death. Here he is fearful, given to fits and manic. Equally frenetic is Mikel Murfi (pictured right), chunkier, red-haired and able to inhabit dozens of characters in an instant by swiftly adapting his body in a sequence of mimes. Both actors fling themselves about the stage under Walsh's own demanding direction. The physical comedy, involving changes of clothes, balloons, loud music, dancing, an alarm clock and various furnishings, is wild, fast, often hilarious and sometimes melancholy, recalling Keaton's sad-eyed, zany purposefulness.
Whether Ballyturk is a real place to 1 and 2, whether the characters impersonated by the pair are figments of their imagination, whether the whole idea of a community is notional – all these are open to question. All we know for sure is that these two are together and that they have a ritual, interdependent existence and occasionally hear other voices beyond their walls. Day follows day according to a pattern, although there is also a sense that they don't quite know what might happen next. Above all, they are friends. Then: Enter 3.
Stephen Rea plays 3, a cooler, cigarette-smoking talker. He might be a version of the Grim Reaper; some have described him as the Godot who did show up. Whoever he is, he disrupts the status quo as, in drama, the unexpected visitor always will.
Like Misterman, Walsh's previous play starring Cillian Murphy at the National, this is a Landmark Production which began life at the Galway Festival. Once again Jamie Vartan and Adam Silverman are responsible for spot-on design and lighting respectively. Helen Atkinson as sound designer and composer Teho Teardo provide an atmospheric, sometimes disturbing soundscape. All the actors are superb.

Despite his venture into musicals with Once, Enda Walsh retains his ability to unsettle, to place side by side daft slapstick, playful theatricality and sublime poetry. As Stephen Rea has said of Ballyturk: "It isn't about something; it is something."
The physical comedy is wild, fast and sometimes melancholy, recalling Keaton's sad-eyed, zany purposefulness
rating
Explore topics
Share this article