The Real Tudors, National Portrait Gallery |

reviews, news & interviews
The Real Tudors, National Portrait Gallery
The Real Tudors, National Portrait Gallery
A modest but groundbreaking display brings together portraits of a great dynasty
Friday, 19 September 2014
Elizabeth I, attributed to Nicholas Hilliard, c 1575 (detail)
For all the political hurly burly, social change and religious upheaval of the Tudor period and the intriguing personal histories of its monarchs, it is surely the portraits of Henry VIII and Elizabeth I that have done most to secure the Tudors in popular imagination.
I first saw a portrait of Elizabeth while at primary school and was enthralled by the startling contrast of red hair and pale skin, that impossibly tiny waist disappearing into a sharp V, the dress a marvel of engineering as much as couture and as extravagantly embellished as a little girl's wildest imaginings could demand.
Far from the simpering pink princesses so beloved of little girls now, Elizabeth's image remains compelling because it achieves a feat unusual even in today's liberated society, combining beauty and glamour with the hard edge of unassailable power. As Britain's first female ruler, Elizabeth's gender was a problem to be overcome, and her portraits trace the development of her image from demure princess to Virgin Queen. While her image remains within the traditional parameters of womanhood – elegant, sumptuously dressed and exhibiting a cool sort of beauty – her portraits suppress her sexuality entirely. By transcending gender she was able to assert her absolute authority and her divine right to rule.
Surviving likenesses of the Virgin Queen are so sophisticated that it's easy to forget that painted portraiture, in the form we have come to know it, was in its infancy at the beginning of the Tudor period. One of the more remarkable objects here is the surviving head of Henry VII's funeral effigy (pictured right: attributed to Pietro Torrigiano, 1509). Made using a death mask it is breathtakingly, eerily naturalistic.
While such an individualistic portrait was novel in 1509, as an object the head is utterly medieval, continuing a tradition of representing the king in sculpted form, and often in the context of funerary monuments. Despite this, Henry VII was quick to recognise the possibilities offered by oil painting to shore up his somewhat flimsy hold on the crown and his painted portrait is the earliest in the NPG's collection.
The notion of political unrest providing the stimulus for the production of portraits is a recurring one in the display, which is the result of a long-running NPG research project. Bringing together multiple portraits of the Tudor monarchs and combining technical analysis with art historical research, the curators have produced a wealth of evidence about techniques, workshop practices and the composition of individual paintings, evoking a buoyant art market doing a brisk trade in royal portraits. In dangerous and uncertain times, displaying a portrait of the king must have seemed a sensible precaution, and the political turmoil caused by Henry VIII's break with Rome seems likely to have fuelled the growing appetite for his image.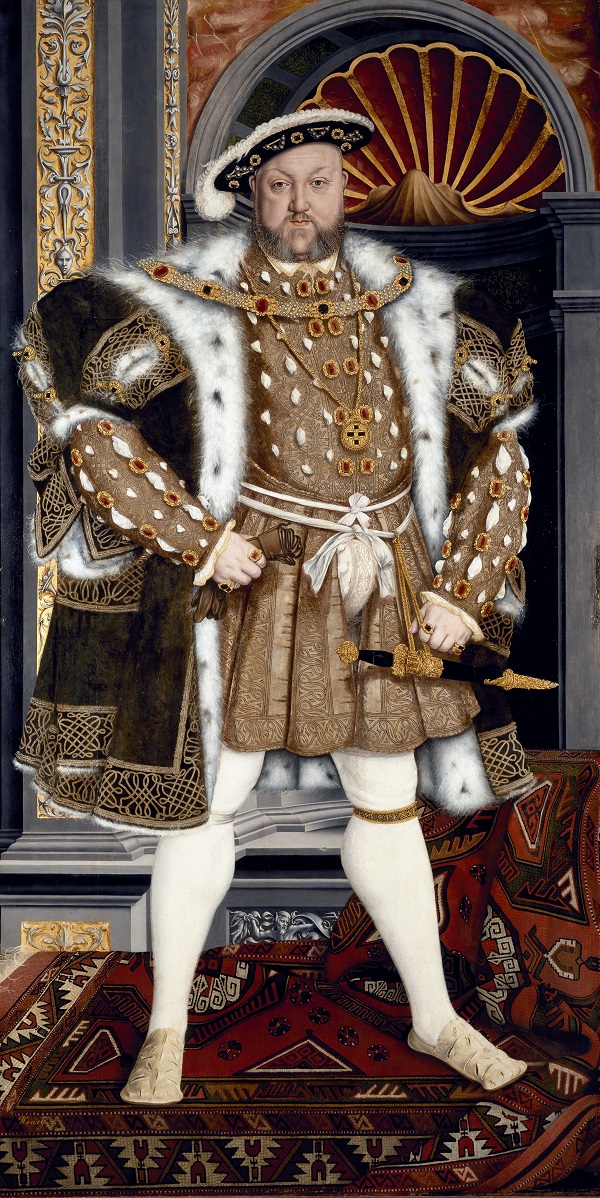 The definitive image of Henry VIII, even within his own lifetime, derives from a full-length portrait by Holbein. It was originally part of a wall painting, now destroyed, but it was copied endlessly, including by Holbein's own studio. (Pictured left: Henry VIII, Studio of Hans Holbein the Younger, 1540-1550) This image has so thoroughly eclipsed all others that there is something quite shocking about seeing no fewer than six different portraits of Henry, through which can be traced not only the development of Henry's individual image but the pictorial language of kingship.
The development of a visual lexicon of kingship is essential to a portrait of the boy-king Edward VI, by an unknown English artist, c.1547, which speaks of the anxiety felt by his advisors as he took the throne. His stance is instantly recognisable as that of his father, Henry VIII, and the portrait uses the trappings of kingship – the throne and gold backdrop – to bulk out his small frame. A further attempt to make Edward appear a more credible monarch is revealed in the underdrawings, which show that the king's feet had at one point been placed much further apart before being redrawn in a position more appropriate for a nine-year-old boy.
It is estimated that 60% of artistic output from the Tudor period has been lost, and until now, comparatively little has been known about artistic practice in 16th-century Britain, but this modest and rather unassuming display represents an enormous achievement of scholarship, adding considerably to the sum of knowledge on this topic.
Some puzzles will remain however, and the struggle to know more about the many low-status, anonymous painters working in this country is nowhere more evident than in the anamorphic portrait of Edward VI, a poignant entertainment for a little boy and one of the most celebrated paintings of its time, inscribed simply, and enigmatically 'William painted it'.
In dangerous and uncertain times, displaying a portrait of the king must have seemed a sensible precaution
Explore topics
Share this article