The Pierces, Shepherd's Bush Empire |

reviews, news & interviews
The Pierces, Shepherd's Bush Empire
The Pierces, Shepherd's Bush Empire
Alabama sisters charm with shimmering close harmony
Wednesday, 24 September 2014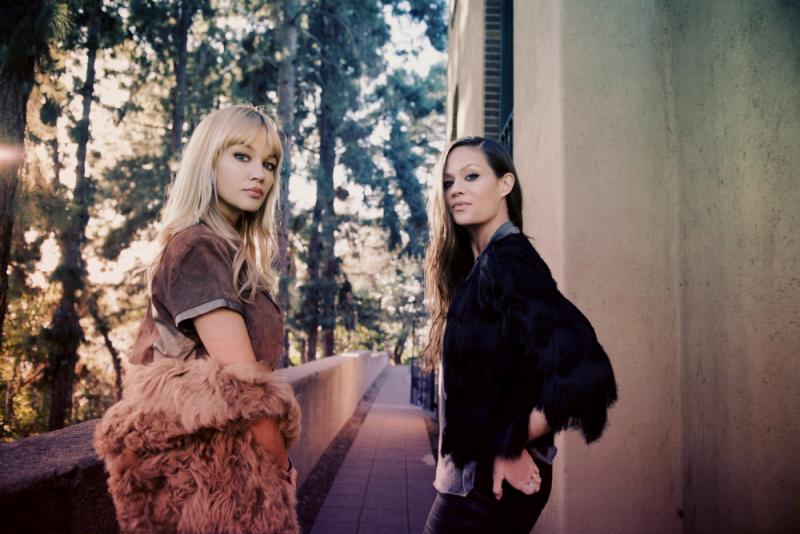 Catherine (left) and Allison Pierce, twining beautifully
The Pierces were on stage for little more than an hour, singing an enjoyable but quite predictable medley of their last three albums. Their sugar-glazed, glistening sound is filtered through all manner of electronic stabilisation and filtration devices which guarantee harmony and stability through their adrenaline-driven swoops and musical handbrake turns. So in some ways, you're not getting much new content or musical insight by hearing them live.
Yet a packed Shepherd's Bush Empire, quiet to begin with, thrilled to the intensity of their charisma. There's a wide variety, stylistically and thematically, in their back catalogue, and having it put together into a narrative, with the Pierces' combination of passion and bashful girlishness, became, by the end, compelling.
Their close-harmony singing is at the heart of what they do, and it's surprisingly versatile, coming through with power and passion over the rock arrangements of "Come Alive", or "Love You More", while with the softer, balladic edges of "Creation", or "Monsters", draw a more reflective quality from the same technique. There's yearning and romance over Allison's acoustic guitar on "I Put Your Records On", where Catherine's harmonising gives Allison's narration a tingling soulfulness. There's even a spiritual quality in their version of Simon and Garfunkel's "Kathy's Song", which came unexpectedly as an encore, their voices twining this time with raw, frank melancholy. It's all Americana, but like the country, their music is spacious and varied, and tells stories of the bright lights as well as the quiet, open spaces.
On stage, the raunchiness of some of their music videos is replaced by a cute, southern girlishness, full of piping "thank yous" and little stories that some will find endearing, and others cloying. While Allison holds her acoustic guitar, Catherine dances, after a fashion, with more than a touch of new-born gazelle about her unsteady gyrations. If there's a question mark over their latest work, it's about the concessions they may have made to secure their breakthrough family audience. There's no doubt that some of their material has softer edges than it used to. Last night's crowd might feel awkward about being asked to "take off all the clothes that you have on", as the duo does in "Go to Heaven", from the 2007 album Thirteen Tales of Love and Revenge. There are plenty of relationship-based songs on Creation, but they were introduced here with a certain sanitised, pre-watershed politeness.
They claim that this year's album Creation was partly inspired by the shamanic hallucinogen ayahuasca, but it sounds as though a generous slab of American apple pie (diet version, obviously) has played a more influential role. Compared to earlier songs, from the satire of "Boring", through the bitterness of "Ruin", to the frank and dreamy sexuality of "Go to Heaven", the sentiment on display here sometimes feels a little safe. On Creation, the devil, and the monsters, sound like Disney-branded cuddly toys. Both songs are a lot of fun, but occasionally it would be reassuring to know they can still make the blood run hot, and cold, as well as warm.