Carthy Hardy Farrell Young + Newton, Cecil Sharp House |

reviews, news & interviews
Carthy Hardy Farrell Young + Newton, Cecil Sharp House
Carthy Hardy Farrell Young + Newton, Cecil Sharp House
Perfect harmony: four great singers and players in their own right form a folk supergroup
Sunday, 28 September 2014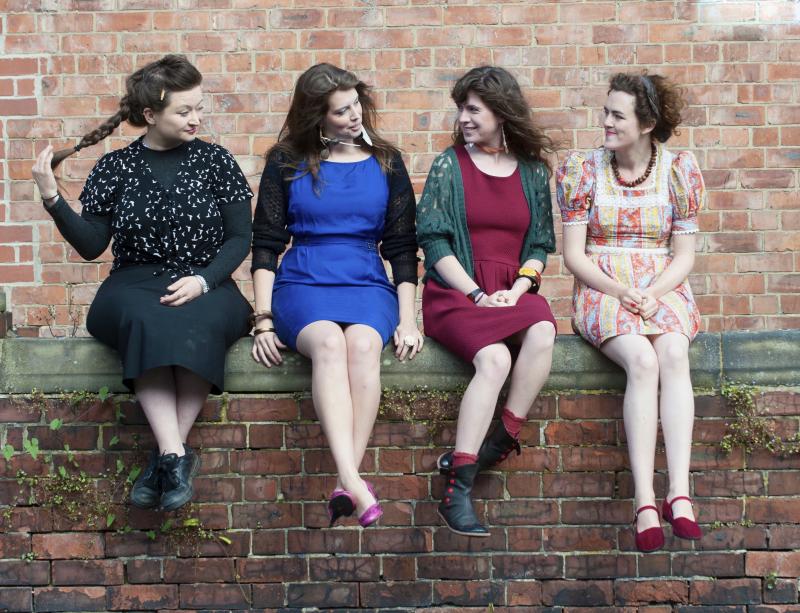 Carthy Hardy Farrell Young: best in Britain?
Each of them is a solo, duo or group artist of high renown, but together, something special happens. On record it's called Laylam; on stage, Eliza Carthy, Bella Hardy, Lucy Farrell and Kate Young are the best girl group in Britain.
Occasional group member Rachel Newton (The Shee, The Furrow Collective) joined them for a big Welsh sea shanty, and opened the night with spare, elegant chamber folk – fiddle, drum, Newton's harp, voice and viola – and drawing much of her material from the album Changeling, drawing on Gaelic songs, Child Ballads, and the folktales and faerie lore of the changeling. Strange and ancient ballads such as "Queen of Elfins Nourice" or the self-penned chamber-trio meditation of the beautiful "Three Days" linger long in the mind.
Carthy Hardy Farrell Young kick off with the rollicking, foot-stamping "Greasy Coat". Lucy Farrell has a wry way with introductions but her singing voice is clear, lyrical, and very beautiful, and each of her songs – "Little Birds", "Dewdrop", "Myrtle Tree" (a fantastically dry, fatalistic take on the marvellous "Flash Company") are highlights. Bella Hardy draws up rootsy American textures with "Wide River" and "Walking After Midnight", while Helen Young straps on a banjo for the easy strolling rhythm of "Why Don't You Do Right", and Carthy is on full-cream, gold-top form with all her vocal and fiddle work.
Their fiddle work is outstanding, but then there's the vocal harmonies, which have blossomed, flowered, pollinated – take your pick – into something gorgeous, deeply hued and overarching. Whether it's the sweet grainy choruses of "Wide River" or the gloriously interweaved part singing of the closing spiritual, "Some Sweet Day", these women's voices interweave sweetly and surely and it's just a joy to hear; they clearly revel in their interaction and dynamic without once losing their footing.
Who knows how long this stellar grouping of solo talents lasts but you hope we haven't heard the last of it when this fine tour comes to an end.
These women's voices interweave sweetly and surely and it's just a joy to hear
rating
Explore topics
Share this article