Caro Emerald, Brighton Centre |

reviews, news & interviews
Caro Emerald, Brighton Centre
Caro Emerald, Brighton Centre
Dutch swing-style star delivers despite a rather sedate crowd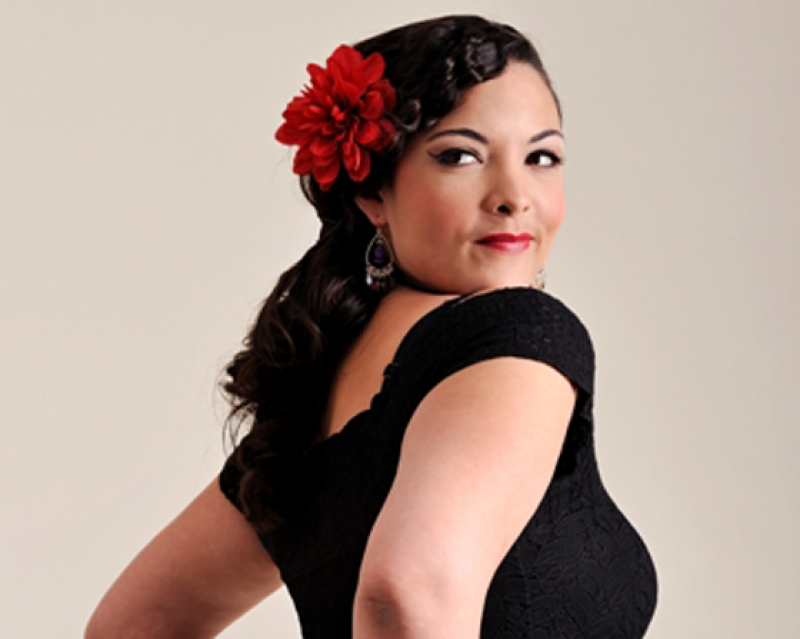 Caro Emerald. Sassy and very likeable.
Towards the end of her set Caro Emerald performs "History Repeating", a hit song from 1997 that revived Shirley Bassey's cool quota when she sang it with successful big beat duo, the Propellerheads. It's perfect for Emerald, just the right ratio of hip electronic touches and classic showbiz pizzazz. This is where she lives, musically, dipped in swing-era vintage, but lathered in modernist sonic frolics.
It's a shame the same cannot be said for public perceptions of what she does, as is born out by her Brighton audience. Their response for at least two thirds of the hour-and-three-quarters set was disappointingly atmosphere-dampening and muted.
Emerald is a paradox. Her second album, The Shocking Miss Emerald, was a UK chart-topper last year, yet my music-loving friends have never heard of her. She is a Dutch woman in her early thirties who puts on a fabulous show that runs the gamut, stylistically and musically, from Ella Fitzgerald to Lily Allen, from Duane Eddy to the Gotan Project. However, her audience, many of whom seem to be bored-looking men in their sixties, dragged along by grinning, eager wives, may well be the contingent whose tastes are ruled by the Tesco's till CD selection.
Emerald first appears behind a prismic screen, her guitarist playing twangy backing as she launches into "I Belong to You". When first seen, she's in a ribbed red Fifties party dress that shows her ample figure to fine effect, and a kind of giant cloche hat in the same colour. She changes twice throughout the show, into a quirky black and white checked dress and, finally into a tight black top and mirrorball-effect poodle skirt. She has a natural ebullience and complete confidence, as do her sharply waist-coated eight-piece band, swapping easily between a multitude of instruments, from double bass to trumpet to bass saxophone, all backed by solid bass, drums, synth and a scratch DJ on a podium that reads "Grand Mono". There are also panels of LED lights and a screen which showcases low-key, classy visuals, such as sketched, upmarket holiday scenes when she sings the sweet "Riviera Life".
She dispenses early with the her one UK hit, the effortlessly catchy "Tangled Up", and seems just as comfortable with torch songs such as "The Lipstick on his Collar" from her debut album, Deleted Scenes from the Cutting Room Floor. It has as much of Nick Cave in a ballad mood about it, or the Bookhouse Boys, as anything kitsch. The flavour throughout veers from jazz to tango to swing and more. It's retro but with a multitude of sparkling contemporary touches. They're mostly original songs, some co-written by Emerald but most by her backroom boys, David Schreurs and Vince DeGiorgio.
At one point, about half an hour in, she asks, "Can I see your hands," but the audience response indicates the answer is a firm "No!" It takes until near the encore for many of them to even start nodding their heads to the beat. To be fair, there are small enclaves of enthused dancers with very occasional wider outbreaks, as when Emerald insists we get on our feet for her monumental drinking/hangover anthem "Liquid Lunch".
By the encore, a surprising number of people have left the sold out venue and, ridiculously, the bar has long closed, but Emerald is unphased. She has those still here finally responding with enthusiasm as she leads us all in an audience sing-along to an epic take on the very bouncy "Back It Up", before closing with "A Night Like This" and a wave of applause. She is a likeable show-woman whose re-appraisal of pre-rock'n'roll styles is imaginative, even innovative, as well as lots of fun. I wish there had been a sprinkling tonight of those I see dancing to electro-swing at festivals. They'd have loved it and upped the somewhat staid, musty atmosphere dramatically. Nevertheless, a fine show.
Overleaf: Watch the video for "Tangled Up"
She puts on a fabulous show that runs the gamut, stylistically and musically, from Ella Fitzgerald to Lily Allen, Duane Eddy to the Gotan Project
rating
Share this article